Several Special Attached Pergola Ideas, Designs & Kits
Last Updated On September 14th, 2023 at 12:58 pm
Longing for a spot you can relax outside and spend time with friends and family? Attach a pergola to your house and you'll have an instant outdoor room you can use 24×7. Think about how much more you'll use your patio if it's covered than left exposed to the elements. Let's face it, most of us don't spend enough time in the good 'ole outdoors and the reason might be accessibility to a comfy spot. Attached pergola kits are actually one of those quick fixes to make the most out of the space you have and get that much-needed breath of fresh air right out your back door!
A common misconception about building an outdoor room with a pergola is that you have to have a large space. Truth is, it doesn't take a lot of space to create that open air room you've dreamt of. If you have a large backyard, great –a larger size pergola such as our Big Kahuna 15×20 pergola kit will cover your dining area, the entry onto the deck or patio, plus some extra seating. If your yard is on the smaller size, or you only have a corner of your patio to cover, a smaller size pergola will provide ample patio coverage. Pergolas sized 10 feet x 10 feet will cover an area big enough to make an outdoor dining area or special spot to relax in the open air.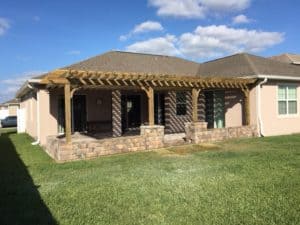 Small, medium, or large backyard — all you need is a deck or patio (or a spot to build one) and you can easily transform it into a designated room with an attached pergola. If you're not sure where to start, first decide how you'll be using the space. Take a look through these ideas to consider how to use your space, and how adding an attached pergola could give your patio more purpose.
Here are a few ideas to consider. These are 4 patio designs that incorporate attached pergola kits.
4 Patio Designs with Attached Pergola Kits
From simple to elaborate, these 4 patio designs all have one thing in common. They've incorporated attached pergola kits into the deck or patio area. Our do it yourself pergola kits are built using quality lumber, and arrive fully cut, drilled, and ready to assemble. For attached pergolas, there's also a ledger board included that will be used to mount your pergola to the wall.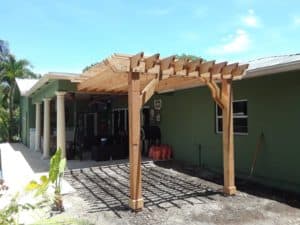 Pergolas can be built in a variety of sizes with varying levels of coverage. The one you choose all depends on how large of a seating area you'd like to have under cover, and how much coverage will be best for your lifestyle.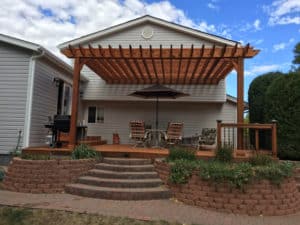 Here's a comparison. Our Big Kahuna pergola kits offer maximum coverage, while our Sombrero pergola kits offer medium coverage. For a more open feel, our Melbourne pergolas and our Fedora pergola kits offer a little less coverage.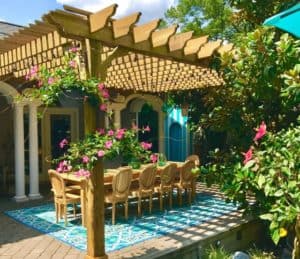 For optional additional patio coverage, any of these styles can be purchased with a retractable canopy for pergolas size 8c8  – 20×20. As you can see, a wood pergola not only complements your home's exterior but also serves a utilitarian (but stylish!) purpose – a shade cover.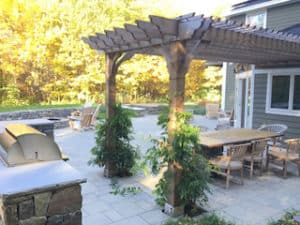 A long lasting addition to your back patio, an attached pergola can create instant shade and privacy for many outdoor uses. Used in residential or commercial settings, patio covers such as wood pergolas define the space.
Uses for Attached Pergola Kits
Pergolas are decorations for your home's exterior and for your landscaping. Used as a natural patio cover, wood pergolas attached to your home are a perfect way to build a seating area that looks like it was meant to be there! Uses for pergola kits will vary based on your landscape setting and geographic location.
Top uses for pergola kits in residential and commercial settings
There are many more uses for wood pergola kits, but here are 5 that continue to rank in the top 10 uses of pergolas year after year:
Shade and privacy for any backyard landscape

Framing for outdoor room at a home or business

Cover for picnic area to create shade and a defined room

Outdoor breakroom for lunch meetings 

Carport cover for some protection from the elements
How to Choose Pergola Kits for Attached Patio Covers
When it comes to choosing the pergola for your patio cover, start with the end in mind. Will you be using it to cover an outdoor dining area? Are you going to make a small sitting area on your deck? Once you have your vision, decide how much coverage you want to get from your pergola. This will direct you in which style pergola to choose.
From there, you'll take the measurements of your patio, which will determine the pergola dimensions you'll want to order, including rafter length, beam length, and post height. If your dimensions match one of our standard sizes, you can add it to your cart and place your order today. If not, you can easily submit a custom pergola quote request and we'll get back to you with pricing specific to the dimensions and choices of your custom pergola kit. Other choices for your pergola will be wood type, end cut shape, and post base trim.
So if you're ready to get started expanding your livable space, we're here to help. Before you know it you'll be sitting under your pergola enjoying that much needed break in the fresh air!