How-to guides for planting backyard entertaining area
Last Updated On August 20th, 2020 at 04:43 pm
Trying to decide when and what to plant to prep your backyard entertaining area? Looking for a guide or quick tips for your pre-summer spruce-up? We found a couple gardening guides and checklists from regions across the U.S. that might offer some guidance. Find out which plants work and when to plant them to enhance your backyard retreat like the patio shown here by one of our Vermont pergola kit customers.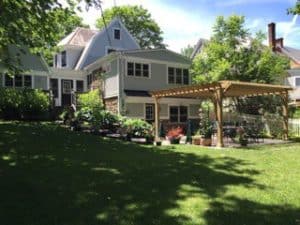 If your state isn't represented in the resources here, feel free to share one from your location! Just like when you're choosing what type of shade structure you need for your location based on the number of sunny days in your area, sometimes what works in one state with garden plantings doesn't always apply to another state in the same region. For example, the amount of shade that you want from your backyard pergola will be very different in Florida than it would be in New York.
Patio covers with the most shade can make the difference between having a summertime BBQ in the evening or not. It's good to check your local library or cooperative extension office for seasonal guides specific to your region. Your local landscape installer might also be a good resource. If you're ready to do a complete overhaul with landscaping and pergola cover, check out our pergola installer directory to see if there's one that will fit your project requirements.
North – Rodale's gardening calendars for Midwest states and Northern tier states
South – Mother Earth News Southwest gardening and Houzz Southeast gardening tips
East – Homestead Gardens Mid-Atlantic growing calendar and BHG Northeast gardening tips
West – Guide from Northwest Edible Life and BHG gardening in the Mountain West and High Plains