Fireplace and Stonework Enhance Custom Outdoor Patio
Last Updated On November 5th, 2019 at 03:27 pm
Custom outdoor patios come in a wide variety of designs. The design shown here is from a loyal Indiana pergola customer that installed a custom outdoor patio. They've enhanced their sitting area with beautiful stonework, a fireplace, and large stepping stones. Views from different angles display the use of landscaping to soften the edges of the patio. Installing an outdoor fireplace can spur all-season outdoor relaxation, depending on the weather in your location. In Indiana, even though the average first frost date is October 15 for many parts of the state, you can still install deck, patios, and other backyard enhancements year-round if the snowfall and consistently cold temps don't interfere.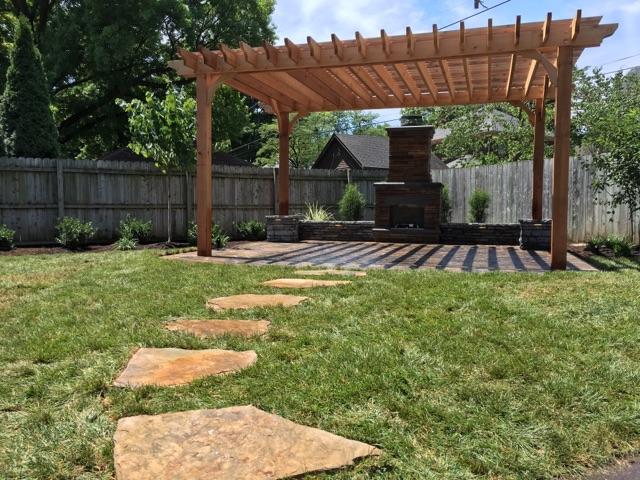 Custom Outdoor Patio for All Seasons
Looking to use your patio no matter what Mother Nature throws your way? Many custom outdoor patios designed today are built with pergolas, pavers, and fireplaces. These features can extend the use of your outdoor room. In the hot sunny months a patio covered with a wood pergola creates some shade. If you also add a retractable canopy, you'll enjoy an even more shady cool space. In the colder months, the top slats covering a sturdy pergola like our Big Kahuna pergola kit act as a natural barrier to the elements.
If you're in the beginning stages of designing your patio and you're including a pergola in your design, read our Guide to Choosing a Wooden Pergola. It'll help walk you through taking measurements for a prefab pergola and figuring out how much space you'd like under cover. If you have any questions, feel free to contact us anytime!