Did you know that one of the first questions homeowners ask about New York pergola kits is what type of wood is best? The very next question is How do I measure for a pergola? We have an answer for those (and more!) questions.
Wood Types for New York Pergola Kits
First, wood type. Our pergola kits are made out of either rough sawn western red cedar or pressure treated #1 southern yellow pine. Either choice ensures you'll receive a quality wood pergola kit that's sturdy and able to withstand severe weather conditions.
In New York, you have plenty of weather conditions to think about when you're making the choice to build an outdoor structure for your patio. Here's what you need to know about the wood, so you make the best choice for your weather conditions.
Cedar is highly resistant to decay, and withstands severe elements. These reasons make this wood type ideal for outdoor use, and it is used in situations where exposure to the elements is continually severe. You can paint or stain it if you choose as soon as you receive the kit. Western red cedar is sustainably harvested in North America.
Pressure treated pine, the most affordable pergola wood option, is also very rot and insect resistant and can stand up to severe elements. It has chemicals added to give it those properties, and has a green appearance. As it dries it will turn to a golden brown, then gray if it is not water sealed or stained. You can stain or paint pine lumber, but you'll need to wait a few months before staining or painting it. Southern Yellow Pine is sustainably harvested in the southeastern United States.
Once you choose the wood type, you'll need to measure your space to see what size you'll want to order.
How to Measure for New York Pergola Kits
Do you live in a city without a large yard? Or out in the rolling countryside with lots of patio space? We offer over 90 sizes of pergola kits on our site that can fit in a variety of landscapes. Browse our standard sizes and if those dimensions don't match up with your space, you can submit a custom quote request.
This handy guide to measuring for a pergola will be a great reference for you once you pull out your measuring tape.
If you already know the measurements, skip over to choosing the style pergola and you'll be well on your way to relaxing under your very own pergola sipping a cold drink.
Deciding on the Pergola Style
Once you know what size pergola you can choose from our different pergola styles. Our full size kits that are the most popular choices for a wood patio cover are The Big Kahuna, The Sombrero, and The Fedora. The choice mostly depends on how much coverage you'd like over your outdoor space.
Do you want maximum coverage?
For the most coverage, the most popular choice is The Big Kahuna. Combining strength, style and maximum coverage, the Big Kahuna kit is built with 6×6 posts, double 2×8 beams, 2×8 rafters every 12 inches and 2×2 top slats every 6 inches.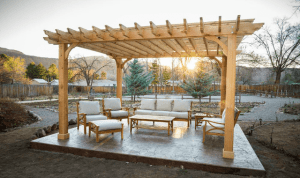 Do you want a mid-range amount of shade at a more affordable price point?
The Sombrero could be the perfect fit for you. It's the same solid design as The Big Kahuna, but with half the rafters and top slats. This makes for a quality pergola that's a bit more open and a lower price point.

If you'd like something smaller, compare all of our pergola styles.
Do you have any New York pergola kits reviews?
Sandy P. in Yonkers, NY said: "My pergola kit arrived exactly as you stated it would, and went up easily with some help from a couple of friends. This pergola has made a huge improvement to our backyard space, and we will be recommending you to our friends".