The warm humid summers of New York state call for outdoor grilling, afternoon parties and gatherings out in the backyard. While the sunshine is a welcome sight after a long winter, the heat can get in the way of an otherwise lovely Sunday funday. Our New York pergola kits are just the answer to those happy moments with friends and family and make you wish the season would never end!
Top Options for New York Pergolas
While there are myriad styles, sizes, and finishes to choose from when it comes to pergolas in New York State, here at Pergola Depot we try to marry the highest quality red cedar or pressure treated pine with classic designs and affordability. While trex might look nice for a deck, nothing beats natural wood to turn your yard into your own private retreat for entertaining and relaxing all summer long. Our kits are easy to assemble and offer a higher quality than you would find at Sam's Club, Home Depot, or other big box stores.
We offer an amazing selection of styles, sizes, and accessories to fit any space that you can imagine. Our full-size pergolas come in three design themes: The Big Kahuna, The Sombrero, and The Fedora. Choose an attached version and attach it to your home's exterior wall to extend the usable space outside your slider. Or choose a free standing pergola to expand your patio design.
The Big Kahuna is simply awesome!  By far our most popular design, The Big Kahuna offers the most shade cover for when the breeze coming off the coast just isn't enough to keep you and your pals cool. With plenty of ceiling slats and a classic notched roof system, The Big Kahuna will have you covered for all of your most favorite moments of the season. In a cozy 10×12 all the way up to the impressive 20×20, The Big Kahuna comes in any size you need to transform your patio into the ultimate hangout spot in the neighborhood!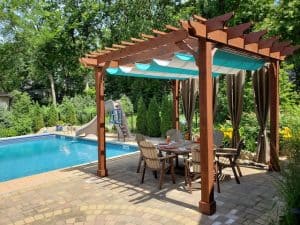 The Sombrero has everything that we love about The Big Kahuna but with less ceiling slats to let more of that happy sunlight through. Of course, if you love the concept but want more shade options, we have beautiful retractable shade covers to give you total control of your shade situation.
In rough sawn red cedar or quality pressure treated pine, your patio pavilion will set your yard apart from the rest and compliment your landscape theme perfectly.
The Fedora is our most affordable full-size pergola that aims to give you the sanctuary you need and the sunlight you crave without sacrificing the craftsman finishes that we pride ourselves on. With accessories and the right placement, the Fedora is actually perfect for just about any yard. Check out our options and make your pergola your own. That's what we do!
All of our kits are made to order and shipped completely free to your home. We want you to spend more time in your yard and make the most of these warmer months.
From Manhattan to Upstate New York, We Have You Covered!
I know, I know. Manhattan gets all the attention in the Empire State. Let the masses have the city, though, because when you're in a New York state of mind, that means that everything from the Hudson Bay to the Catskills is your home away from home. Life is just simpler outside the city and that's the way we like it. Inviting neighbors over for a good time and a barbecue never gets old and with the rough winters, it's important to take advantage of the beautiful weather while we can.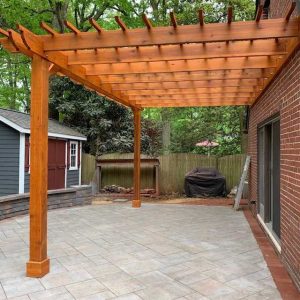 That doesn't mean you have to worry about your pergola in the next 'Nor'easter though. With their stout timber frames, soaring roof beams and gables, our pergolas are designed to withstand nearly anything that Mother Nature can throw at it. So bring it on all winter and come Spring your pergola will still look like new season after season with a little wood maintenance every couple seasons.
So whether you're chilling in the outer boroughs wondering what you can do to make your yard feel more like the woods or relaxing up north wishing you could escape the rays in July, a pergola is the best way to ensure that your backyard becomes a second living room for the brighter days.
The Best Way to Accessorize Your Yard
From fire pits to hammocks, your backyard is more than just a place to water the grass!  Adding a pergola with accessories not only helps define the open space but it also opens up new possibilities for you and your family that the weather often negates. Enjoy dinner on the patio, a weekend brunch with your friends, a late-night wine tasting underneath Christmas lights strung from the wooden roof or climbing up the posts and trellis. Ultimately, your yard is defined by how you use it and a pergola gives you so many more options so that you aren't stuck on the inside looking out at a beautiful day ever again.
If you have a green thumb, you can make use of gorgeous climbing vines and hanging pots of cascading purple verbena. Adding flowers and perennials to your outdoor entertaining space creates a lively ambiance and dresses up your deck and pergola with a natural style to compliment the wood frame.
Add some all-weather drapes to bundle in on days that otherwise would be too breezy to enjoy. How you use your yard is up to you, but we say…use it!
Pre-cut, Pre-drilled, and Ready to Build DIY Pergolas
Our kits can be built by you and a friend in an afternoon! We took the same attention to detail and care with our simple step-by-step instructions as we did with the selection and cut of our pergolas. This means you won't be sitting down scratching your head surrounded by random pieces of lumber. Marked and ready for assembly, we make the process as easy as possible because you shouldn't need to be a journeyman carpenter to create your dream patio. You will be outside underneath the rafters in time for the next outdoor celebration!
So Come on New York, the Wait is Over
Enough daydreaming!  It's time to get outside more and enjoy one of the best spring and summer climates in the country. Catch sunrise over coffee, a glass of wine beneath the stars and share your yard with the people you love. The time to get outside is now! Ordering is simple and we are ready to help you.