Pergolas have been used to cover patios and walkways for centuries. Dating back to the early Greeks and Romans, pergolas were used to protect passersby from the elements in public areas, as decoration for outdoor courtyards, or to enhance elaborate gardens. Today's uses for patio pergola kits remains virtually unchanged, with pergolas being constructed in backyards all around the world to create a special place for family gatherings or adorn a beautiful garden area. Now offered in a range of materials, you can find wood pergola kits, vinyl pergola kits, and aluminum pergola kits. Wood, vinyl, aluminum and metal pergola kits can have a more modern and contemporary look that accent a patio. Classic pergola kits used to cover a backyard patio come in a variety of sizes and styles. Pergolas built out of wood can be crafted to cover a portion of a larger patio or as a complete patio cover for a smaller area. There are different ways a pergola can create the cover needed to protect a patio.
How Pergola Kits Work as a Patio Cover
A pergola is a permanent structure that you can add to your patio to create a protective cover.  Many patios are built as an extension to a home for outdoor dining and entertaining, but are limited in use due to exposure to the elements. Pergola kits can be used to build that covered area needed to extend the use of your patio, but still allow for a natural and somewhat open setting. There are different configurations for pergolas used as a patio cover, and the two most popular types of pergolas are attached and freestanding.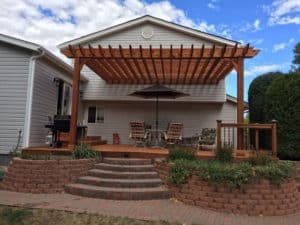 An attached pergola is a way to create a cover as a continuation of your home, and a freestanding pergola is a way to build an extension of your home in a nearby setting. For greater amount of shade or protection, canopies or shade sails can be installed in addition to the pergola.
Pergolas can cover many different size patios, as they can be built in a range of sizes. An average size patio in the United States is around 16 feet by 18 feet. Depending on location, patios can vary greatly, but typically range anywhere between 10 feet by 10 feet to 100 feet by 100 feet.
For standard size patios typically found in suburban neighborhoods or small to mid- sized towns, a standard size pergola will work well to create an outdoor cover for patio furniture, BBQ area, or dining table and chairs.
If you have a smaller or larger backyard space you're trying to cover and can't find the right standard size, we offer custom pergolas that can be built based on the dimensions you provide.
Pergola Kits for Standard Size Patios
If your patio is in the standard range of 10 feet by 10 feet through 60 feet by 60 feet, you're most likely looking for pergola kits that are considered standard size. Ten of the most popular pergola kits sizes for the average North American patio are: 10×12 pergola, 11×15 pergola, 12×12 pergola, 12×14 pergola, 13×15 pergola, 14×14 pergola, 14×16 pergola, 16×16 pergola, 16×18 pergola, and 20×20 pergolas.
Many of these sizes will have accessories such as pergola railing, pergola shade screens, or other shade covers. When you're selecting accessories, remember to take inside post to post measurements. For example a 10 x 12 pergola shade cover would have overall measurements that are smaller than the tip to tip dimensions of the overall pergola size.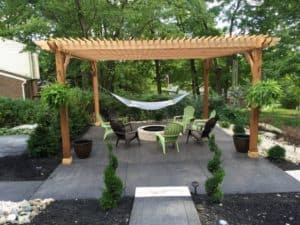 Our 20×20 pergola kits are the largest standard size pergolas we offer outside of our custom size pergola kits. Custom pergolas can be built in any non-standard dimensions needed for a patio or other project. Average size patios would accommodate a standard or custom size pergola depending on the exact dimensions needed as the patio cover.
For example, if the space that your patio furniture requires is 14 feet by 14 feet, you'll want to find a pergola kit that has inside post to post dimensions that would be at least 16 feet by 16 feet. So in this case, you'd want to choose one of our 20×20 pergola kits, which has inside post to post dimensions of 16'x16'.
These dimensions are often the size space needed to cover an outdoor kitchen area, living room, or poolside area. Poolside patio covers are one of the most desired areas to add a pergola for backyard retreats, and can be designed to fit many different size patios.
Designs for Poolside Patio Pergolas
Relaxing poolside should offer comfort, some shade, and an aesthetically pleasing area to enjoy during time away from work. Pergolas are a patio design feature that provide all 3 elements.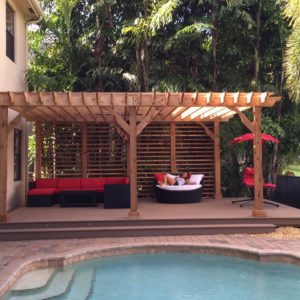 Designs for your poolside retreat can be attached to your home or pool cabana or can be a stand-alone structure that creates an outdoor room.
Either style can be built using the type of wood that blends with your current patio and home, with rafters and beams cut with end shapes that reflect your personal style. Staining or painting the wood pergola can enhance the look of your patio or blend in with the natural beauty of the surrounding landscaping.
Cedar wood can take stain or paint right away when you receive your pergola kit, whereas pressure treated pine needs a couple months after assembling to add a coat of stain or paint so the wood is sufficiently dry. Other benefits of cedar pergolas? They're very versatile. They can be built to look like a log pergola, or a modern pergola. Cedar pergolas rival the modern steel pergola styles or aluminum pergola Costco advertises.
Take the time to measure for your pergola kit to ensure you have the proper fit for all the extras you'd like to add to your patio. Have fun with your patio pergola kit project and design your patio to enjoy during all seasons. Check out all the pergola images on Pinterest to find ideas for enhancing the area surrounding your pergola. You'll find decorating ideas for any climate and location. Design your retreat to really make it your own, and choose the perfect pergola to build the cover you'll enjoy right in your own backyard!