Modern Pergola Kits
Last Updated On September 12th, 2023 at 11:14 am
Outdoor living designs often show off one specific feature of your backyard. If you'd like the main event in your design to be a pergola, we've got a few ideas to help you make yours a reality.
First, think about how you envision the end result to be. Do you want to completely cover a dining area and have lots of space to spare? Or are you creating a semi-open roof for a patio in a metropolitan setting? Maybe you're building an outdoor room that could be a kitchen area, or sitting area with outdoor fireplace. Maybe you're looking to build that spot for quiet reflection after a long day of work. No matter what your vision is, many common designs today offer a modern flair that often centers around a wood pergola.
Pergola Kits with a Modern Flair
The modern look of this Big Kahuna 20×20 pergola really enhances this California backyard retreat. The outdoor heaters extend the use of the space into the cooler winter months, and the soft landscaping gives the dining room a little privacy with a pleasant feel.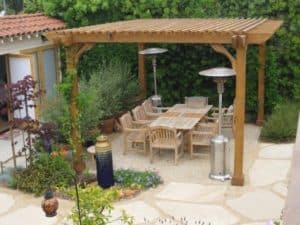 Maybe you don't have the luxury of a large open area, and you're wondering how you'll fit a pergola in your little nook! But there's a diverse mix of landscapes that can be enhanced with a pergola you may not have imagined! Maybe you're trying to create a unique backyard retreat in a busy populated downtown area. This custom pergola completes this modern rooftop look in a more confined area.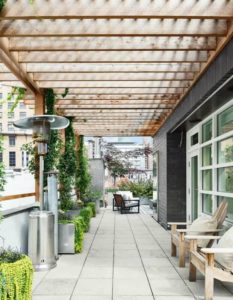 It really makes this New York townhome sparkle and creates an outdoor space the homeowner can enjoy even on the coldest fall evenings. Modern pergola kits take on many sizes and styles due to the diverse locations scattered throughout the United States. You could have a tiny yard and traditional style, but you can still make it mod!
How to Add a Modern Twist to your Traditional Landscape Pergola
Patio covers and modern pergola designs don't need to be limited to the bustling city life or a traditional landscape structure. Suburban settings offer ample room to create an extension of your house, and the sky's the limit to modernize your space! This outdoor room was built to give this homeowner a relaxing setting to enjoy year-round.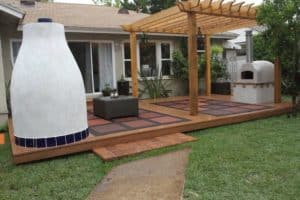 The large chimenea and outdoor oven are outdoor kitchen design features that can be built in a range of sizes and materials. If outdoor cooking is a top feature you're looking for, there are a variety of ways to make it happen. Ranging from a cooktop over a fire pit all the way up to a full blown outdoor kitchen and pizza oven, the possibilities are endless! Use your imagination and see what fits with your climate, location and budget.
Covered Patio Designs with Modern Pergola Materials
One of the hottest new trends is creating an outdoor room using a pergola with a roof. This hybird approach makes your new space affordable and attractive with a functional element for year-round outdoor living! With a metal roof pergola, you'll have many color choices for modernizing your pergola kit, and create a go-to spot for after school homework, open air dining, or celebrating with friends and family.
Test your creativity and make a sketch of your dream yard! Add some landscaping features, some plantings, a place to escape from the day-to-day, and perhaps a modern looking pergola to tie it all together. If you need a jump-start on your planning, start with our comparison of pergola kits and you'll be on your way to building that relaxing retreat!