Top 5 Uses for a Pergola
Pergola Depot
Are you trying to make your outdoor space usable year-round? Would you like a special shady spot for your family, friends, and your beloved pets? These are a couple of the top 5 uses for a pergola. Our list consists of tried and true perks of owning your own pergola. These apply to any landscape or climate – hot, cold, dry, or wet. Which one on the list ranks #1 for you?
Best Uses for a Pergola
Enhance your outdoor entertaining space.
Boost your landscape design with a beautiful wood pergola. Turn any backyard into an inviting outdoor room. Create an outdoor entertaining area with the pergola by providing an open wall structure and patio cover.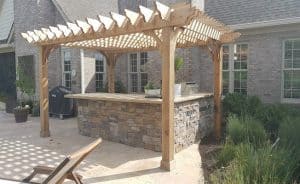 Another space to cool off in the shade.
Second most popular use for a pergola is creating shade in your backyard. Not only will your visiting guests be thrilled to have a cool area to relax during your summer cookouts, but your pets will thank you too! Use any size pergola to design a special shaded area just for your furry friends or your buddies who stopped by to kick back poolside. One of our full-size pergola kits provides plenty of shade with or without an optional retractable canopy.

Need a simple way to define your patio border?
Pergolas can be used to frame in your outdoor space or to create a privacy border. Bridge two areas of your backyard with an outdoor structure to seamlessly blend your landscape design. An arbor or full size pergola provides an open structure to create a more defined patio border.

How about a poolside retreat?
Is your beautiful pool deck in full sun for most of the daytime hours? Add a pergola at one end along with your outdoor furniture and presto! Now you have a cool shady area to relax after a dip in the pool! Pergolas can also create an instant open framed structure for a hot tub.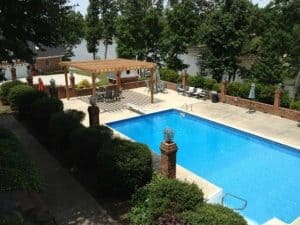 Dress up your garden area.
Pergolas can enhance your garden and become the focal point of your outdoor oasis. Build a winding pathway lined with stepping stones and a border of your favorite blooms for a welcoming sanctuary to escape after a long day's work.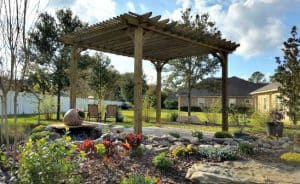 There are many more uses for a pergola. Maybe you can think of others for your unique outdoor space?
Related topics: Guide to Choosing a Pergola, Custom Pergolas, Time-tested Elements for Outdoor Living Design