Top 5 Uses for a Pergola
Last Updated On September 14th, 2023 at 12:13 pm
The list of uses for a pergola is endless! Carport, patio cover, garden feature, patio shade. Are you trying to make your outdoor space usable year-round? Have you heard people talking about pergolas and gazebos and thinking this could be the answer? What is a pergola and what is a pergola used for? If you're new to the term "pergola", it's synonymous with the word "retreat" or "arbor" but can also be much more than that. They can transform a backyard in a new outdoor room. Pergola kits can create a lifestyle.
In today's landscape design, pergolas have many purposes. They add function and style to backyards of any size, and are one of the easiest ways to build an outdoor retreat. If you're still wondering if this a possible solution for your backyard blues, check out our list of the top 5 uses for a pergola. We've compiled a recap of tried and true perks of owning your own pergola. The best part is, you can DIY your pergola!
Best Pergola Uses
There are many uses for a pergola that vary depending on which part of the country you call home. In locations coast to coast, frequently a pergola tops the list for "best outdoor shade structures". Which one on the list ranks #1 for you? For year-round sunny locations, creating a comfortable go-to spot with shade tops the list. Even if you spend half of the year with cooler temps, when the sun does come out, your priority turns to finding a way to make pets and people cool and content!
Build a Special Shady Space to Cool Off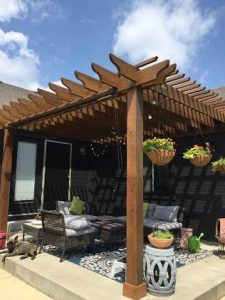 One of the most popular use for a pergola is creating shade in your backyard. Not only will your visiting guests be thrilled to have a cool area to relax during your summer cookouts, but your pets will thank you too!
Use any size pergola to design a special shaded area just for your furry friends or your buddies who stopped by to kick back poolside. One of our full-size pergola kits provides plenty of shade with or without an optional pergola cover shade sail or retractable canopy. Or choose our covered pergola kit that offers a metal roofing option to provide a cover from sun, rain, or snow! Maybe you'll find that an attached pergola size will better fit your space rather than freestanding. To get the ball rolling, grab your tape measure and take measurements of your space.
Define Your Patio Border
Pergolas can be used to frame in your outdoor space or to create a privacy border. Bridge two areas of your backyard with an outdoor structure to seamlessly blend your landscape design. An arbor or full size pergola provides an open structure to create a more defined patio border. Use a pergola in your space and transform your outdoor living experience for stylish all-season entertaining.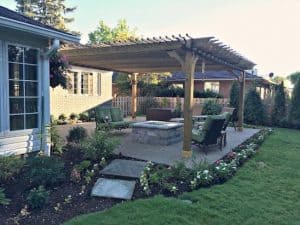 Enhance an Outdoor Entertaining Space
One of the most common answers to the question 'what is the purpose of a pergola' is to enhance outdoor spaces. Boost your landscape design with a beautiful wood pergola. Pergola designs for outdoor living take on many shapes and forms depending on your space. Turn any backyard into an inviting outdoor room. Create an outdoor entertaining area with the pergola by providing an open wall structure and patio cover. Your backyard might have room to really enhance your outdoor lifestyle.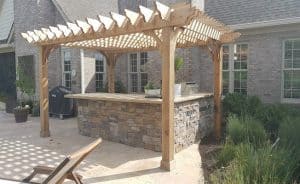 Find the perfect size and style for your space and refer to our Guide to Choosing a Pergola for guidance. This shows the various styles and sizes we can build for your outdoor room.
Use a Pergola to Create a Poolside Retreat
Is your beautiful pool deck in full sun for most of the daytime hours? Add a pine or cedar pergola at one end along with your outdoor furniture and presto! Now you have a cool shady area to relax after a dip in the pool! Pergolas can also create an instant open framed structure for a hot tub.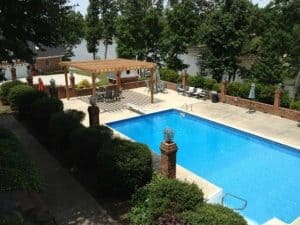 Dress Up Your Garden Area
Pergolas can enhance your garden and become the focal point of your outdoor oasis. Build a winding pathway lined with stepping stones and a border of your favorite blooms for a welcoming sanctuary to escape after a long day's work. There are many more uses for a pergola.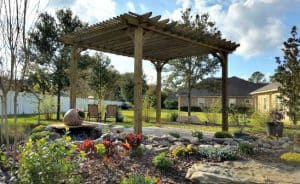 Maybe you can think of others for your unique outdoor space? Pergolas have been used for hundreds of years and have evolved into one of the most popular ways to add shade and dimension to a backyard patio.
So if you're looking for a new stylish and shady spot for your family, friends, and your beloved pets, consider a wood structure like a pergola.
Related topics: Guide to Choosing a Pergola, Custom Pergolas, Time-tested Elements for Outdoor Living Design