Big Kahuna Solar Ready Pergola Kit
Pergola Depot is pleased to introduce the Big Kahuna™ Solar Ready pergola kit (the Big Kahuna SRP), engineered to accommodate solar panel mounting, and withstand high winds and elements like our standard Big Kahuna kits. Turn any of our Big Kahuna pergola kits into a solar pergola.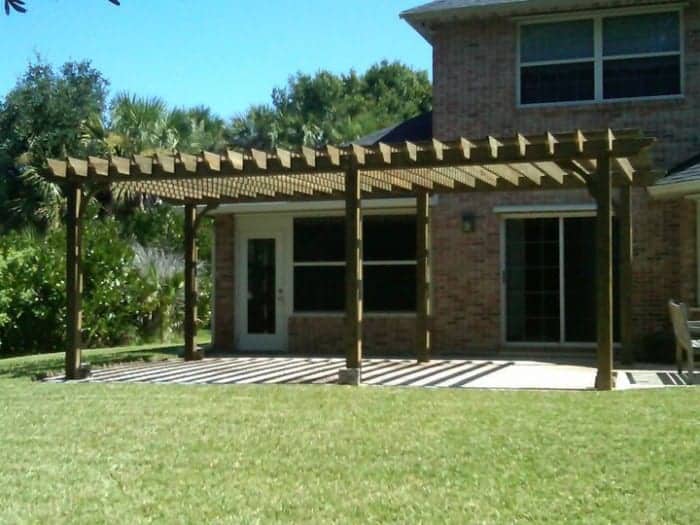 The Big Kahuna SRP can be used to mount panels for a variety of solar projects. Configure your install to provide power for outdoor living environments, carport with power for charging, for backup power, or many other uses. Engineered drawings are available for freestanding or attached pergolas. This kit includes all materials required to assemble your solar ready pergola, but does not include solar panels, racks, or other solar related equipment. The Big Kahuna SRP is a perfect fit for the solar contractor looking for another way to expand their solar installation offerings, or the serious DIYer prepared to configure and install their own solar pergola.
Big Kahuna™ Solar Ready Pergola Kit Description
The Big Kahuna SRP kit includes 6X6 posts, double 2X10 beams, 2X8 rafters, 2X6 angle braces, 2X2 top slats, and two 2×8 bearing boards to support a solar rack system.  We notch each post to a depth of 1 inch in order to make a more secure connection between the beam and post, and notch the rafters over the beams to take away the lateral motion usually found with cheaper pergolas that are not notched. This equates to a solid pergola that is aesthetically pleasing and will hold up to the harshest elements. Choose from #1 grade pressure treated southern yellow pine or rough sawn western red tight knot cedar. Configure your kit to be freestanding or attached to your home or other building. Every kit comes complete with stainless steel hardware, and pre-cut, pre-drilled lumber that is pre-marked for easy assembly. Each kit also includes a set of step-by-step instructions to guide you through the assembly process. Our kits are so easy to assemble that two people can have most kits set up over the weekend with absolutely no construction knowledge whatsoever. Choose from over 90 standard sizes and 5 end cuts. Check your local building code to see if you are required to pull a permit to construct a pergola in your area. If so, we can provide you with engineered drawings to help you in this process. Just let us know upon checkout and we will forward them to you via email.
Contact us today by phone or email for more information, or simply select The Big Kahuna Solar Ready pergola style on our custom pergola kit quote form below and we'll get back to you promptly with pricing or questions.
Email: info@pergoladepot.com Phone: 877-563-0002. If you're a solar contractor interested in our contractor program, learn more here.