We sell Colorado pergola kits and ship them anywhere in Colorado (as well as any other state in the contiguous U.S.) within 10 business days of payment! That's right! We build and ship our ready-to-assemble pine and cedar pergola kits to any location in Colorado and beyond! If you live in Colorado, Texas, California, Florida, Arizona, or any other of the lower 48 states, and you want to add a wood patio cover to your backyard, consider our DIY pergola kits.
We ship for free anywhere in the contiguous United States within 10 business days of payment.
We have many different styles, and over 90 different sizes to choose from. Each of our pergola kits is customizable with options that are specific to your liking. Our standard size pergola kits come in multiple styles and standard sizes from 8×8 up to 20×20 in freestanding or attached. All of our pergolas are built using either western red rough sawn tight knot cedar or pressure treated #1 southern yellow pine lumber. A good place to start in your search for the perfect backyard pergola is to read our Guide to Choosing a Pergola.
Top-selling Colorado Pergola Kits
The 15×15 Big Kahuna is one of our top selling Colorado pergola kits. This full size pergola style can be ordered in freestanding or attached in standard size 8×8 to 20×20 and custom sizes. Offered in a range of sizes and styles, our wood pergola kits can be ordered to fit your specifications. To configure and price our standard size wood pergola kits, choose from our 5 different styles. Then make your selections to customize your wood pergola kit from these options: Size, Freestanding or Attached, Wood Type, Posts, End Shape, and Post Base Trim. If you don't see a style or size you need, contact us and we're happy to send you a custom quote for a custom size pergola.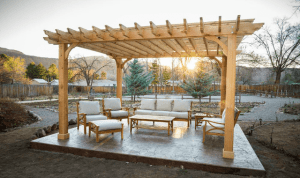 The same style pergola with a little less coverage and lower price point, is our Sombrero pergola kit. The Sombrero offers the same sturdy quality of the Big Kahuna, but half the rafters and top slats for medium sun coverage.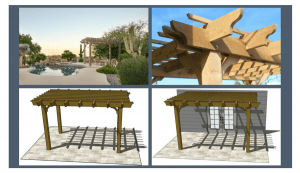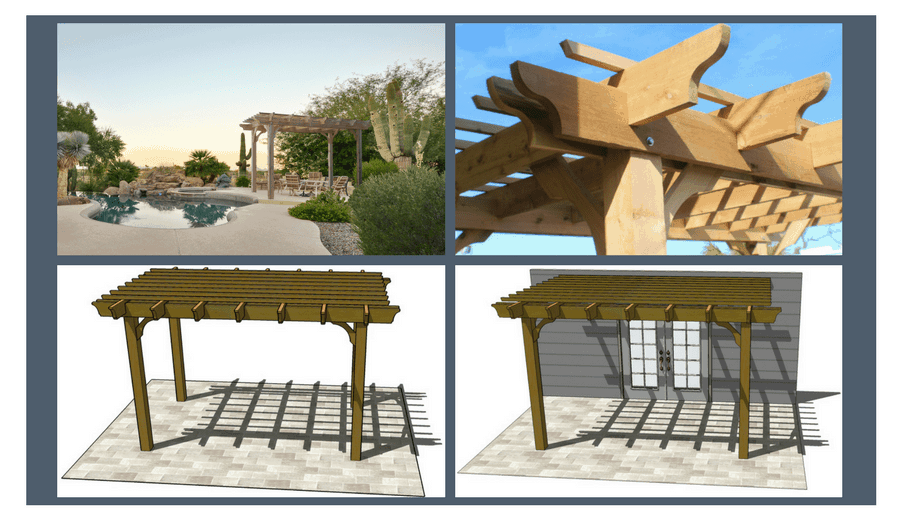 And then there's the Fedora. Like the timeless hat, our Fedora Pergola Kits are stylish and simple yet elegant. The Fedora is a classic pergola style with a more open design and taller/un-notched roofing system.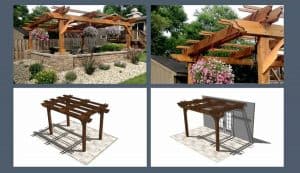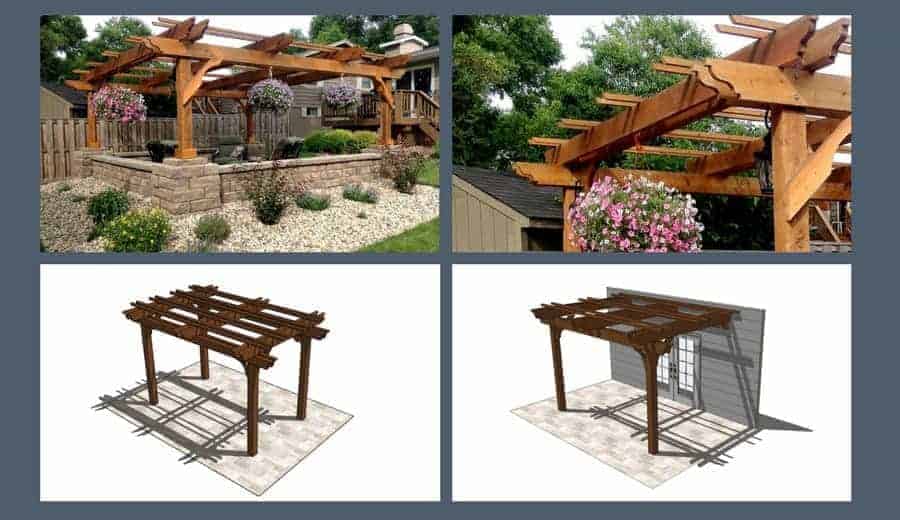 How to Choose a Pergola Kit
Not sure where to start for choosing your pergola? Read our Pergola Styles Comparison to get started.
Review our Guide to Choosing a Pergola for steps in configuring your Colorado pergola.
Measuring for a pergola can be tricky. If you're not sure what size you'll need, read through How to Measure for a Pergola, and contact us with any questions if you still need help. You may find that the pergola dimensions you've measured require a custom pergola.
Custom sizes can be ordered by submitting a custom pergola quote request. Once you submit your desired dimensions, we'll create a price quote and send it back to you for approval or changes and then you can place your order.
Easy to Assemble Colorado Pergola Kits
Make it easier to add a pergola to your outdoor design with a quality pergola kit that's ready to assemble. Our DIY pergola kits include the materials that are already cut and drilled and detailed instructions on how to layout the pergola. Two people can have most standard size kits set up in four hours with little to no construction knowledge. If you'd like extra help, you could either contact your local landscape contractor, or check our Pergola Installer Directory. We offer this directory as a reference for homeowners to determine if the business will be suitable to use to complete the pergola installation or other related projects. You'll want to check to make sure they are licensed, insured, and have the ability to do the job.
Pergola Designs and Ideas
Still not sure? Our Instagram and Facebook pages show pergola designs and ideas that can work in Colorado to create your outdoor retreat. Feel free to contact us anytime to talk about your pergola ideas that can help you build the backyard patio you've been dreaming of!