Whether you like to barbecue all summer for neighbors and friends or you just want to sip your morning coffee as you watch the sunlight march across the mountains, a backyard pergola can turn any Colorado patio space into an outdoor living room the moment you step outside.
As you know, pergolas can be built in many different styles and sizes, so we've created a large selection that includes many of the popular sizes, as well as custom sizes. Each of our pergola kits is customizable with finishing options that are tailored to your taste. Our standard sizes come in multiple styles and range in size from 8×8 up to 20×20 as freestanding or attached pergolas.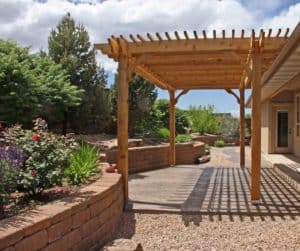 If you're just starting out with your project, our Guide to Choosing a Pergola is a great place to begin your selection of the perfect backyard patio pergola. If you're ready to finish off your patio with a cover, consider the various pergola designs that will work with almost any Colorado patio.
Colorado Pergola Designs for Patios
One of the first considerations with pergola designs is choosing between stand-alone (freestanding) and wall mounted (attached). A freestanding pergola kit allows for the pergola to be assembled on a flat surface anywhere in your outdoor space. Freestanding pergolas create a sense of privacy in an open space and can make a fantastic addition to your yard or patio.
A pergola attached to the house or other structure has two posts supporting it while being attached to an exterior wall. This creates a continued living space effect where the pergola is essentially an extension of your home. Once you've measured the size of your patio space that can accommodate a patio cover, you can decide between attached or freestanding.
Another design feature involves the material used to construct your pergola. When you began your search for your outdoor structure, you may have considered a cedar cover such as a patio gazebo or perhaps a cover made out of another material such as a vinyl pergola. Both of these choices have some limitations. Many times, Colorado residents are looking for a more rustic style cover for their outdoor space. A cedar pergola or pine pergola are two that create the Rocky Mountain look that is built to endure many seasons.
How to Choose a Pergola for Colorado Springs and Beyond
Not sure where to start for choosing your pergola or what size you'll need? A wooden pergola is always an instant classic. Our Colorado pergolas are made of either high quality pressure treated pine or rough sawn cedar. It ultimately comes down to what you prefer and what would make the best fit with your current landscaping. Where cedar pergolas offer deep hues and beautiful grains, pressure treated pine is more economical, attractive, and just as durable. All of our pergolas are built using either western red rough sawn tight knot cedar or pressure treated #1 southern yellow pine lumber.
No matter which wood type you choose, our pergola kits can be built in a range of coverage options. Choose a Big Kahuna for maximum coverage or the Sombrero for a medium amount of pergola shade. Our Sombrero pergola kit is the slightly smaller sibling to the Big Kahuna. With half the rafters and top slats for medium sun coverage, the Sombrero is perfect for those that want a little more sun without sacrificing quality or durability. And then there's the adorable Fedora. Like the timeless hat, the Fedora is stylish and elegant with a more open roof design that features a roofing system without notches and a bit taller.
The 15×16 Big Kahuna is one of our top selling patio pergolas in Colorado. This gorgeous pergola can be ordered as a freestanding or attached pergola, and if you need larger or smaller we offer standard sizes in 8×8 up to 20×20.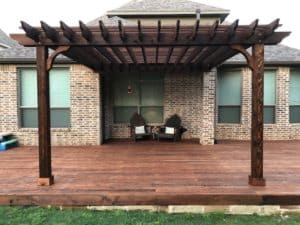 We can also accommodate custom sizes by submitting a custom pergola quote request. Once you submit your desired dimensions, we'll create a price quote and send it back to you for approval or changes and then you can place your order.
Make it easier to add a pergola to your outdoor dreamscape with a quality pergola kit that's ready to assemble. Our DIY pergolas kits include the materials that are already cut and drilled and ready to build. We made it easy with step-by-step instructions. Two or three people can have most standard size kits set up in four hours with little to no construction knowledge.
Measuring for a pergola can be tricky. If you're not sure what size you'll need, read through How to Measure for a Pergola, and contact us with any questions if you still need help. You may find that the pergola dimensions you've measured require a custom pergola.
Pergolas Colorado Style
There is something magical about Colorado that beckons us outdoors. Maybe it's the abundant wild flowers that seem to explode onto the scene at the beginning of spring or the sheer majesty of the snow-capped Rocky Mountains. There has always been something uniquely wild about this place!
While the four seasons bring rapidly changing weather throughout the year, Colorado still boasts an incredible 300 days of partial to full sunshine annually! This makes the state a perfect place to set up your backyard to create a shady retreat.
Colorado was made for pergolas and Pergola Depot wants to help you turn your yard or patio into something more than just a place to grill. Our pergolas are the perfect complement to the wide open spaces that make this state so incredible!
Still not sure? Our Instagram and Facebook pages show pergola designs and ideas that can work in Colorado to create your outdoor retreat. Feel free to contact us anytime to talk about your pergola ideas and let us help you build the backyard patio you've been dreaming of!