Pergola vs Gazebo
Last Updated On June 12th, 2020 at 11:26 am
There are many options when choosing an outdoor shade structure that also adds beauty to your backyard design. Two of the best choices for offering shade include pergolas and gazebos. Which is best for your space? Pergolas and gazebos both serve similar functions on a patio or in a backyard space. When you compare a pergola vs gazebo, you'll see 3 main contrasts. The biggest difference is in the shape and overall appearance. Other variations for these popular outdoor structures are price and use.
Choose which structure is right for your backyard, garden, or community space based on your style preference, budget, and available space.
Top Variations in a Pergola vs Gazebo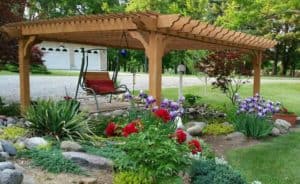 Pergolas are outdoor shade structures offered in a wide range of sizes that consist of vertical posts that support an overhead set of beams, rafters, and top slats. Depending on the desired amount of shade and shelter, the opening can accommodate any number of top slats, a canopy, or other shade covering. Patio furniture, table, and benches can be set up underneath your pergola for an outdoor bird or wildlife viewing area.
While pergolas provide some protection from rain and weather, they can also offer shade depending on your pergola roof selection. Built as square or rectangle shaped structures, pergolas are typically built to highlight the natural beauty of a landscaped area. Maybe you'd like to build a special hideaway in your garden and you'd like a small pergola to be the focal point? Enhance it more by creating a winding walkway that leads to it and add your favorite flowering and vining plants.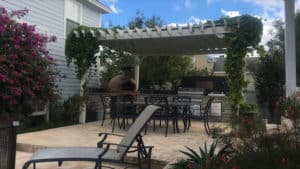 Pergolas offer shade, function, design, and character to many different types of landscapes. Pergolas are most easily identified by their partially-roofed design with classic post, beam, and rafters. Posts hold the rafters running one direction, with rafters and top slats running in the opposing direction. 
As with many outdoor structures, you can choose whether you attach your pergola on one side, or stand-alone. Freestanding pergola kits are a very popular choice for completing an outdoor kitchen, a relaxing getaway, or a poolside retreat.
What's the Difference between Pergola and Gazebo?
Patio covers such as wood pergolas are special because they offer an affordable addition that makes your garden very inviting and welcoming. With a pergola, you can choose the amount of roof coverage you'd like. Great for outdoor kitchens, poolside patio cover, outdoor bar, open air living room, or entertaining space for groups small or large. Pergolas offer expansive views and can create a border to identify a space.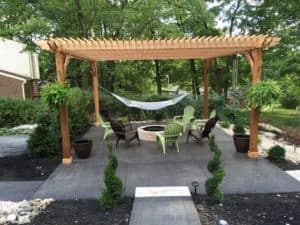 Cousin to the pergola, gazebos are outdoor shade structures with a solid roof, partially open sides, and a floor (either built-in or on a concrete base).
Typically set at the outer edge of a yard, a gazebo often is placed in a spot to capture a view. They sometimes incorporate built-in seating, and are either round or polygon in shape and have a covered roof.  Gazebos are commonly found in a larger yard, or a community area to serve as a bandstand or pavilion for large or small groups to gather. Gazebos are a bit more restrictive of space and are a little more complex to build. Typically, gazebo structures are found on larger properties and built near waterfront or away from the home or building for privacy.
Since there are so many variations due to material used, kit, or custom pergolas or gazebos, it's difficult to compare price with a pergola vs gazebo. For a standard comparison, a 12×12 wood gazebo kit ranges from $3,500-8,000 and a 12×12 wood pergola kit ranges from $2,200-5,000.
Preferences in Pergola or Gazebo
When considering a backyard structure, choosing the right style to fit your needs can take some time. Use, location, and design are all things to consider. No matter what size or style you choose, you'll add value to your home when you incorporate an outdoor structure in your outdoor living area.
If you're looking for a visually appealing way to create a shady spot and add some flair to your landscape, a pergola can provide both. Enhance your home or landscape and capture that feeling of privacy and beauty. If you're leaning towards choosing a pergola vs a gazebo, prefab pergola kits offer a simple way to make that dream into a reality. Contact the Pergola Depot team today with your pergola questions!