Patio Design Ideas for Fall Patio Season
Last Updated On September 10th, 2020 at 12:58 pm
Looking for inspiration to create the patio you've been dreaming of to enjoy throughout the fall and winter? If you want to create an outdoor space to enjoy more time outdoors during those cool evenings around the corner, there's a range of ideas you can choose from. Maybe you already have some components in place and are in the home stretch, or perhaps you're at square one. Either way, check out these fall patio ideas for go-to guidance and pull together a gorgeous and relaxing fall retreat!
Fall Patio Design Ideas
When planning out your patio ideas for fall, first consider your location and climate. Since autumn in Ohio looks much different than fall in Florida, your fall patio design could look very different! A fireplace feature or hot tub near your covered patio fits the Buckeye state, and palm trees and poolside grill comes to mind for a fall pergola patio design in the Sunshine State!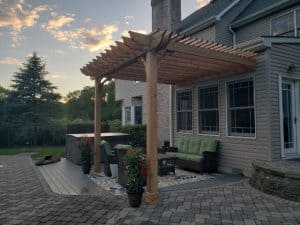 The second consideration when selecting from your area's best fall patio design ideas is available space. For many, patio ideas for any season will be determined by the square footage of their backyard or outdoor space. Some ideas for a space-challenged patio include a combination patio and pergola or a firepit rather than a full-blown stone fireplace.
Fire rings can be a DIY weekend project that you build together with family or can be hired by your landscape contractor to build it along with other features you're adding to your outdoor patio design. The possibilities are endless for designs to enhance your new outdoor room.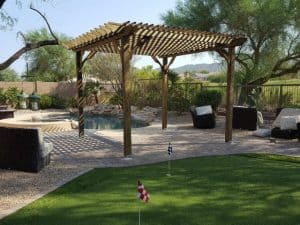 Maybe you've got a mid-range size yard that can accommodate a couple items on your wish list. And if your issue isn't size but your challenge is to make an expansive open space feel more complete, you'll have choices to make for extra features to roll into your design!
Lastly, find the elements that fit both your budget and your family. Maybe the priority is to create an outdoor space for rest and relaxation in between conference calls or classroom meetings.
Or perhaps your routine needs a new twist and some putting practice would help your return to 1 or 2 putts per green instead of 3 or 4! Regardless of your ultimate goal, there are a few common themes that homeowners gravitate toward when turning their backyard into a favorite fall gathering spot.
Patio Ideas for Fall
Not sure you can endure a huge undertaking to make your patio dreamscape a reality? Easily make your patio an extension of your indoor space by adding a cover, lighting, and some simple finishing touches. Whether your patio ideas include creating space watch a replay of a favorite sports matchup or a special dinner underneath the stars, a patio cover is a great place to start.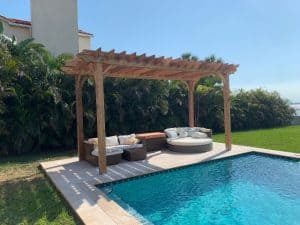 Pergolas are one option for a patio cover that can make the most of your outdoor space. If you've decided to add a pergola to your patio design, you can find guidance on choosing a pergola to help you decide which wood pergola will work best. Our pergola styles offer various coverage options, ranging from the maximum patio coverage from our Big Kahuna, to medium shade from our Sombrero.
Our most open full size pergola design is the Fedora. Any of these can be combined with a canopy or shade sail for a little extra shade. Accent pergolas such as our Visor and Brim can be used in a variety of landscapes to add depth, design, and functionality.
If this is only one element to your design idea, remember that any of our styles can accommodate other patio features such as landscape and lighting enhancements. One of the most popular suggestions to expand on patio design and decoration I've seen is adding firelight. Anything from lanterns, string lights and tabletop fire rings, to fire pits, chimeneas or full-size fireplaces will all add warmth and a glow to your patio. There are a variety of options to consider for your outdoor lighting.
Fall Patio Design with Outdoor Lighting
There's nothing quite like settling around a small fire or under the glow of string lights in the comfort of your own backyard. If you're looking for more specific ideas for lighting, this outdoor lighting guide offers several ways to improve or install outdoor/home exterior lighting. There are many different resources showing options for DIY outdoor lighting ideas, with light fixtures available to fit any decor or budget. Classic looking lanterns create a timeless look that can help illuminate your seating area.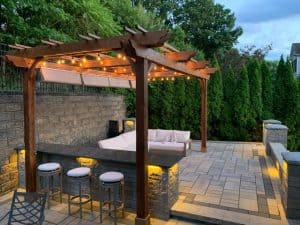 Other ideas to fold into your patio design include complete living room and dining room sets, or cooking stations such as outdoor pizza ovens or built-in grill. Or, you can add an outdoor fireplace or fire pit to create a complete living room feel.
Find your favorite lighting ideas for fall that you could easily incorporate to your patio and pergola that can actually transform your backyard. The natural look of a wooden pergola near an outdoor fireplace or fire pit gives any outdoor space a welcoming feel.
With so many styles and ideas for comfortable gathering spaces, you're sure to find something that aligns with your favorite fall patio ideas. This fall patio guide may not be a one-size fits all, but I hope you'll find some features you can use in your own backyard this fall and throughout the year!