Trying to transform your Florida patio into an amazing backyard escape while creating a protected area from the elements? A popular outdoor living element that serves both purposes is a pergola. One of the quickest ways to build that feature in to your garden plan that guarantees some shade, protection from weather, and timeless beauty is with a ready to assemble kit. Our pergola kits can be shipped right to your location and contain all the pieces needed to assemble your patio cover.
Not sure where to begin? First consider the style that will work in your location. Not surprisingly, the style of pergola kits Florida residents will most often choose are those that provide plenty of shade. Most homeowners start their search by thinking about how to make it blend with their current home or patio design. What are your top priorities and how will you choose?
Guide to Choosing a Florida Pergola
The 3 main considerations when choosing a Florida pergola are: How much shade will it provide? Will it withstand severe weather? How will it be used?
Make the pergola part of your design for function and for flair. The rafters and top slats of a pergola create a natural wood shade structure to protect you from the Florida sunny days. If you seek even more shade, canopies and shade covers offer additional protection.
If you choose a structure that was designed for stormy weather like our pergolas, you can be confident that your patio cover will withstand the fury that Mother Nature can unleash in Florida.
Incorporate this popular outdoor living element in to your design to use it as a cover over an outdoor kitchen, to create a seating area near your swimming pool, or as a garden design feature that enhances an empty backyard space.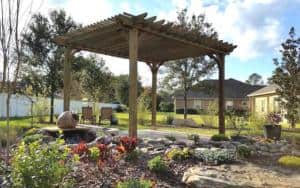 An iconic Florida pergola is surrounded by palm trees and nearby water access. But just as appealing is the beauty one creates when placed near a winding garden path in the backyard of an inland Florida home.
Whether you're northern, mid-state, central, or coastline – for the best Florida patio covers we recommend The Big Kahuna , Big Kahuna PLUS covered pergola kit, The Big Kahuna Solar, or our Sombrero Pergola Kit. These are our top sellers in the Sunshine State and are all built to withstand the harsh weather and create shade. Our Big Kahuna is built to withstand winds up to 175 MPH, which is important in Florida during hurricane season. Choose the Big Kahuna PLUS pergola with roof and add your optional metal roofing for even more shade.
If you like more coverage than the pergola, but not interested in a roofed pergola, you can also add a retractable canopy to our Big Kahuna, Sombrero, Melbourne, or Fedora pergola styles. These styles have varying coverage from top slats and come in many popular sizes, such as the Big Kahuna 12×12 pergola in freestanding or attached, the 14×14 pergola, or the 20×20 pergola. If you're looking for some coverage but have a budget, consider one of our 10×10 pergolas. These offer ample space under the pergola roof at a lower price point.
Maximum Coverage Big Kahuna Pergola Kit
The Big Kahuna provides maximum coverage for a backyard patio in a strong, stylish pergola design. If you're looking to create a cover over an outdoor kitchen or a retreat in your garden for a little escape, a freestanding structure will frame the area in perfectly.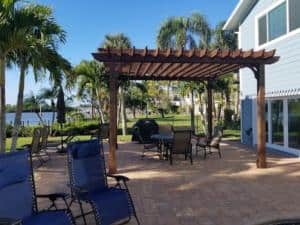 A Big Kahuna pergola can provide coverage over a seating area next to the home and pool. Select the Big Kahuna PLUS pergola with roofing and choose from a variety of popular roofing colors.
Free standing pergolas can provide structure to your newly added outdoor Florida patio, or cover the backyard BBQ area for your outdoor parties. 
This style can also be configured for solar panels. Our Big Kahuna Solar Pergolas are built just like our standard Big Kahuna pergolas, but configured to accommodate solar panels.
Configure your install to provide power for outdoor living environments, carport with power for charging, for backup power, or many other uses.
The kit includes all materials required to assemble the solar pergola, but doesn't include solar panels, racks, or other solar related equipment.
Medium Coverage Sombrero Pergola Kit
The Sombrero would be a good choice for a patio design if you're looking for a little less coverage while still benefiting from some shade. The Sombrero has the same solid design as our Big Kahuna, but comes with half the rafters and top slats.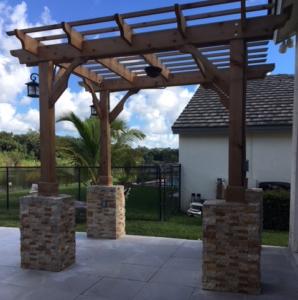 This creates a more open feel and offers a more affordable pricing option. Our Sombrero style pergola comes standard with 6×6 posts, double 2×8 beams, 2×8 notched rafters, 2×2 top slats and stainless steel hardware.
The rafters are placed on 24 inch centers and the top slats on 12 inch centers, creating a more exposed feel than the Big Kahuna, but offers a lot more coverage than other ready-to-assemble pergolas on the market.
If you're still unsure which might work best for your budget and space, compare all of our different style pergolas on our Pergola Styles Comparison for a side-by-side look at the options.
Our Guide to Choosing a Pergola offers another helpful resource for reviewing all the options for each of our pergola styles. This has important steps to consider in configuring your Florida pergola.
Light Coverage Melbourne Pergola Kit
The Melbourne shares the same sturdy design and quality construction with our Big Kahuna and Sombrero wood pergola styles, with 4-6 rafters depending on the beam length and no top slats. This creates a high quality kit that's reasonably priced for many backyard budgets – and offers the flexibility to choose your shade option.
Once you've decided on the pergola size, you can then complete your backyard shade package and add one of our popular retractable canopies or shade sails that are offered in a variety of beautiful colors. The Melbourne is available in 90 standard sizes from 8×8 to 20×20 in freestanding or attached.
Timber Frame Style Pergola Kit
We also have a timber frame structure offering, the Peak Timber Frame pergola kit. Built using traditional woodworking techniques including mortised joinery, wood pegs and quality hardware – our timber frame kits create strong and beautiful structures.
Available in a wide range of sizes and designs, our Peak Timber Frame pergolas includes shipping and installation which will be priced based on the delivery zip code. Customizations are available for special sizes, design alterations, wood types, and finish options.
Cost for shipping and installation are based on distance from Wilmington, North Carolina.
Florida Pergola Styles
Pergolas that help create shade and ambiance for your patio or deck can be built in many configurations. Maybe your yard is in need of an overhaul, and a garden pergola with seating area would complete your design.
You may have an existing patio that needs a cover that will require a style that is attached to your home or existing structure.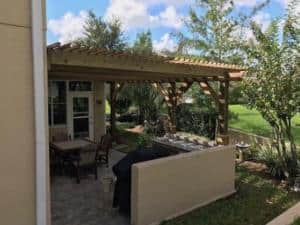 Compare the different pergola styles and sizes, and keep in mind that our full-size pergolas can all be ordered in freestanding or attached.
If you don't see the size you're looking for or know your dimensions are not standard, we also offer custom size pergolas. There are so many options, choices and decisions to make for your outdoor space whether you're in south Florida, north Florida, coastal or inland.
Here's a few tips on how to choose your Florida pergola no matter which part of the state you call home!
How to Choose Pergolas for South Florida and Beyond
Answering questions about choosing a pergola that works well in South Florida can answer the very same questions you might have in many other parts of Florida. Weather conditions in South Florida can sometimes be more severe during certain times of year than North or Central Florida, so you can use this Q&A as a reference on how to choose your Florida pergola, regardless of where in the state you're building your outdoor oasis.
Which type of wood is the best choice for pergolas in Florida?
All of our wood kits are made using either western red rough sawn tight knot cedar or pressure treated #1 southern yellow pine lumber. Either wood choice ensures you will have a quality wood pergola.
This 6 post poolside pergola is a custom Big Kahuna pergola built using our western red cedar.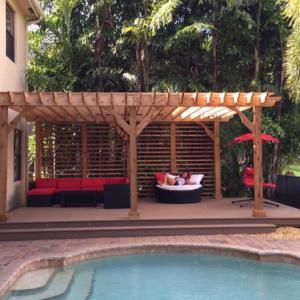 Western red cedar wood has a beautiful light amber color with a wonderfully appealing fragrance that adds another dimension to its fine qualities. Cedar is highly resistant to decay and can withstand severe elements often found in Florida.
Pressure treated pine, the most affordable pergola wood option, is also very rot and insect resistant and can also stand up to even the worst weather often experienced in Florida.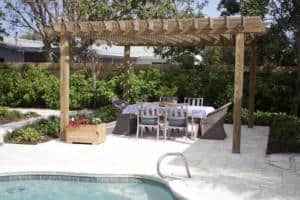 Another poolside pergola shown here is built out of pressure treated pine and creates a lovely patio cover with plenty of space for outdoor patio furniture, landscaping, and planter boxes.
A pressure treated pine pergola kit will have a green appearance when it first arrives. This is due to the pressure treatment applied to the wood. After you assemble the pergola and allow it to dry for 2-6 months (depending on your local weather), you'll be able to apply a stain, sealant, or paint to your pergola. There are different options for staining and painting a wood pergola. Different wood types have different timeframes for applying stain or paint that you can consider when comparing your wood type options.
Will I need a permit to build a pergola?
What happens if you need a permit to build your pergola? For our Big Kahuna pergola kit, we provide an engineered drawing that is stamped in Florida. This comes free of charge when you order a pergola kit from us in Florida. If you build your own pergola, you would have to get an engineer to draw up a plan for you to take to the code office. Ordering a pergola kit that's already cut and drilled with a stamped drawing is a great way to get your project underway quickly!
Do you have installers who can assemble pergolas in Florida?
We offer a Pergola Installer Directory with several pergola installer listings across the country, and many of them in the state of Florida. Pergola Depot is not affiliated with the businesses in the directory. We provide it as a reference, so it's up to you to determine if the business will be suitable for you to use to complete the pergola installation as well as other related projects you might have. You may want to check to make sure they are licensed, insured, and have the ability to do the job. If there isn't an installer in your area, contact us and we'll do our best to assist in finding you an installer for your new pergola. 
What is the cost for a standard size pergola kit?
Our base prices for a standard size pergola kit ranges from $2800 up to $14,000. Prices vary based on wood type, attached or freestanding, post length, and size. We sell Florida pergolas in all 67 counties in the Sunshine State and ship them free of charge to any Florida location (unless you live in a hard to reach location or require a ferry for delivery). If you live in Anna Maria, Boca Raton, Bonita Springs, Cape Coral, Dade City, Fort Lauderdale, Fort Myers, Gainesville, Hialeah, Hollywood, Inverness, Key West, Melbourne, Naples, Jacksonville, Merritt Island, Miramar, Orlando, Pembroke Pines, Ponte Vedra Beach, Port St. Lucie, St. Petersburg, Tallahassee, Tampa, Treasure Island, Vero Beach, West Palm Beach, Weston, Winter Haven, or anywhere in between – we ship to you for free within 10-20 business days of your paid order. In case you live in multiple states, remember that we ship anywhere in the contiguous U.S.!
Most of the time ordering a pergola kit from us is about the same cost as just the materials would cost if you went and priced out materials for a Home Depot pergola or a Lowe's pergola to build yourself. Then you would have to take the time to figure out how to lay it out, how to cut the end cuts, etc. Make it easier and order your pergola in a ready to assemble kit. Your neighbors will think that you hired a carpenter to custom build a pergola in your backyard when they see the quality of the pergola kit that you receive from us.
Can I customize any type of pergola?
Each of our pergola kit styles is customizable with options that are specific to your liking. Our standard sizes can be built in over 90 sizes ranging from 8×8 up to 20×20 in freestanding or attached. If you're looking for an attached pergola, any of our full size DIY pergolas (Big Kahuna, Big Kahuna Solar Ready, Sombrero, Melbourne, and Fedora) can be ordered as an attached pergola kit, and our Visor pergola is only sold as an attached pergola. Our attached pergolas have been engineered with two posts for sizes 8×8 up to 20×20 (four posts for freestanding sizes 8×8 up to 20×20). Once you go over 20 feet overall (17 feet outside post to post) in either direction we will need to add extra support posts to bear the weight of the pergola.
If one of those sizes doesn't work for your backyard space, submit a Custom Pergola Quote request. You can request a custom attached or freestanding pergola kit for any size project. On the form you can enter details about pergola features you'd like, including the estimated pergola size and type of wood.
It's worthwhile to spend a little time and find the best fit for your outdoor project. Take a minute to read our reviews and customer testimonials. You'll find that we take great pride in our work and do our best to provide a high level of customer service and build quality pergolas. Compare our products, and contact us if you need any help with measurements or choosing the style that will complete your Florida backyard retreat.