Shop DIY Pergola Kits & Outdoor Living Products
Ready-to-Assemble Wood Pergola Kits & Products with Free Shipping to 48 States
MADE IN THE USA
Quality outdoor living products proudly Made in USA.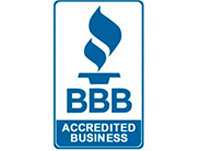 TRUSTED FOR 14+ YEARS
Pergola Depot is family-owned and operated since 2008.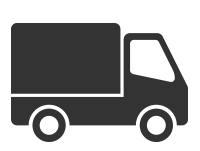 FREE SHIPPING
Pergola Kits purchases include free shipping to 48 States
90+ Designs & Sizes of Pergola Kits to Chose From
Transform Your Backyard Into An Outdoor Oasis
Welcome to PergolaDepot.com, The number one supplier of high-quality pergola kits and patio cover kits on the market. We guarantee that we'll have the pergola kits you've been looking for. We've been providing family homes and facilities with beautiful and functional wood pergola kits since 2008.
Create the perfect backyard patio of your dreams with one of our most popular and one-of-a-kind cedar pergola kits. Here at Pergola Depot, we take great pride in creating superior and elegant pergola kits for sale that'll last a lifetime. As a result, we've been featured on Military Makeover, Lifetime, and the American Forces Network channels.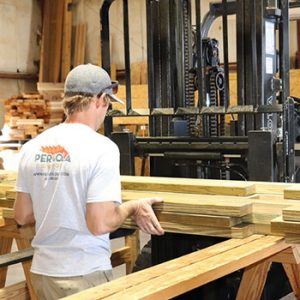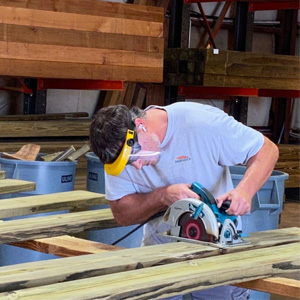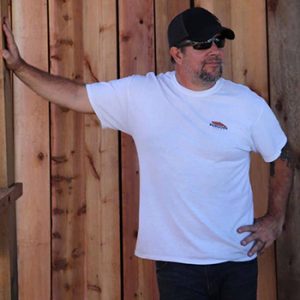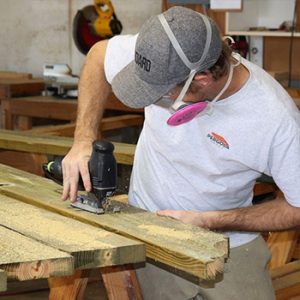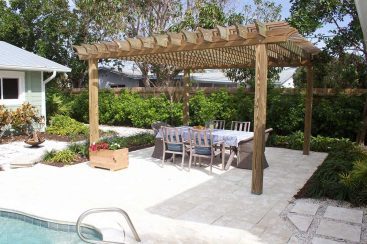 The Big Kahuna Pergola Kit
Our best-selling pergola with a classic design

Built for maximum sun coverage

Engineered for extreme weather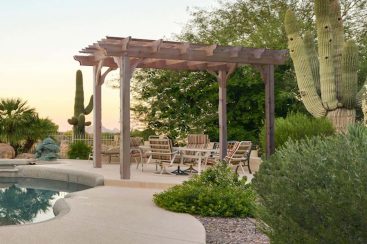 The Sombrero Pergola Kit
Big Kahuna design with fewer rafters and top slats

Built for medium sun coverage

Engineered for extreme weather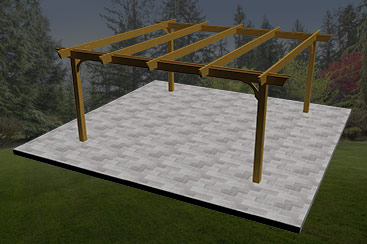 The Melbourne Pergola Kit
Big Kahuna design with 4-6 rafters

Built for light sun coverage

Flexible design pairs well with shade sail or canopy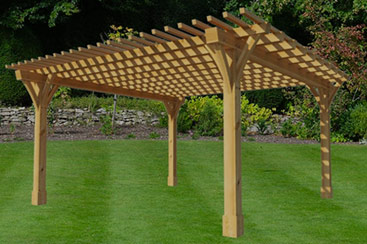 Timber Frame Pergola Kit
Strong & sturdy outdoor structure

Built using traditional woodworking techniques

Heavy hand-cut timbers, mortised joinery, and wood pegs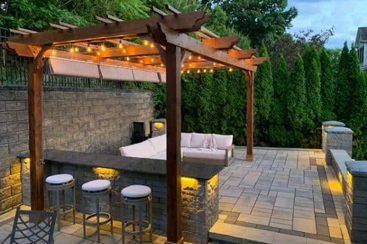 The Fedora Pergola Kit
Open design like a gazebo for light sun coverage

Taller, un-notched roofing system

Newly enhanced with black powder coated angle brackets for extra stability & charm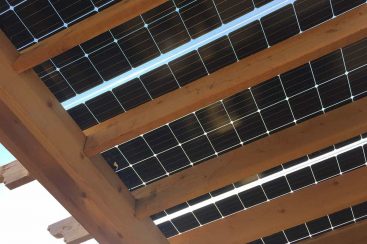 Big Kahuna Solar Pergola Kit
Big Kahuna design configured to accommodate solar panels

Sturdy design to use for outdoor living, backup power, or charging

Offered in standard sizes up to 20'x20'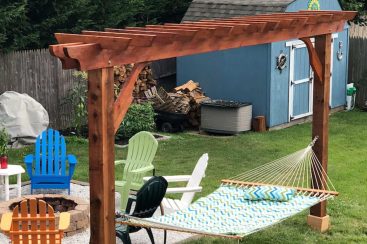 The Brim Pergola Kit
Wooden trellis kit design

Perfect as a patio or walkway border

Ideal for hanging plants or lighting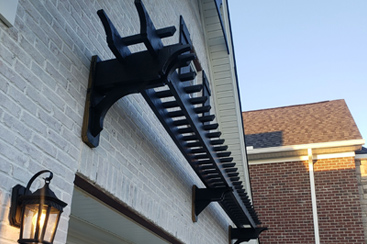 The Visor Pergola Kit
Wall, garage door, or eyebrow pergola kit

Multiple uses and easy to install

Provides shade above a window or door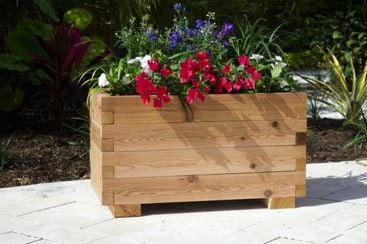 Patio Accessories
Retractable canopies for pergola kits

Patio sun shade sails for pergola kits

Patio planter box kits

Free Shipping!
---
Over 90 sizes of our standard pergola styles we sell ship free to most locations in the contiguous US! Exceptions include delivery to hard to reach destinations or locations that require a ferry to deliver, and timber frame pergola purchases for which shipping charges will be itemized. We build each kit to order. Delivery times vary depending on your order and location.

Customize It
---
Each one of our pergola kits are customizable. You can choose your options such as size, wood type, end cut shape, post lengths, and whether it will be attached to your house or freestanding.

Do It Yourself
---
We've taken all the guesswork out of the building process. If you're handy with common hand tools, you can DIY and save thousands compared to a custom pergola built on site!

Easy-to-Assemble
---
Notched, quality wood, high density of rafters and tops slats increases stability of our pergolas and their ability to withstand strong winds and weather. Our pergola kits come pre-cut, pre-drilled, with detailed instructions.

Large Selection
---
Over 90 standard pergola kit sizes to choose from in freestanding or attached, and custom sizes available. Also offering popular sizes of planter box kits for flowers, vegetables, or firewood.

Affordable Pergolas
---
We maintain a small, skilled crew that pays attention to detail and works efficiently to keep overhead low so we can continue to keep our pergola kits affordable. Flexible payment options available.
Pergola Depot is an award-winning outdoor pergola company with hundreds of happy customers.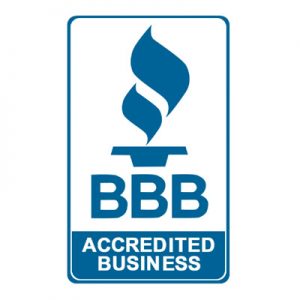 Add Value To Your Home With Our Patio Pergola Kits
If you're looking to increase the value of your property, investing in a wood pergola kit will surely add market value to your home. Across the nation, there's been a record amount of people spending their time living outdoors. So there hasn't been a better time to purchase a patio cover kit for your home. We've spoken to many house buying industry experts. As a whole, there is an agreement that homeowners who invest in patio pergola kits see an increase in property valuation. Our ballpark estimate is a 50% — 80% ROI for a complete backyard remodel.
HOW TO MEASURE A PERGOLA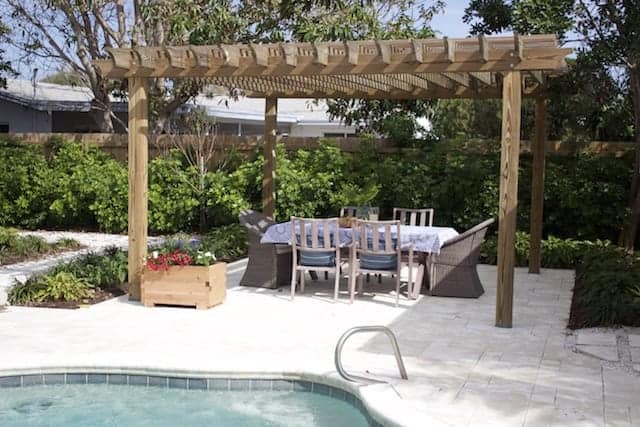 STEP 1
Pine or Cedar Wooden Pergola Kit?
---
Our standard style pergola kits are built using a choice of two classic wood types, Pressure Treated #1 Southern Yellow Pine or Western Red Rough Sawn Tight Knot Cedar. Either one is an excellent choice for a sturdy pergola that will last for many years. Both are highly resistant to decay and can withstand severe elements. If your timeline requires adding stain or paint right away to your pergola, choose cedar. Pressure treated pine needs 3-4 months to dry before applying any paint, stain, or sealant.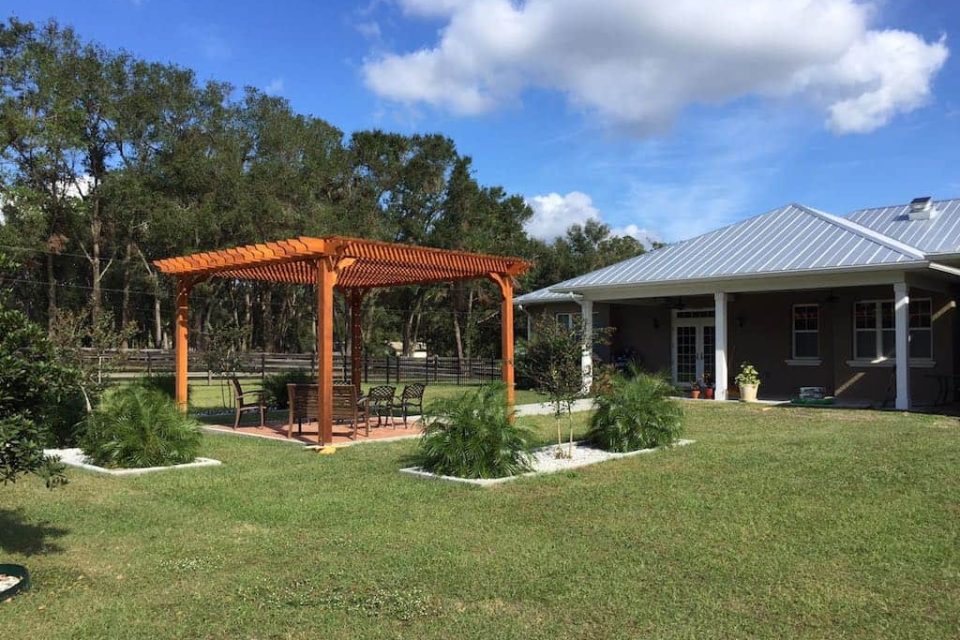 STEP 2
Freestanding or Attached Pergola?
---
Whether you choose freestanding or attached, a pergola creates another space for you to spend time outdoors. Free standing pergolas stand-alone and can be used to create a modern outdoor room. Standard sizes have 4 posts supporting the roof part of the pergola. Our attached pergola kits attach to a wall and extend out away from a building, giving you more covered space for your outdoor gatherings. All of our attached pergola kits include a 2×8 ledger board. Standard sizes have 2 posts supporting the cover part of the pergola.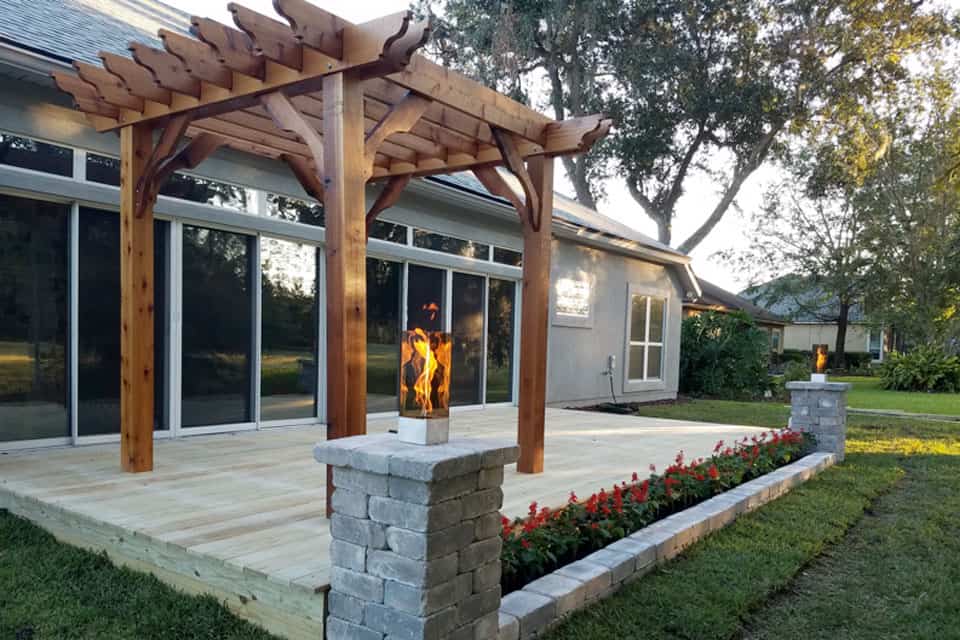 STEP 3
Choose Pergola Kit Post Height
---
When choosing the pergola post length, consider these questions to help you decide: What is the desired height above the ground? How much space do you want between the bottom of the beam (the low point of the roof structure) and the ground? How will you be installing the posts (buried in a concrete footer, or installed on top of a concrete footer or existing concrete slab)? If installing buried in a concrete footer, make sure to add the length of the post below the ground to the desired height of the posts.
Thank you for visiting Pergola Depot! We are your source for affordable, quality, do it yourself pergola kits. Pergola Depot (also known as Average Joe's Pergola Depot) builds and sells quality, affordable, customizable, DIY pergola kits, serving the United States and Canada since 2008.
Customizable, Easy to Assemble, DIY Pergola Kits
Pergola Depot offers over 90 standard designs and sizes as well as custom pergola kits. We use high grade lumber, stainless steel hardware and back our pergola kits with a one-year limited warranty. Every DIY wood pergola kit comes complete with all pre-cut, pre-drilled lumber that is pre-marked for easy assembly. 
Quality, Affordable Cedar and Wood Pergola Kits
We manufacture the following quality wood pergola kits: attached cedar pergola kits, attached pine pergola kits, freestanding cedar pergola kits, freestanding pine pergola kits, timber frame pergola kits, and cedar planter box kits. Our attached pergola kits and freestanding pergola kits are available in our full size pergola styles including The Big Kahuna, The Sombrero, The Melbourne, and The Fedora.
Each pergola kits' style provides a different amount of coverage for your outdoor space. The Brim is a trellis kit and can be standalone or paired with a full size pergola kit. The Visor is a wooden awning kit that enhances and provides shade above a window or door opening. Our cedar pergola kits, pine pergola kits, and cedar planter box kits all include step by step instructions to guide you through the assembly process.
The quality of our pergola designs rival composite, vinyl, or aluminum pergola kits, and are offered at a more affordable price point. If you like to keep up with popular landscape trends, today's modern landscapes featuring a wood pergola with a canopy are gaining in popularity over alternative materials used to build pergolas and other structures like a gazebo or pavilion.
We provide helpful resources to help you make decisions about your wood patio cover, including: Guide to Choosing a Pergola, Pergola Styles Comparison. View our Pergola Kits and Outdoor Living Blog for ideas on how to layout a unique, modern outdoor space. 
Ordering pergola kits is easy through our website, and live customer service is always an option. Call us at 877-563-0002, send an email, or use our contact form.
Questions?
---
Our team is standing by to help answer any questions about your next pergola. We're available to guide you through the process, provide additional information, or create a custom order.
After you choose the location for your pergola, decide if your pergola will be attached or stand-alone. Then decide how much usable space you'd like between the posts (freestanding), or between the wall and posts (attached).
Determine desired rafter length (depth)
Determine desired beam length (width)
Calculate overall tip to tip dimensions. This is the size pergola you'll choose. Overall tip to tip = Rafter (depth or projection) x Beam (width)
Determine post height.
We do not offer installation services on our standard style pergolas, but we do have a directory with companies listed that offer pergola installation services. These companies are not endorsed by us in any way, but are companies who chose to list themselves on our website to offer installation services. You will also receive a complete set of installation instructions with your pergola kit. Our timber frame pergola kits do include installation, and pricing will be provided.
If one of our standard sizes doesn't fit your requirements, you can request a custom pergola quote with dimensions unique to your backyard. Once you take your measurements, you can submit a request using our custom quote form, and we will send you a quote free of charge within 24-48 hours.
Outdoor Living Blog
Hot tubs are an excellent addition to any backyard, providing both relaxation and enjoyment. If you're looking to combine a...
Read More