Solid Wood Free Standing Patio Cover Ideas
Last Updated On April 10th, 2023 at 02:18 pm
Ideas for Free Standing Patio Covers
If you've been browsing different patio cover kits to create a cover for your patio seating area, you may have found that your favorite is a solid wood patio cover that's freestanding or one that attaches to your house. Our free standing patio cover kits are the perfect choice if you're looking to create a little more shade in your backyard, or a beautiful outdoor room.
Have you been searching for a pergola that you can assemble from a kit but prefer finding one that's made in the USA? We build our kits in Melbourne, Florida and ship them anywhere in the contiguous United States. All sizes of our pergola kits arrive to you pre-cut and pre-drilled with step by step instructions. It's a DIY free standing patio cover kit you can assemble yourself in a weekend, or you can hire your local landscape contractor to give you a hand. If you're ready to get started, read on and we'll walk you through how to find the size and style pergola for your outdoor space.
How Do You Build a Free Standing Patio Cover?
Step 1. Compare Free Standing Patio Cover Styles
What is the best material for a patio cover
?
Are you looking for a free standing patio cover made from a quality wood type? At Pergola Depot we offer only the highest quality materials and build our wood kits using rough sawn western red cedar or #1 pressure treated southern yellow pine. Both wood types are sustainably harvested in North America and are used for all styles of our standard pergola kits.
What style
free standing patio covers
will work with your space?
You will want to think about if you would like a lot of coverage, medium coverage, or more less coverage with an open roof design. Our Pergola Styles Comparison is a great place to start deciding what would work best in your space.
If you'd like a combination of shade options so you can adjust according to the weather, you can consider adding a canopy to go with your
patio cover kit. 
We offer a wide 20+ colors to choose from when it comes to phifertex plus mesh, sunbrella canvas and Polytex UV blocking fabric canopies for your free standing patio cover. Our retractable pergola canopies offer a flexible way to provide shade with the flexibility to retract the cover when desired. Our pergola shade sails are an alternate choice made from top quality material and hardware for a beautiful and sturdy pergola shade cover.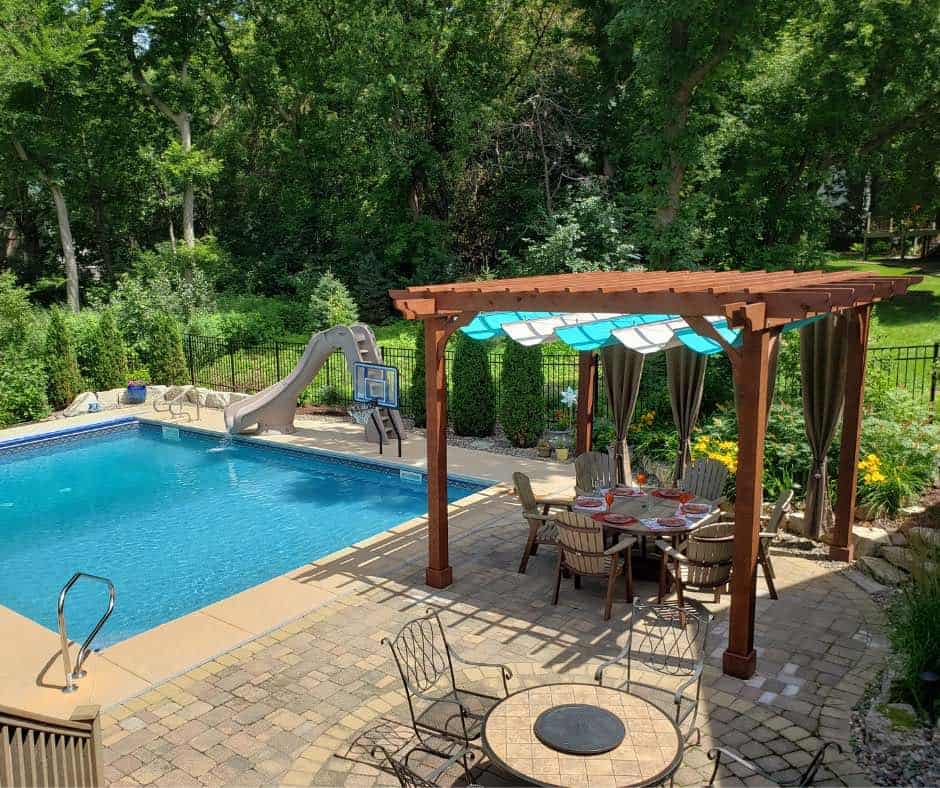 Step 2. Measure Your Patio Space
To make sure you are ordering the correct free standing wood patio cover kits from us measurement is key! Read through How to Measure for a Pergola for an overview of determining the size patio cover kit you'll need, including posts. Then start taking measurements. If you need help at all during this step, we're only a phone call or email away!
Step 3. Customize Your Patio Cover Kits
There are many different styles and sizes of free standing patio covers that can fit any size landscape. If you're looking for a lot of patio coverage, our Big Kahuna Pergola Kit offers the most coverage. If you're looking for a more open design, you can consider our Fedora Pergola Kit. And our Brim is a nice addition to the border of your patio area, and can be paired with a larger free standing patio cover to complete your patio cover plan!
Need help deciding? Here's a comparison of our pergola styles.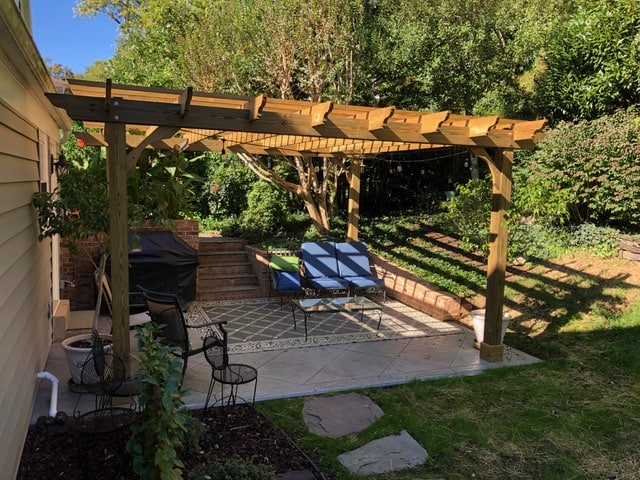 Not sure what size free standing patio cover to order?
Our full-size free standing patio covers ranging from 8×8 up to 20×20 for standard sizes and you can submit a custom quote request for other sizes. The pergolas shown here are some ideas of free standing patio covers from our customers who submitted photos of their backyard pergola project. Take a closer look at how our customers have made their free standing patio covers and attached Big Kahuna pergolas fit into their unique patio designs in Indiana, Virginia, and Arizona. Which of these is your favorite?
How much does it cost to build a covered patio?
There really is no one way answer for this question. There are many factors in play when it comes to pricing out free standing patio covers for your dream backyard. We offer 90 different sizes and styles for you to choose from. Depending on your taste a new free standing patio cover could range from $1,620 to $11,530+ depending on the sizes, style, and accessories you choose. In addition to our talented customer service team, we offer a buying guide to help navigate the process and choose the best free standing patio cover for your backyard and budget!