5 Enhancements for Your Patio
Last Updated On March 8th, 2023 at 02:26 pm
Backyard living has grown in popularity and along with it, a desire to make patio improvements. If you're looking for DIY ways to upgrade your outdoor area, read on for 5 ideas you can implement in a weekend. Refresh your patio this season with one of these popular trends for patio enhancements.
Add a garden box with your favorite herbs or flowers. A quick and easy way to add a fresh new look to your patio is with planters. Potted plants or raised garden boxes are a fun way to get your garden going during any season. Add a few cedar planter boxes to your patio or deck and bring to life to a drab and dreary space. Cedar planter box kits are easy to maintain and come in all shapes and sizes.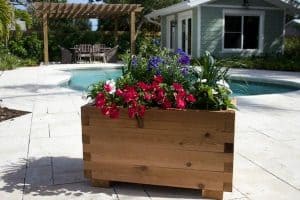 Another way to breathe new life in to your patio is to create the space you can't wait to return home to after a long day at work. Make your outdoor dining room your go-to spot by surrounding your dining set with a pergola. Not sure where to start? What size is your space? Do you want a lot of shade coverage? Here's a Guide to Choosing a Wood Pergola that can be a starting point to help you decide.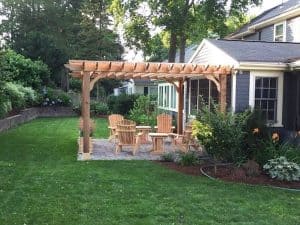 After a nice meal, the next area you might gravitate towards is an outdoor fire feature. To turn this dream in to a reality, you can build or buy a fire pit. There are many DIY options out there, or you can enlist help from your landscape designer to install a custom designed fire feature.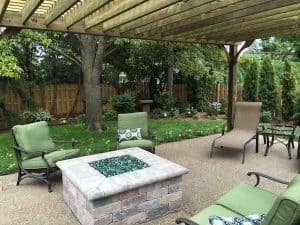 Space constrained or looking for a special seating area? Install a hammock or swing. For warm summer nights or crisp fall and winter evenings, having a swing or hammock to add to your pergola can make your space feel like a vacation destination! These fit in patios small or large!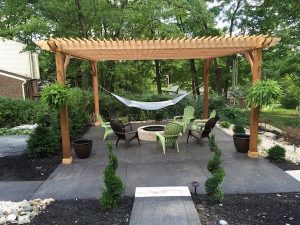 Lastly, a simple spruce-up to consider is to give your furniture and outdoor structures a fresh coat of paint or stain. For outdoor wooden furniture, follow local guidelines for staining and sealing wood to keep it looking good for many years. Pick your favorite colors, or the color of the season to give your lawn furniture a new look.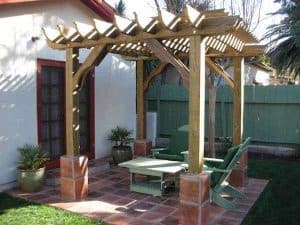 How to Choose Patio Enhancements
Too many to-dos on your list and need help prioritizing? Sometimes the best way to decide how to make the updates you'll most enjoy is to spend time in the space during various times of day. Take it one project at a time and find those that fit your space and budget. And most importantly, have fun relaxing!