Three Steps to Your Maintenance-Free Pergola
Last Updated On May 6th, 2021 at 02:50 pm
Is a maintenance-free pergola possible? Beautiful, versatile pergolas provide a customized getaway right in your backyard. And with a little effort, your pergola will remain strong and in tip-top shape for years. In this article, we'll look at some of the ways you can help protect your pergola with a few easy pergola maintenance steps.
Pergola Maintenance Step 1: Choose the Right Wood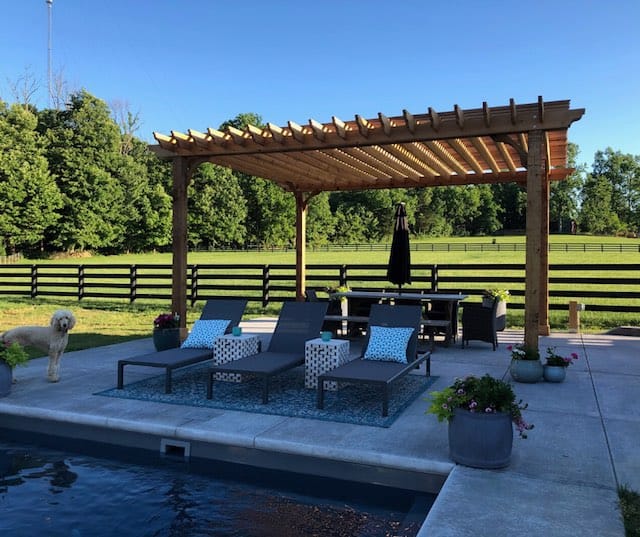 The best way to start is by choosing the right type of wood for your pergola. It's also important to understand why pergola maintenance needs to be done. The reason is there are several elements to keep a lookout for that can pose a threat to an outdoor wood structure. But choosing the right wood makes all the difference. Specifically chosen for their high quality and resiliency, Pergola Depot wood types are the best at dealing with these common issues:
Dust, Dirt & Debris: These dust-ups are easy to spot and easy to clean.
Mildew: Humid, hot weather can help molds, always present in the air, grow and multiply on wooden surfaces, but our wood types resist these with ease. Taking the extra steps to maintain your pergola will help ensure its protection for many years.
Insects: Insects common in your part of the country (perhaps termites or carpenter ants) may make you cringe, but they won't bother you or your high-resiliency wood pergola from Pergola Depot.
Too-Heavy Loads: Your ornamental wooden pergola is sturdy and reliable, so you may be tempted to put extra weight on top or hang items from the rafters. But it's best to practice moderation while enjoying your beautiful pergola for years to come.
Water and Rot: What about water damage? Fortunately, buying pergola kits from Pergola Depot allows you to choose pressure-treated Southern Yellow Pine or Cedar, which gives you a barrier advantage against moisture that other pergolas on the market can't match.
Pergola Maintenance Step 2: Stain or Seal Your Pergola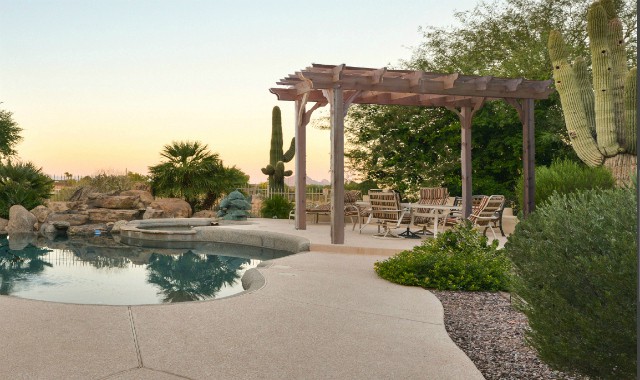 It would be wonderful if maintenance-free pergola kits were the norm, but the truth is they aren't. Some PVC kits out there claim to be, but they still need cleaning and maintenance of other kinds. But our high-quality, pressure-treated pine and cedarwood pergolas are virtually maintenance-free and long-lasting, so the question is: how much maintenance does a pergola require? Ours? Very little. Of course, you'll want to stain or water-seal them according to your kit's wood type as the wood eventually weathers to a grayish color if not.
We use high-quality lumber types that are insect, rot-repellant and can withstand severe weather elements. For additional protection, we recommend adding stain or sealant as soon as possible (*according to your wood type), and every two years after.
*If you're purchasing one of our pine pergolas (built using #1 Southern Yellow Pressure-Treated Pine), follow these guidelines:

Assemble your pergola as soon as possible after receiving it.
Dry out your assembled pergola: Pressure-treated pine lumber must dry out for four months before applying stain, sealant or paint. This timeframe depends upon your location, time of year, and level of humidity.
Apply your sealant of choice to the assembled and dried-out pergola.
Apply stain or sealant every one to two years for optimal results.
*If you're purchasing one of our cedar pergolas (built using Western Red Rough Sawn Tight Knot Cedar), follow these guidelines:
Apply stain, sealant or paint immediately. Cedar lumber can accept it.
Apply stain or seal prior to installation if you desire.
Apply stain or sealant every one to two years for optimal results.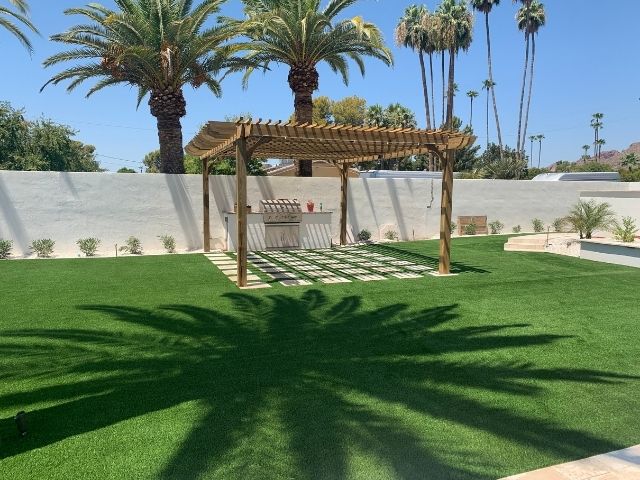 Pergola Maintenance Step 3: Inspect & Tighten
Part of pergola maintenance includes winterizing and inspecting when the patio season returns. If you've added a pergola canopy or shade sail, and have taken it down for the season, check all components and get it ready to re-attach. You can also take a minute to check and tighten any loose fasteners on your pergola. It only takes a few minutes to maintain your pergola and keep it looking like new.
Get As Close to a Maintenance-Free Pergola as Possible with Pergola Depot
The truth is that a completely maintenance-free pergola doesn't exist. However, our exceptional materials — and taking proper steps to stain or seal your pergola — will make a lasting difference. Our cedar pergolas and pressure-treated pine models are built to last and outlast the others who may promise more than they can provide. With ninety standard sizes in five styles and the ability to custom-make any pergola, you're sure to find a great design. Contact us and let Pergola Depot put together a solution perfectly suited for your backyard needs.