4 Reasons Why Winter Is the Best Time to Buy a Pergola
Last Updated On November 18th, 2023 at 03:08 pm
Winter is the time when many people dream of fun in the sun. But winter can be a time of acting, not simply dreaming. Don't just imagine fun times — create them! If you want to buy a pergola, winter can be the ideal time to complete your pergola project. Read on for four reasons you should start to plan for your pergola now.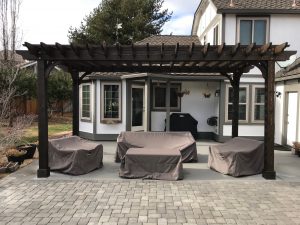 Why Start a Pergola Project in Winter?
Buying a pergola is an essential investment in outdoor living. So you may be wondering when it's the best time to shop for pergolas. You may not have considered it previously, but winter is an excellent time to buy a pergola and build it. Timing is everything, and you want to take advantage of the benefits of a winter pergola project.
1. Less Competition
Putting your pergola plans into effect during the winter can give you unfettered access to installation professionals. Winter is usually a down time for installers, so they're more likely to have the opportunity to make your pergola project a priority. Fewer projects mean they can give your pergola the attention it deserves. Put the natural construction cycle to work for you, and buy a pergola in the winter.
2. Jump to the Front of the Line
Are you considering building a pergola for your backyard oasis but worried about the permit approval obstacles? Look no further than a winter build! Not only does the slow construction season provide a more relaxed atmosphere for your project, but it also means there are fewer competitors vying for regulators' attention. By purchasing a pergola in winter, you can take advantage of these benefits and make your dream backyard a reality. Whether you're looking for a serene retreat or an enticing entertainment space, a pergola can transform your yard into the perfect outdoor living area. So why wait? Get started on your winter build today and avoid the spring rush!
3. Landscaping Edge
Waiting till spring or summer to buy your pergola and build it means a longer wait before you can landscape around the new structure. Starting your pergola project in the winter will give you a jump-start on planting. You don't have to wait on construction to finish to get your shrubs and flowers in the ground. Once temperatures warm up, you'll be good to go.
4. Ready to Play
If you buy your pergola and build it in the winter, you'll have the perfect space waiting for you as soon as spring hits. There's no need to wait for construction to finish for you to take full advantage of your new pergola. A winter pergola project means you'll be able to enjoy every single minute of spring and summer in your new structure.
Pergola Plans: The Basics
When you plan for a pergola in the winter, you'll need to consider all the same factors as you would for a pergola project in any other season. Review these details before you buy your pergola so you can plan ahead.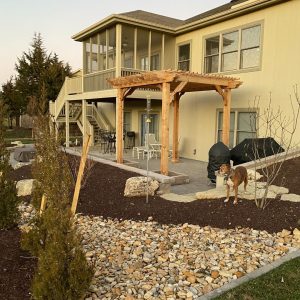 Regulations
Make sure you've carefully researched all pertinent HOA, local, county and state requirements concerning the construction of your pergola. Running afoul of regulations could cost you a fine or even require you to tear down the structure and start over.
Source
As you're planning your pergola project, you may wonder, "Where can I buy a pergola?" Look no further than Pergola Depot. We have over 90 designs and sizes available, and we can get you the best deal on pergolas. You can shop for pergola kits or request customized sizes that suit your specific needs.
Size
You'll want to balance your budget, your desired pergola size and the amount of available space before you buy your pergola. Consider marking off the area and placing furniture to ensure you decide on the optimal size. There could be regulations concerning pergola sizes, so this is one area where your homework will really pay off.
Location
You'll want to select a location for your pergola that makes sense. If you want to increase your home's livable space, consider making the pergola an addition to your home. Or you may want to locate the pergola in an area where it enhances the existing view. Local rules also may affect potential locations for your pergola. For instance, making the pergola an addition to your house could add to your home's tax base, while setback requirements will outline where you can place a pergola in your backyard.
While exploring common requirements, Pergola Depot cannot offer legal advice. Every locality has different ordinances, so customers must make sure their pergola plans comply with local laws, building codes and zoning regulations prior to construction.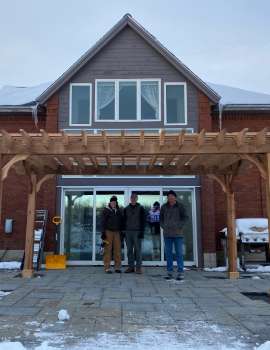 Material
Now that winter is here, you may not be thinking about outdoor living spaces, but did you know that buying a pergola during the winter months can actually be beneficial? With less demand, you may be able to snag better pricing and installation scheduling. And when it comes to choosing the best material for your pergola, you can't go wrong with wood. Not only is it durable and able to withstand harsh weather conditions, it also adds warmth and a unique aesthetic to your outdoor space. Two excellent options to consider are rough sawn western red cedar and pressure treated southern yellow pine, both of which are sustainably harvested in North America. So why not add a touch of warmth and charm to your backyard this winter with a beautiful wooden pergola?
Style
Before you buy a pergola, consider the type of home you have, your neighborhood's architectural style and any HOA or historical district requirements. You'll want a style that blends in harmoniously with the setting for your pergola. If you're truly interested in spending time outdoors during the cooler winter months, consider a covered pergola kit with a roof that will allow you spend those chilly winter nights bundled up outdoors!
Articles Related to Buying a Pergola
Shop for Pergola Kits at Pergola Depot
Pergola Depot is the best place to buy a pergola. We have plans for pergolas that you'll love. We're a trusted supplier of pergola kits and have the experience to ensure you get exactly what you're looking for. Contact us for assistance from our expert customer service team, or start shopping today for the pergola to complete your backyard!