Arizona is a special place with unique landscaping designs throughout the state. From the quiet canyons of Flagstaff and Sedona to the ever-expanding city of Phoenix, Arizonans enjoy a life of seemingly endless natural beauty right in their own backyards.
With over 299 days of sunlight and an average high temperature in the mid-80's, Arizona is also one of the brightest and warmest states in the country. It's no wonder Arizona is one of the best places to build a backyard pergola and beat the heat of summer with friends and family. The Pergola Depot Team wants to help Arizonans do just that! We believe that living in the Canyon State should be a breeze, not a burn. So relax, enjoy the shade and choose from our vast selection of sizes and styles to find the perfect pergola patio cover that transforms your yard into a comfortable outdoor living room!
Pergolas for Arizona
We ship and sell our DIY Arizona pergola kits to all 15 Arizona counties and cities. Our shipping is free!  That means that our beautiful outdoor pergola kits can be found within backyard sanctuaries in Flagstaff, Mesa, Phoenix, Scottsdale, Tombstone, Tucson, and Yuma!  We have the perfect wood patio covers for Arizona and its warm, sunny climate.
Our Best Arizona Pergola Kits
For the best Arizona patio covers, we recommend our signature pergola kit The Big Kahuna Pergola Kit or our Sombrero Pergola Kit. Here's an example of our Big Kahuna Freestanding Pergola Kit.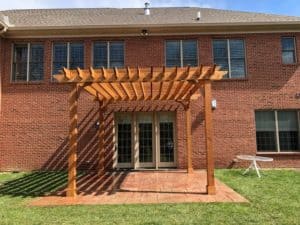 This one is a 15×15 freestanding cedar pergola kit. This style can also come as an attached pergola and in custom sizes. The Big Kahuna offers maximum overhead coverage with craftsman finishes. Pergola kits Arizona residents usually choose are similar to this style, offering the most coverage for a shady relaxing patio retreat. It's made with 6×6 posts, double 2×8 beams, 2×8 rafters every 12 inches, and 2×2 top slats every 6 inches and built to last.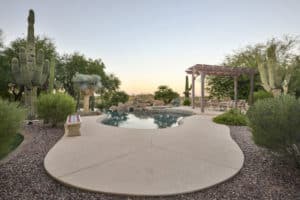 Here's an example of our Sombrero Freestanding Pergola Kit in size 10×15. This style can also be built as an attached pergola and in custom sizes. The Sombrero has the same solid pergola designs as the Big Kahuna with half the rafters and top slats, offering a slightly more open roof feel and at a slightly lower cost and price point.
If you're looking for a size a little smaller or a little larger, remember that you can configure your pergola ideas to fit any backyard design. You can start by taking initial measurements of your patio or deck area where you'll add your pergola. Then think about how much of that space you'd like for your outdoor furniture, fire pit, and other accessories. This will align with the inside post to post measurement of the pergola size you'll select. After you choose the size, you can select the type of wood, attached pergola or freestanding, and how tall you want it to be (post height). End shapes and post base trim are the final selections, and whether or not you'd like to add a pergola canopy.
Since one of first decisions you'll make for your patio cover is the type of timber pergola you'll choose, take a minute to compare. Two of the best wood types for pergola kits are pine and cedar.
Which Type of Wood is Best for a Pergola in Arizona?
At Pergola Depot, we offer the options of either pressure treated pine pergolas or rough sawn cedar pergolas. Both pergola wood types feature crafted ends and offer sturdy, durable shade season after season. While cedar affords a more dramatic color profile, the choice ultimately comes down to personal preference. When comparing these types with a vinyl pergola, there's no comparison for the beauty and style that a pine or cedar pergola provides for your backyard landscaping. All of our materials are sourced from high quality lumber in an effort to create the best pergola for Arizona or just about anywhere.
Attached Wood Pergolas Arizona Style or Freestanding?
Attached wood pergolas are excellent for people who want the structure itself to feel like an extension of the exterior walls of their home. In addition to saving on material costs, attached pergolas can create gorgeous contrasts between the color of the house and the natural wood hue of the pergola.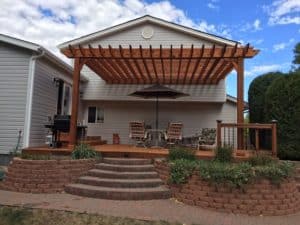 Often times, when landscaping our outdoor living spaces we build the patio right up to the house. Our customizable attached pergolas can make an excellent fit in this type of patio space. Not only will it add to the landscape value of your backyard, it will offer relief from those sunny Arizona afternoons.
Our freestanding pergolas are majestic and can create an island of shade in your yard or patio. For people with large outdoor living areas, our freestanding pergolas can help make sense of all the space. They create a focal point for your landscaping and a haven from the summer sun.
To shield yourself from the heat of summer and beyond, consider one of our pergola canopies as the perfect companion to your Arizona pergola kit!  Unlike a permanent pavilion roof, our pergola canopy covers are retractable, giving you total control over how much shade you want.
They come in over a dozen colors with the option to stagger two colors across the ceiling of the pergola. Made from durable fabric that will last for many seasons, they offer the best shade while still allowing the light to filter through. We sell retractable canopies as a companion to our pergolas.
What is a DIY Pergola Kit?
Your Do-It-Yourself pergola kit comes ready to assemble with step-by-step instructions to simplify the project. All the lumber comes drilled and ready to build in your backyard or patio. If you need a hand or would like a professional to assemble your pergola we have an installer directory of carpenters and handy people in your area to use as a reference to find someone that would be happy to help you. Either way, going from delivery to sipping lemonade in the shade of the Big Kahuna or the Sombrero is easy and painless.
Make Your Backyard Beautiful, Arizona!
So if you live in The Grand Canyon State and would like to make your Arizona patio your favorite place to relax, this is a good place to start! With an array of styles and sizes to choose from, each kit can be customized with options such as end cut and post height that are specific to your tastes. Start enjoying your warm, Arizona afternoons in the shade of your pergola. Ordering is simple and shipping is free. Let us help you turn your Arizona patio into the most comfortable room of your house!