Imagine a Large Wood Pergola in Your Backyard
Despite its impressive stature, a large wood pergola is about more than just scale. A large pergola creates an atmosphere, a canvas upon which memories can be painted, where laughter can echo and the daily hustle and bustle can melt away. The subtle interplay of shadow and light filtering through their lattices, the whisper of the wind against their beams and the marriage of man-made architecture and natural beauty all contribute to creating a tranquil oasis right in one's backyard.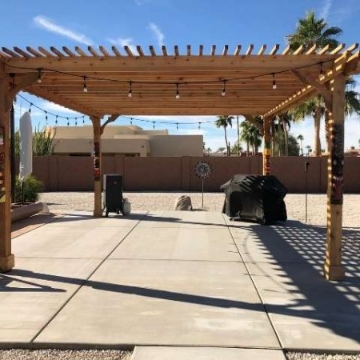 Who knew it was so simple to turn your dream into reality? Our high-quality large pergola kits are pre-cut, pre-drilled and easy to install. Just follow the step-by-step instructions. Order your large wood pergola kit today and get ready to turn your backyard into an outdoor gathering place for family and friends!
Large Pergola Kits to Fit Your Space
Choosing the Best Large Pergola for Your Property
One of the advantages of our large pergola kits is that you can customize them to fit beautifully in your space. Your large pergola will look like it's always been a part of your backyard. Just let us know what you need, and we'll get your pergola kit to you ASAP!
Pergola Sizes
Whether you need a large or extra large pergola like the Big Kahuna or Big Kahuna Plus, we've got you covered. Our Big Kahuna kits range from 8 feet x 8 feet to 20 feet x 20 feet. We can also create a custom-sized pergola kit for your property. The amount of shade required and the size of your space will determine the dimensions of your large pergola. You may find our Pergola Measuring Guide helpful.
Pergola Wood Type
Our large pergola kits are available in two kinds of wood: pressure-treated southern yellow pine and rough-sawn western red cedar.
Pergola Installation Location
Are you looking for an attached pergola kit to add to an existing structure, or will your pergola be freestanding? We can accommodate either setup. If your large pergola will be attached, just let us know whether it's mounting onto a wood-framed or concrete block wall.
Post Length & Mounting Method
Freestanding large pergola kits have four posts for pergolas up to 20 feet. (Additional posts are required for larger sizes). Our attached large pergola kit comes with two posts for pergolas up to 20 feet (with additional posts for bigger sizes). Simply indicate the post size and whether you're setting the posts on a concrete slab or in the ground.
End Shape & Trim
Selecting the end shape and trim for your large or extra-large pergola is purely a matter of personal preference. We have 5 end shapes to choose from. You can also opt for decorative trim that covers post-mounting hardware on pergola kits.
Other Options
Protect your guests from the elements by installing a large pergola with a canopy that's retractable. Or add a UV-blocking, water-resistant pergola sun shade. If you choose our Big Kahuna Plus large pergola, you may also order a metal roof covering to provide additional shelter.
The Best Spot for Your Large Pergola
A large wood pergola is a beautiful addition to your property. Here are a few examples of where to install large pergola kits:
Spacious Backyards: The most traditional location for a large pergola is in a big backyard, where it serves as a centerpiece for outdoor living – perfect for barbecues, family gatherings or quiet evenings. When encased in climbing roses or ivy, a large wood pergola can create a sense of seclusion and intimacy while allowing you to enjoy the open air.
Patio or Deck: Installing a large pergola over your patio or deck can expand your living area and provide a shaded place to relax or entertain guests. It can offer protection against harsh sunlight or light rain, making the space functional all year round. Consider adding outdoor sofas, a fire pit or a dining table for a complete outdoor living room experience.
Poolside: A large wood pergola can offer a luxurious touch to your pool area, providing a shaded place to relax after a swim. It also serves as a decorative element, adding a sense of elegance and sophistication. Consider incorporating sheer curtains or misters to enhance the resort-like feel.
Garden Pathway: Placing a large pergola over a garden pathway can create a charming, inviting journey through your garden, providing a gentle shade for the walk and serving as a support for beautiful, flowering vines. This installation can add depth and structure to your garden layout, enriching the overall visual experience.
Outdoor Kitchen or Dining Area: A large pergola provides excellent coverage for an outdoor kitchen or dining area. It gives the right amount of shade to keep the area cool, making cooking and dining alfresco an enjoyable experience regardless of the weather.
Rooftop Terrace: If your home or apartment has a flat rooftop, a large pergola can transform it into a spectacular outdoor space. It provides shade and can help define different areas, such as a dining space, a lounging area or a spot for a hot tub. Rooftop pergolas also offer an excellent opportunity for urban gardening, bringing a touch of greenery to the cityscape.
Vineyard or Orchard: For those fortunate to have a personal vineyard or orchard, large pergola kits can provide a picturesque and practical addition. They offer a wonderful space for tasting homegrown wines or fruits, and when draped with grapevines or surrounded by fruit trees, they add a rustic and authentic charm.
Commercial Spaces: Restaurants, cafes and wineries greatly benefit from a large pergola with canopy. Pergolas create comfortable, shaded outdoor seating areas that can draw in customers. Additionally, they can be used in public parks or community gardens to offer respite to visitors.
Regardless of the location, the success of a large pergola installation lies in its design and integration with the surrounding landscape. An effective pergola design will take into account the space's existing features, the local climate and the intended use to create an inviting and functional outdoor space.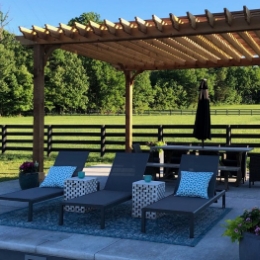 Beyond Large Pergola Kits: Other Pergola Options
Before making your final decision, make sure you explore all your options. We also offer the following:
Frequently Asked Questions About Large Pergola Kits
Following are answers to some of the questions we've received about our large pergola kits. Please reach out if you'd like more information about any of our pergolas.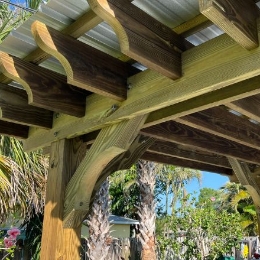 What's Included in Your Large Pergola Kits?
Our large pergola kits include all the pre-cut lumber you'll need (posts, beams, rafters and top slats) along with all necessary hardware, such as screws, bolts, nuts, washers and optional post base mounting hardware. Also included are detailed, step-by-step assembly instructions. Note that any additional features like lighting or curtains should be purchased separately.
Are Your Large Pergola Kits Customizable?
Yes, we offer a range of options to customize our large pergola kits. You can select from various sizes, wood types and styles to suit your specific needs and preferences. Please contact us to discuss other optional features and how we can bring your vision to life.
Can a Large Wood Pergola Withstand Harsh Weather Conditions?
Our large wood pergola kits are designed to be durable and resistant to various weather conditions. However, the specific weather resilience can depend on the type of wood used and whether it's been properly treated and maintained. Always check our guidelines on weather resistance and maintenance to ensure your pergola provides you with many years of enjoyment.
Is It Cheaper To Build Or Buy A Pergola?
The cost of a large pergola can vary greatly depending on the materials used, the design's complexity and labor costs (if you're hiring a professional). In general, building a pergola yourself could be cheaper because you're not paying for labor but is highly dependent on the quality of the lumber used. Our kits are built from high-quality lumber not found at big box stores, which ensures a sturdy structure that will last for many years with proper care. Purchasing a pergola kit with step-by-step instructions is easier than building from scratch but more expensive. The costliest option is hiring a professional to custom-build your pergola. It's important to consider all these factors and decide what's best for your budget, skills and time availability.
Do You Need A Permit For A Pergola?
The requirements for permits can vary by location and the project's specs. In some cities or counties, you may need to apply for a permit to build a pergola, especially if it's attached to your house or above a specific size. In other areas, a pergola may be considered a type of garden structure that doesn't require a permit. Before starting any construction project, it's always a good idea to check with your local building department or city hall to understand what permits you might need. Not doing so could result in fines or other penalties, and you might have to modify or remove the structure if it doesn't meet local codes.
Upgrade Your Backyard Experience with a Large Pergola Kit from Pergola Depot
In the realm of outdoor living, a large pergola can be the transformative element that elevates your space from simple to sublime. If you've thought about adding a large wood pergola to your garden, patio or other outdoor area, Pergola Depot offers an array of styles and sizes to fit your unique vision. These kits are a testament to quality and elegance, combining ease of assembly, customizable options and robust, enduring materials. Before choosing your pergola kit, explore all the possibilities, and let's begin creating your large wood pergola today!
Related Articles: Large Pergola Kits
Explore the five best pergola kits to determine which will work best in your space.