Covered Pergola Kits for Sale
Covered pergola kits are an excellent option for homeowners wanting even more shade from their pergolas. Besides being a beautiful architectural feature in your yard, a covered pergola kit of any size and shape can create a wonderful outdoor room to enhance your enjoyment of your backyard.
Whether you like the closely placed rafters of our Big Kahuna pergolas or the more spaced-out design of our Sombrero pergolas, we have fantastic covered pergola ideas to complement your outdoor oasis.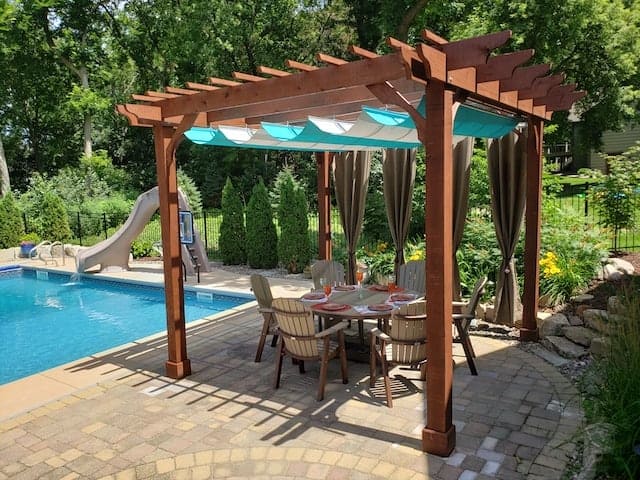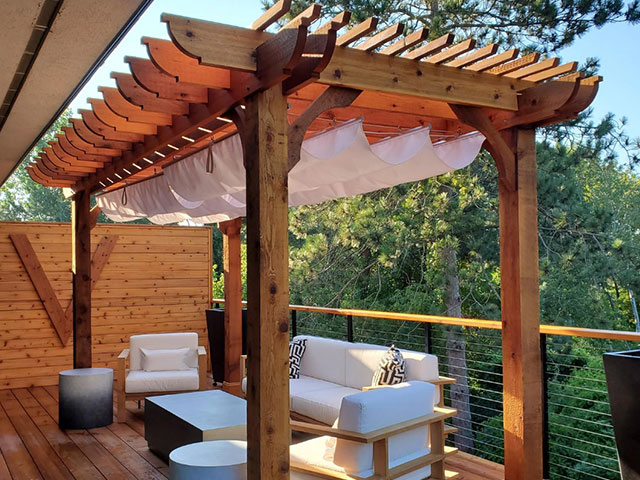 Plan Your Covered Pergola
Making a list of your priorities and budget is an excellent way to get the ball rolling on finding the best covered pergola kit for your backyard. When planning either a standalone pergola or attached pergola, you need to accommodate the sunrise and set directions, relationship to your home and shade trees.
Placing the pergola in the proper location based on sun direction will help provide the shade you want. With their more widely spaced rafters, Melbourne pergolas and Fedora pergolas are two options that offer less coverage.
Pergolas provide more than just shade. The geometric structure of the wooden posts, brackets, rafters and slats on all of our full-size wood pergola kits make a gorgeous addition to your backyard. The design of the pergola, its position and the accessories you choose can all contribute to making your covered pergola dream a reality!
Browse Covered Pergola Kits
Covered Pergola Kits for Maximum Shade
Covered pergola kits can provide all the shade you need. Options include retractable canopy pergolas, shade sails, extra top slats or a solar pergola kit designed to accommodate solar panels above the pergola. In all of these cases, the first considerations are your custom pergola's size, location and orientation.
Pergola canopies are available in numerous fabrics, from translucent to opaque. Your choice depends on the sun intensity and the effects you want for your outdoor space. Canopy fabrics also run the range from water-resistant to water-repellent Sunbrella™ fabrics, which are very fade resistant, are one option.
Canopies are straightforward DIY projects that can be completed with simple tools and a ladder. They're installed under the rafters and will "soften" the look of the pergola.
Curtains are another great covered pergola idea. They can be supported by rods or wires and hung inside or outside of the posts on one to all sides of the pergola. And don't forget curtain tiebacks to add a special touch!
Canopies and curtains can be adjusted anytime to match changing weather conditions.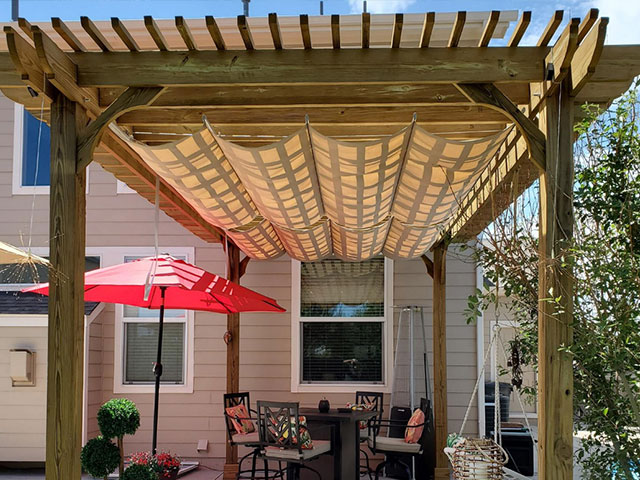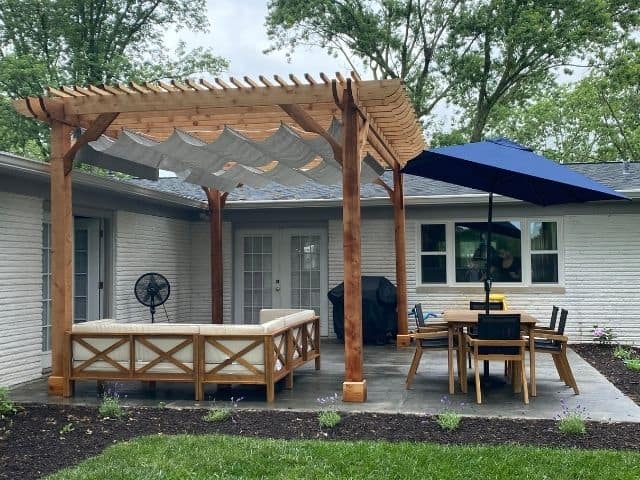 Bringing It All Together With a Covered Pergola
A covered pergola is timeless and can be enhanced with patio bases of poured concrete, natural flagstone, brick or stone.
Finishing touches for your beautifully crafted outdoor living room can be as simple as a set of string lights. A more elaborate addition is a fire or water feature to gather around during get-togethers.
Dining room furniture is another fantastic covered pergola idea. Outfitted with a canopy, a pergola can be the perfect dining spot, regardless of the weather.
Covered Pergola Kits for Any Location
Covered pergola kits can be configured for your unique space. Whether you're in the city or suburbs or surrounded by open space, there's a size and style that will fit your location. From New York City to Flagstaff, Arizona, or anywhere in between, we have covered pergolas that work well in any type of landscape.
Purchase Your Covered Pergola Kit Today
Pergola Depot is the leading supplier of covered pergolas. We can customize a solution to match your unique style. Order your covered pergola kit now to start creating the backyard living space of your dreams.