Types of Covered Pergola Kits
Besides being a beautiful architectural feature in your yard, covered pergola kits of any size and shape can provide a wonderful outdoor room with specific characteristics that suit your needs.
For many locations across the country, the heat of the day and intensity of the sun can limit your use of your outdoor room. Providing shade is often a primary requirement/design goal to enhance the comfort and usability of this space.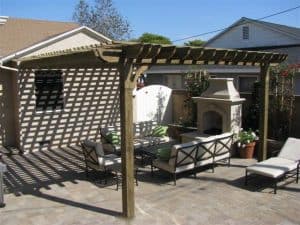 There are many types of covered pergolas that provide a varied amount of shade, depending on how much protection you'd like on your backyard patio or deck.
For those locations who don't seek additional shade in the fall or winter, take note of the position of the sun overhead for planning your pergola location for optimal spring & summer shade.
Regardless of your locale, the best place to start is to make a list of your priorities and budget to get the ball rolling on finding the best fit to cover your backyard patio.   
Tips for the Best Pergola Placement for Shade
The best-laid plans begin with, well… a plan! When you are planning either a standalone patio pergola or attached pergola, you need to accommodate the sunrise and set directions, relationship to your home and shade trees. Placing the pergola in the proper location based on sun direction may provide all the shade that you need, so you'll have some flexibility in choosing the amount of roof coverage.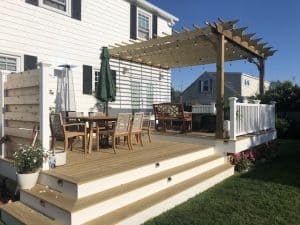 The structure and orientation of the pergola, its 6×6 posts, 2×8 rafters and 2×2 slats, their spacing and quantity creates increased shaded space during the morning and afternoon use. For example, the Big Kahuna (in standard sizes ranging from 8×8 to 20×20) has the closest spacing of rafters and slats while the Fedora has the widest spacing of our full size pergolas. The Big Kahuna has the largest number of top slats, creating maximum shade coverage. The Sombrero pergola style has half the number of top slats, so slightly less patio coverage.
Finally, the Fedora pergola has wide open roofing to create a beautiful open design. The geometric structure of the wooden posts, brackets, rafters, and slats on all of our full-size pergolas make a gorgeous addition to your backyard dreams. The design of the pergola, the position of the pergola, and pergola accessories can all contribute to making your covered patio dreams a reality!
Pergolas Designed for Maximum Shade  
If you're in the sunny south, west, or other states of sunshine, you're probably looking for max shade. To create more patio shade, you can select a type of pergola that can incorporate additional features to build a highly shaded area.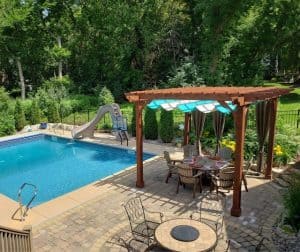 Options include pergola kits with a retractable canopy or shade sail, extra top slats, or a solar pergola kit designed to accommodate solar panels above the pergola. In all of these cases, the first considerations are the size, location, and orientation of the pergola be placed.
The pergola canopies, shade sails and shade curtains offer numerous fabrics from translucent to opaque depending on the sun intensity and effects sought for your outdoor space. And the fabrics can be water-resistant to waterproof.  Sunbrella™ fabrics, very fade resistant, are options for many manufacturers of outdoor products.
These solutions can be adjusted at any time for changing conditions and all are simple DIY projects that can be completed with simple tools and a ladder.
Canopies are installed under the rafters and will 'soften' the look of the pergola. Curtains can be supported by rods or wires and hung inside or outside of the posts for one to all sides of the pergola. And don't forget curtain tiebacks to add a special touch!
Shade Sails for Pergola Covering
Shade sails are another option that can be anchored to the pergola according to where the shade is needed.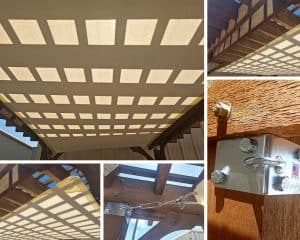 Our shade sails can be made to fit any of our standard size Big Kahuna or Sombrero pergola kits in sizes 10 feet x 10 feet up to 20 feet x 20 feet.
And depending on the level of privacy that your backyard offers, you can combine any or all of these concepts for your solution. Many styles can be installed or taken down within a few minutes.
If you're a weekend warrior shopping around for the perfect DIY backyard structure, keep in mind that pergolas with shade options offer a bit more flexibility than pavilions or patio gazebos.
DIY Covered Pergolas: An Alternative to Gazebo Kits
A distant cousin to gazebos, the pergola is a backyard structure that's intended to provide shade for backyard gatherings. Both can enclose a section of your back deck or patio, creating the feel of an outdoor room. As for which is better, it's a personal preference.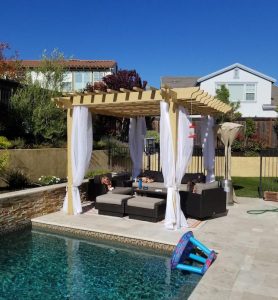 With coverage options ranging from open to shaded, even a full-size diy pergola design creates an open feel while providing shade, and will take up less space than a gazebo.
Ranging in size from a petite 8 x 8 pergola all the way up to a custom size 40 x 60 pergola (or larger!), we'll build the structure that best fits your fancy!
We often get asked which is the most popular pergola design and type of covered pergola kit. The answer is, "the one that you choose"! Since everyone has a unique landscaping design, a perfect Florida pergola could be completely different than a New York pergola.
So no matter what your perfect patio possibilities are to build a shady covered area, there are many options out there to consider! A perfect place to start is measuring your space!