Nine Site Preparation Tips for a Successful Pergola Installation
Last Updated On June 13th, 2023 at 11:43 am
A pergola adds beauty and a sense of intimacy to any outdoor space. But there are crucial steps you need to take before your pergola installation to ensure the success of your project.
This article will provide site preparation advice, yard prep suggestions and other tips to help you get ready for your pergola installation.
As you learn how to properly install your pergola, you'll want to follow these steps:
Select Your Material
Check Local Building Requirements
Review HOA Regulations
Choose Your Pergola Installation Site With Care
Investigate Impediments
Look Out for Landscaping
Inspect Site Lines
Call 811
Consider Hiring a Pergola Installation Professional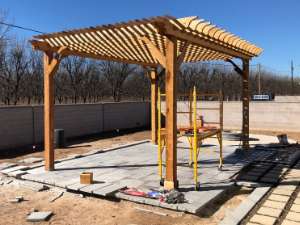 Why Build an Outdoor Structure?
People choose to build an outdoor structure like a custom-built pergola for many reasons. Wood pergola designs can:
Offer shade
Extend a home's livable space
Create an outdoor living area
Add a focal point to a backyard or garden
1. Select Your Material
A wooden pergola is a perfect accent to complement your backyard. Rough-sawn western red cedar and pressure-treated southern yellow pine offer considerable advantages. Either would be an excellent choice for your backyard or garden pergola. If you're planning to add stain, sealant, or paint right away – cedar is the best option. You can stain, seal or paint the cedar pergola wood right away before or after installation. With pressure-treated pine, you'll need to allow the pressure treatment to dry before adding a coat of your favorite color. This can take up to 3-4 months for the wood to dry sufficiently depending on your local climate.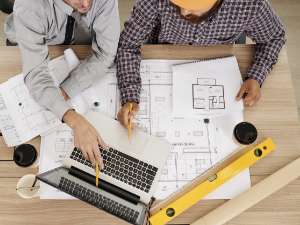 2. Check Local Building Requirements
Although a building permit may not be necessary, many county and local governments have regulations regarding the size and spacing of an outdoor structure like a pergola, especially if it's attached to your house. You can save yourself time and money if you explore your local building requirements before pergola installation. Check out what your local requirements are for adding a wooden pergola.
3. Review HOA Regulations
Homeowners' associations frequently have rules concerning the placement and size of structures like pergolas. This varies state to state, county to county, and neighborhood to neighborhood. Educate yourself about your HOA rules before starting your DIY pergola project to avoid considerable headaches.
4. Choose Your Pergola Installation Site With Care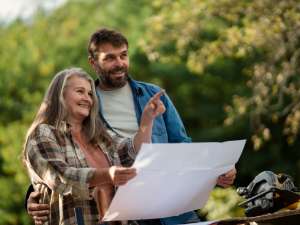 There are numerous considerations to keep in mind when selecting your pergola installation location. You'll want to avoid low-lying areas where water may accumulate after heavy rains.
Building a pergola on sloping ground is possible, but if the angle is too steep, you may need to level the area before beginning your project.
As part of your site preparation, use garden or construction stakes to mark out your pergola's base. Standard pergola dimensions vary according to the available space. Sizes can easily range from 8-feet-by-8-feet to 20-feet-by-20-feet.
5. Investigate Impediments
Once you have your pergola staked out, check if there are flowerbeds or other impediments in the pathway from your home to your pergola. If you don't want people trouncing through your flowers, you may need to adjust the location of your pergola — or of your flowerbeds.
Walk around the perimeter of your planned pergola as part of your yard prep. Is there enough room to easily maneuver around all sides of the structure?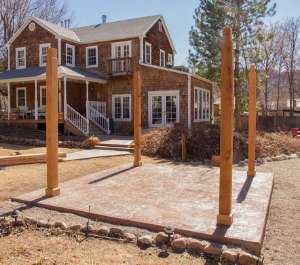 6. Look Out for Landscaping
You'll also want to check the landscaping around the pergola. Are there immature trees that could affect the structure as they grow? If you're building your pergola in a garden, review the placement of bushes and flowers to ensure proper spacing.
7. Inspect Site Lines
Once you've followed these pergola installation steps, you'll also want to check your site lines. The standard pergola height ranges from 8 feet to 12 feet. Raise a post as tall as your pergola and check to see if the structure will impede your view from second-story windows.
8. Call 811
If you're enhancing an existing concrete patio with a pergola, you likely won't need to lay an additional pergola foundation. If you're building a backyard or garden pergola, you'll need to pour concrete footings for your pergola. Before digging for even one pergola footing, be sure to call 811 to have utility representatives come out and locate gas lines, water pipes and other utilities. This process may take several days, so you'll want to plan ahead.
9. Consider Hiring a Pergola Installation Professional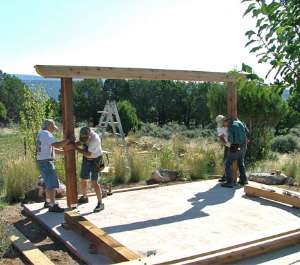 Pergola Depot provides complete, easy-to-follow DIY pergola plans. But if any part of your pergola installation gives you pause, there's no harm in hiring a professional to complete your project. Contact a local landscape contractor or handyman/woman to enlist their help with your installation. Or visit our handy Installer Directory to find a professional in your area. We provide this as a reference for our customers. Please be advised that Pergola Depot is not affiliated with the businesses in the directory. It's up to you to determine if the business will be suitable for you to use to complete the pergola installation or other related projects you may have. You may want to check to make sure they are licensed, insured and have the ability to do the job.
Purchase Your Wooden Pergola From Pergola Depot
There's nothing like a beautiful pergola to enhance your backyard and extend your living space. At Pergola Depot, we have a wide range of sizes and styles that you can complement with a seating area or flowering vines and landscaping. Start shopping for your own pergola today and create the backyard of your dreams.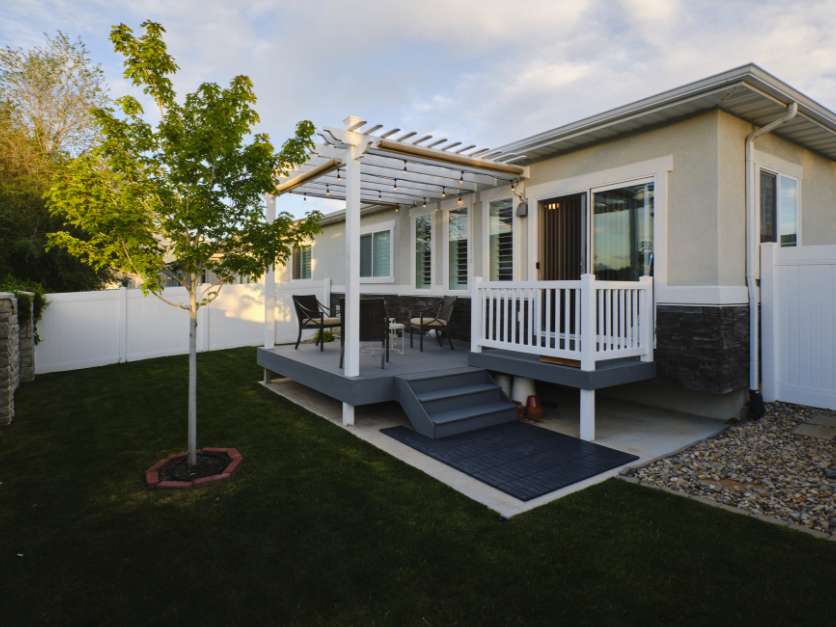 Articles Related to Pergola Installation