Festive Backyard Christmas Party Ideas & Holiday Decoration Tips
Last Updated On December 13th, 2021 at 11:55 am
While you may be dreaming of a white Christmas, if you live in a spot on the map where real snowflakes won't be a reality, at least you can have a backyard holiday party to share the highlights of the year without getting frostbite!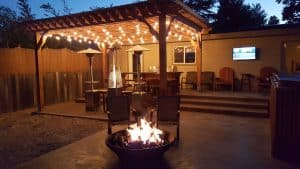 Or if you do live where the forecast calls for chilly temps and you don't mind the cold, make a plan to have your party outdoors and stock up on firewood. Just be sure to have your guests dress warm, and plan to huddle around the fireplace, or invest in some outdoor heaters to keep everyone cozy underneath your outside pergola.
If you're in a warmer climate, this is the perfect time to put your new open air space to use. Lawn games and a cookout with seasonal fare are always a big hit for foodies and gamers alike!
Backyard Holiday Party Ideas Indoors or Out
Warm or cold, this would be the perfect time to put your outdoor kitchen to use for food prep, or as your main cooking and serving area. Since the kitchen is always the favorite landing spot, lure your guests to the outdoor space. This will keep them from clogging up your indoor kitchen!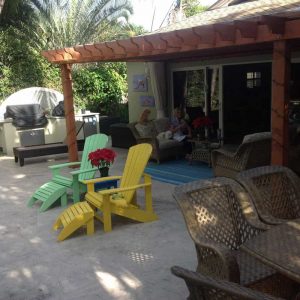 A nice way to keep guests outdoors with a festive twist is creating a special drink area, complete with hot cocoa bar and seasonal treats that are enjoyed at any age. Decorate with handmade wreaths, free printable crafts, or mini-chalkboards for your food and drink stations. These are fun decorations that can be reused time and time again.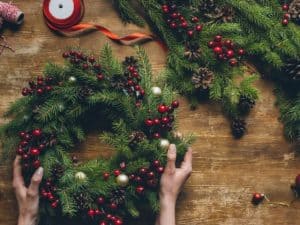 Lighting and other design features make an outdoor area inviting regardless of the climate or season. Set the stage with some solar string lights or battery-operated candles that can easily add a warm glow to your wood pergola covered dining area.
A glass jar with a string of battery operated lights makes a pretty nice centerpiece when paired with a ring of greens and some pinecones, seashells, or another favorite decoration!
So whether or not snow is in the forecast, maybe all you need is a little bit of extra lighting and a great gathering spot. There's a wide range of pergola lighting to choose from, and of course a variety of culinary creations to prepare. Have everyone bring their favorite foods and you've got yourself a festive backyard party for holiday celebrating!