Pergola Landscaping With Potted Plants
Last Updated On December 21st, 2022 at 10:29 am
The time has come to think about sprucing up your pergola by landscaping with potted plants. You've found the best wooden pergola kits and taken the effort to learn where to put a pergola and how to install a pergola properly. Now it's your chance to finish off the look of your pergola with potted plant arrangements.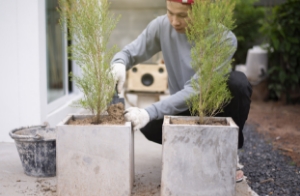 Whether you have a concrete patio with a pergola or a pergola in a garden or on a deck, landscaping with planters and flower pots offers a lot of options. This article will look at the top tips and tricks for landscaping around a pergola.
Plan Ahead for Potted Plant Arrangements
If you're still in the planning stages for your outdoor structure, you'll want to consider a wide range of wood pergola designs and make sure you have a solid pergola base by using concrete footings for your pergola. You'll especially need a sturdy pergola foundation if you plan to place your pergola on sloping ground. Depending on the available space, you may select the standard pergola dimensions and height or an alternate size.
Once your outdoor structure is built, take some time to study how and where the sun hits your pergola. Knowing where the sunny and shady spots are gives you a better idea of how to design your potted plant arrangements. Container gardening can be easy, but it does take some forethought.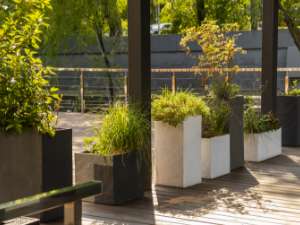 Consider Your Containers
There is a wide range of planters that can work well when you're landscaping with potted plants. Concrete, plaster, ceramic, plastic and terra cotta pots are all good options, depending on the look you're going for.
You can select the same type of garden pots for your entire project for a more homogeneous design or mix and match for an artsy look. Choosing containers of different sizes will give you more flexibility with your potted plant arrangements.
Whatever choices you make when landscaping with planters, you'll want to ensure your pots have adequate drainage. Without appropriate drainage, plant roots will rot and kill the plant.
Small- to medium-sized pots should have a drainage hole at least a half-inch wide, while large containers should have at least an inch-wide hole. If your favorite planters don't have enough drainage, you might be able to drill or carve larger holes. Otherwise, it would be smart to consider other options.
Select Your Spacing
When landscaping with potted plants, the terrain is wide open as far as container arrangements are concerned. For example, you can select some spots for a single container for a visual impact while placing a collection of three differently sized pots in another location. To create an intimate outdoor space, consider lining up a row of containers along one side of the pergola as an attractive screen.
Another helpful option is to assemble planters around the base of your columns to hide the pergola footings.
Potted plant arrangements can also be used to good effect by setting them on tables, plant stands or even an interesting chair or stool. Placing plants at different elevations will add visual interest to your pergola landscaping.
And don't forget to look up. Pergolas offer great opportunities for hanging planters that will add a welcome dimension to your landscaping.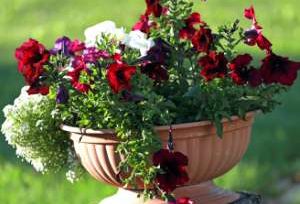 Choose Your Colors
Color selection can run the gamut when landscaping with flower pots and planters. Complementary colors like blue and orange are a traditional option, but you can also try a monochromatic route, selecting different hues of the same color in one container. Don't be afraid to mix it up by using complementary colors in some spaces and a monochromatic design in others, or opt for a different beautiful color in each area.
Pick Your Plants
Landscaping with potted plants provides a lot of freedom when it comes to selecting your flowers and foliage.
Many people adhere to the traditional thriller-filler-spiller approach. This calls for a tall, statement plant (the thriller), a long, trailing plant as the spiller and various medium-sized plants to act as the filler. An example of this technique would use fountain grass or Mexican feather grass as the thriller, begonias as the filler and sweet potato vines as the spiller.
You can also apply the thriller-filler-spiller approach to a collection of containers for added visual impact.
Another way to create an eye-catching focal point is to place a single plant, like a Japanese maple or butterfly bush, in a container.
And you don't have to stick with potted plant arrangements that are merely beautiful. You can add some function to your pergola landscaping with an herbal container garden that is as useful as it is pretty. Picking the herbs will boost your cooking and help the plants grow well.
If you're going to mix several different plants in the same pot, it's essential to plant like with like. Keep sun-loving flowers together in one container and shade-loving plants in another. In the same way, drought-tolerant plants shouldn't be mixed with plants that require more water. Mismatches in these areas will lead to some plants failing, which will ruin the look of your potted plant arrangements and require more work to replace the dying plants.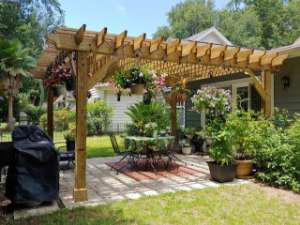 Trust Your Wood Pergola Needs to Pergola Depot
Now that you know how landscaping with potted plants works, you're ready to look for some DIY pergola plans. Pergola Depot offers a wide range of custom pergola kits to fit any landscaping arrangement. Start shopping now or contact us with any questions.
Articles Related to Landscaping With Potted Plants