Outdoor Pergola & Patio Decorations for Your Home
Last Updated On November 22nd, 2019 at 12:12 pm
Looking for some simple outdoor patio decorations for the upcoming holidays? Make a fresh wreath, dust off that old toboggan and skates, and invest in some string lights for your pergola! Use what you have or find something new this year, but keep in mind that decorations can be flashy – or subtle. If you spend as much time outdoors as you do inside, make your space a warm and welcoming place to be. Design techniques can be very elaborate, or as simple as spending an afternoon out on the back deck or covered patio.
Quick Install Outdoor Patio Decor
If you're limited on time for decorating this year, here are a few outdoor patio décor ideas you can install in a snap! Lean that antique sled you have tucked away in your garage against a wall in your entryway or on your front porch.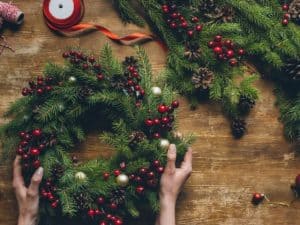 Tie on a sparkly bow. Add a pair of ice skates and a colorful scarf to your front door, mailbox, or back porch.
A seasonal wreath on your front door is welcoming whether you choose artificial materials or fresh greenery. You may find a fun DIY wreath-making workshop this time of year that can jump-start your decorating. Check out your local home and garden center for classes or already finished products.
How about a snow-covered garland? Even if it adorns the railing at the end of your palm-tree lined pathway to the beach, snow-sprinkled greenery brings some of the snowy seasons to your patio. Add a set of string-lights for an evening glow.
Best Patio Decorations for Backyards
For the backyard area, whether you have a porch, deck, or patio, this can be a main gathering spot during the holidays. If your focal point is your pergola kit adorned with string lights, consider adding a potted mini evergreen, or fresh flowers or seasonal plants to soften and enhance that space.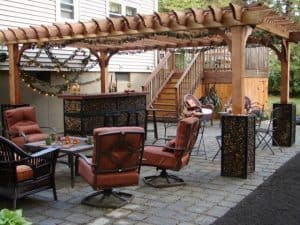 This is a good way to put your planter box to use that's sitting empty during the winter season. You can put a smaller potted evergreen right in your garden boxes for the holiday season. Garland goes a long way to dressing up a backyard patio or deck.
You can intertwine them with outdoor holiday lighting for an extra glow, or leave them natural to add some green to your gathering place.
After your outdoor patio decorations are in place and ready for visitors, stock up on firewood for your outdoor fireplace or get the grill ready for an outdoor dining experience that's sure to be relaxing!
Seasonal or Year-round Pergola Decorations
Since the holidays only last a few months each year, you might choose some pergola decorations that you can enjoy fall, winter, spring, or summer! String lights are simple, timeless, and can provide a warm glow on your patio in any season!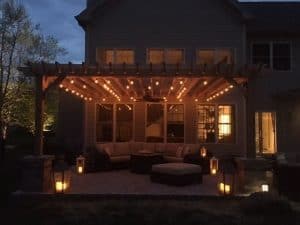 Electric lanterns or solar-powered lighting that's weatherproof creates the ambience you can really relax around. The combination of comfy seating, soft lighting, and seasonal decorations with certainly be appreciated by your friends and family.
Leave them up for an outdoor Superbowl party, St. Patrick's Day bash, or any weekend you want to make special.
So no matter how extravagant you'd like to be with your outdoor patio decorations, there are many options for making your home a very welcoming sight this season and all year round!