Creative Patio Decorations & Design Ideas for Different Holidays
Gearing up for the latest holiday and looking for some creative patio decorations? A great way to get started is finding a color combo that matches with the season – or the style of your home! Fall oranges, browns, and reds can work year-round as well as red, white, and blue! Whatever your top color choices for patio decorations, deck your home out in as much of your favorites as you'd like!
Outdoor Decorations for Decks and Patios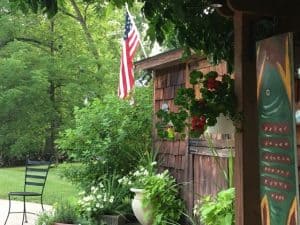 For autumn & winter holidays, fall or festive holiday colors work in any part of the country, but if you're in a sunny warm climate you may opt for a more tropical color scheme.
For Memorial Day, Fourth of July, Canada Day, and many summer gatherings there are certain decorating aspects that are pretty traditional such as flags in the yard and ribbons on trees.
While there is no right or wrong way to decorate, there are definitely certain pieces that pull a room or patio together better than others.
I found some ideas for patriotic decor that also add a stylish touch, as well as some tried and true ideas to incorporate into your own spring, summer, fall, or winter celebrations!
Live Patio Decor: Plantings in your Planter Boxes
One very easy way to add the colors of the holiday are to plant in your patio boxes or your planter boxes. Switch out the colors if you'd like when the next season arrives!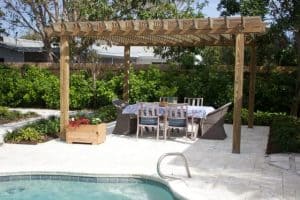 There are many blogs with creative and classy ways to decorate, or you may have another tradition you follow each year. Popular flowers are daisies in seasonally painted jars.
Others include arrangements of geraniums, daisies, and hydrangeas or chrysanthemums to add pops of seasonal color.
I think that small bouquets in clear vases would look beautiful on tables in any color combination, and larger arrangements would look perfect in big colorful pots hanging on the front porch or sitting on the back patio next to your wood pergola.
If you're taking a spin through your local farmer's market to pick up some fresh picnic or holiday fare, you might find locally grown flowers or greens that fit your theme.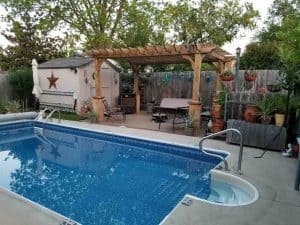 You can arrange them in clear jars, or try out one of the ideas showing brightly painted vases, such as a combination of blue with white or clear stars adjoining another painted with red and white stripes. Coordinate them with your flower arrangements or add an evening glow with white mini lights or small tea light candles in them, that will shimmer through after the sun goes down.
Choosing an Outdoor Theme for Patio Decorating
It's a great idea to pick a theme before trying to decorate. For Thanksgiving or Christmas, consider a cornucopia with seasonal produce, fresh greens or mini palm trees with string lights. If none of those inspire, get creative with your favorite colors and theme!
If it's a July 4th, Memorial Day, or patriotic theme you're looking for, try out the red white and blue jars with a flag theme, a declaration of independence theme, and a stars and fireworks theme. You can also expand your design depending on your get together, and tie in your food, drinks, and table settings.
No matter how your patio decorations turn out, enjoy the time together with friends and family!