Best Backyard Structure Wood Type for Severe Weather
Last Updated On June 22nd, 2023 at 02:50 pm
Did you ever wonder what the best backyard structure wood type is if you live where the weather can be severe? Cedar is one of the best choices for wooden structures designed to withstand various types of severe weather. Pine is an excellent choice of wood also. Our pergola kits are made out of wood types that work very well for a sturdy outdoor structure – western red cedar and pressure treated pine. Here's a quick comparison of the two wood types.
Western Red Cedar is a beautiful light amber color. It has a wonderfully appealing fragrance that adds another dimension to its qualities. Western red cedar is also highly resistant to decay, which makes it great for outdoor use. It is lightweight with close, even grain. It is easily worked and can be finished smooth with little effort. Western red cedar takes paints and stains very well. With western red cedar pergolas, paint or stain can be applied as soon as you receive the pergola kit. Western red cedar is used in situations where exposure to the elements is continually severe. One of our customers shows their Florida cedar pergola kit for a December Customer of the Month photo.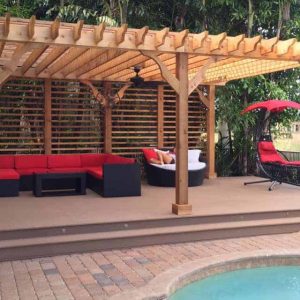 Pressure Treated Pine is also very insect and rot repellant, and able to withstand severe elements, but has chemicals added to give it those properties. Pressure treated pine comes with a green appearance. As it dries it will turn to a golden brown, then gray if it is not water sealed or stained. You will need to wait a few months before staining or painting the pine lumber since it will be saturated with the pressure treatment when you get it.
We always use either western red rough sawn tight knot cedar or pressure treated #1 southern yellow pine lumber. Either choice ensures you will have a quality wood pergola.
So, if the best backyard structure wood type matches one that you've been looking for in a pergola, you can start designing your outdoor room today and begin measuring for you own wood pergola!