Festive Christmas Pergola Ideas: The Best Tips for Lighting & Decorating a Pergola for Christmas & Other Seasonal Holidays
Last Updated On May 26th, 2023 at 03:34 pm
While you may be dreaming of a white Christmas, if you live where real snowflakes won't be a reality, at least you can still add your outdoor Christmas pergola decorations and celebrate outside without the worry of frostbite!
If you do live where the forecast calls for chilly temps and you don't mind the cold, make a plan to have your party outdoors and stock up on firewood. Just be sure to have your guests dress warm, and plan to huddle around the fireplace, or invest in some outdoor heaters to keep everyone cozy underneath a Christmas pergola decorated with lights, garlands and holiday cheer. There's nothing like getting a breath of fresh air when you're bundled up under your covered pergola or patio.
Warm or cold, the holiday season is a perfect time to decorate your pergola and patio to put your outdoor kitchen to use. If you're a natural at entertaining, you can put your decorating skills to work and add special touches of the season that can last throughout the year. If you're not sure where to start, we'll share a few simple ways to make a welcoming and beautifully decorated area for guests to enjoy that can be used year-round – and that's easy to set up and take down!
Easy Pergola Christmas Decorations
If "decorating a pergola for Christmas" made it to your to-do list this month, but you're in a time crunch to get things ready, consider these easy decorations and shortcuts.
You Don't Need Pergola Christmas Lights to Create Holiday Cheer
Simple Christmas pergola decorations don't have to be something that attaches to the wooden pergola. A nice way to entertain outdoors with a festive twist is creating a special drink area, complete with a hot cocoa bar and seasonal treats that are enjoyed by any age. Decorate with handmade wreaths, free printable crafts or mini-chalkboards for your food and drink stations. These are fun decorations that can be reused throughout the year, and you don't have to spend hours untangling Christmas lights for your pergola.
BUT You Can't Go Wrong with Christmas Lights on a Pergola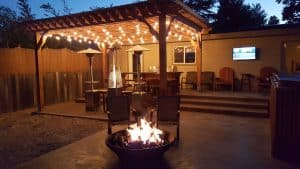 Of course, one favorite way to decorate is putting Christmas lights on a pergola! String lights are a popular choice that can also be used for holidays year-round. Lights are an easy way to provide soft lighting for outdoor dining, lawn games or gathering around a fire pit. They can be purchased at your local hardware store, and easily wrap around the pergola posts or wind along the rafters.
For those in a warmer climate, your pergola Christmas lights might be considered a year-round decoration that you can enjoy long after the ball drops at midnight on New Year's Eve! Florida pergola owners and those in other sunny states know that this is the perfect time to put an open-air patio space to use. If reusing your pergola Christmas lights is part of your decorating plan, consider other outdoor decorations you can incorporate.
Pergola Christmas Lights & Decorations for Decks & Patios
Are you in charge of decorating a pergola for Christmas? If so, here's a design strategy that includes a design idea for lighting, AND a way to extend the usable life of your Christmas pergola decorations! Year-round lighting adds a special touch to any backyard design.
Seasonal Lighting
Along with lighting, find a color theme that blends well with your current patio and home décor that also highlights the season you're decorating around. This will create a beautiful patio with a look that matches your style, whether it's modern, traditional, coastal or something in between.
There's a wide range of pergola lighting to choose from, ranging from string lights to sconces. A glass jar with a string of battery-operated lights makes a pretty nice centerpiece when paired with a ring of greens and some pinecones, seashells or another favorite decoration!
Complimentary Colors & Decorations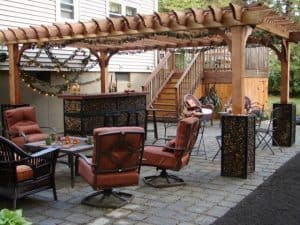 When choosing color themes, fall oranges, browns and reds can work year-round as well as red, white and blue! Whatever your top color choices for patio decorations, deck your home out in as many of your favorites as you'd like.
Lighting, colors and other design features make an outdoor area inviting regardless of the climate or season. Set the stage with some solar string lights or battery-operated candles that can easily add a warm glow to your wood pergola covered dining area.
For autumn and winter holidays, fall or festive holiday colors work in any part of the country, but if you're in a sunny warm climate you may opt for a more tropical color scheme.
For Memorial Day, Fourth of July, Canada Day and many summer gatherings there are certain decorating aspects that are more traditional such as flags in the yard and ribbons on trees.
While there is no right or wrong way to decorate, there are certain pieces that pull a room or patio together better than others.
There are many options for decorations and pergola accessories that add a stylish touch, as well as some tried and true ideas using live plantings you can incorporate into your own spring, summer, fall or winter celebrations!
Live Patio Decor: Plantings in your Planter Boxes
Another very easy way to add the colors of the holiday is to plant in your patio boxes or your planter boxes. Switch out the colors if you'd like when the next season arrives! If you live in a colder climate, consider using artificial blooms and greens as pergola Christmas decorations. Then you can alternate as the seasons and holidays come and go.
Choose from the many creative and classy ways to decorate, or follow your own family decorating tradition. Popular flowers are daisies in seasonally painted jars. Others include arrangements of geraniums, daisies and hydrangeas or chrysanthemums to add pops of seasonal color. Poinsettias are a popular planting around the Christmas holiday.
For a simple and fresh design element, bouquets in clear vases would look beautiful on tables in any color combination, and larger arrangements would look perfect in big colorful pots. Since pots and vases are flexible and moveable, you can either hang them on the front porch or place them on the back patio next to your wood pergola.
If you're taking a spin through your local farmer's market to pick up some fresh picnic or holiday fare, you might find locally grown flowers or greens that fit your theme.
You can arrange them in clear jars, or try out one of the ideas showing brightly painted vases, such as a combination of blue with white or clear stars adjoining another painted with red and white stripes. Coordinate them with your flower arrangements or add an evening glow with white mini lights or small tea light candles in them, that will shimmer through after the sun goes down.
Choosing an Outdoor Theme for Patio Decorating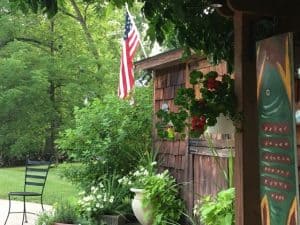 However you plan to begin, it's a great idea to pick a theme before trying to decorate. For Thanksgiving or Christmas, consider a cornucopia with seasonal produce, fresh greens or mini palm trees with string lights. If none of those inspire you, get creative with your favorite colors and theme!
Christmas lights for pergola parties are one of the easiest ways to spruce up your outdoor party zone. If you choose the standard white string lights, these lights can be reused over and over for all your favorite holidays.
If it's a July 4th, Memorial Day or patriotic theme you're looking for, try out the red white and blue jars with a flag theme, a declaration of independence theme, and a stars and fireworks theme. You can also expand your design depending on your get-together, and tie in your food, drinks and table settings.
So, whether you're decorating a Christmas pergola, a Memorial Day pergola or sprucing up your patio for any special seasonal celebration, maybe all you need is a little bit of extra lighting and a great gathering spot. Most important of all – enjoy the time together with friends and family!