How to Build a Pergola from a Kit
Last Updated On May 27th, 2023 at 02:36 pm
Have you been scouring DIY sites trying to find the perfect set of instructions for how to build a pergola? There are a lot them out there. Have you considered more of a hybrid approach to creating the perfect wood structure for your backyard? A pre-cut kit is a great middle of the road option. Our pine and cedar pergola kits give you the best of both worlds. Take the guesswork out of knowing whether you've got the right materials. The cutting and drilling are the steps that will be most time-intensive and require special tools. Let us do all that and ship it to you, and you'll get the satisfaction of building a pergola.
If you truly want the whole DIY experience, you can still find some helpful info here that might come in handy for your project such as pergola wood comparison and assembly steps for how to build a pergola,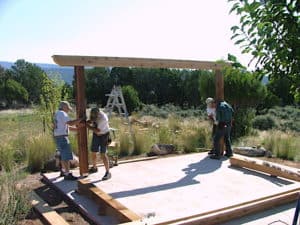 These pergola assembly steps specifically apply to how to build a pergola from one of our kits, but could be applied to your project. These instructions are how to build our Brim Pergola Kit, our trellis or arbor style pergola that can be used as a garden or patio border. Our full-size pergola styles can be purchased as 2 post attached pergola kits, 4 post freestanding pergola kits, or custom size pergolas.
These larger styles have more pieces and more steps to assemble. So if you're scoping out generally what you'll need, we've boiled it down here for our Brim pergola style, starting with the best pergola wood type.
How to Choose the Best Wood to Build a Pergola
An important decision you'll make is what type of material to use for your pergola. In our experience, the top two choices for a lasting quality pergola kit are pressure treated pine and rough sawn western red cedar. Either wood type can withstand severe weather. Typically, pressure treated southern yellow pine performs best in humid climates and rough sawn western red cedar performs best in drier climates. But either is a solid choice to build a pergola. If you're interested in painting or staining your pergola right away, cedar is the better choice. If you choose pressure treated pine, you'll need to wait for a few months after it's installed to apply paint, stain or sealant.  
What's Required to Build a Pergola and How to Get Started
One of the first considerations when you're planning to build a pergola is what your pergola materials list will include. What tools are required? How much lumber will you need? Make a plan in the beginning and make sure you have helpers for your pergola project, the proper tools, and supplies needed for digging your footings and installing post bases.
Depending on the type of wood you choose for your pergola will determine if you need additional tools. Our assembling pergola plans include lots of helpful information to guide you through the process of assembling our pergola kits.
Tools and Supplies Needed to Assemble a Pergola:
Helper* (for larger pergolas, at least 2-3 helpers are recommended)

Tape measure, hammer, level

Ladder (tall enough to work the top of your pergola during assembly)

Screw gun

Post Hole Digger

3/4" Wrench

For new footings: post hole digger, dry concrete mix, gravel, trowel, shovel and mixing bin or wheelbarrow

For installing rebar into post (if posts are going into new concrete foundations): drill, 5/8″ drill bit

For all pergola kits using post bases on concrete: drill; 5/8" masonry drill bit; and 15/16" wrench

For Pressure Treated Pine kits using post bases on concrete: you will also need a 5/32″ masonry drill bit, and a #2 Phillips bit or #2 Phillips screwdriver
Pergola components you'll need for your trellis style pergola (these are components that are included in our Brim pergola kits*) include the following:
     

2×8 Beams 

     

2×6 Notched Rafters 

     

6×6 Posts (2 or 3 depending upon kit size)

     

Hardware
When you purchase one of our kits, you'll receive a packing list with a complete list of kit components, including the number of each type of lumber and hardware pack components, and complete installation instructions.
*If you're looking to build a patio pergola kit with more patio coverage, our larger full size pergola kits will include more beams and rafters, 6×6 posts, angle braces, top slats, and a hardware pack. Optional kit parts include post base trim, post base mounting hardware and Tapcons (for pine kits). Our covered roof pergola kits also include optional metal roofing in a variety of colors. 
Installation Steps for How to Build an Arbor
This overview gives you a glimpse of the play by play for how to build a trellis or arbor style pergola that you'll love for years to come. Our border pergolas offer another option for enhancing your backyard living space with a design you can incorporate a hammock or hanging plants. This is a pergola DIY for the weekend warrior or a great family project that you'll remember for years to come.  
Overview of Pergola Installation Steps
Lay out the pergola pieces where you would like to install the pergola.

Lay one beam on the ground and lay the posts (

inside the marks that say "post" on our Brim pergola kit

) on top of the beam.

Lay the other beam on top of the posts creating a sandwich with the two beams on the outside and the posts in the middle.

Insert the four 1/2" bolts with a washer on each through the predrilled holes that go through the beams and posts.

Now flip the assembly over by lifting the end of the posts up and over while the beam stays on the ground.

Put another washer and a nut on each of the bolts and tighten with 3/4″ wrench.

Now you are ready to dig your holes. With the assembly laying on the ground, line up the bottom of the posts where you would like the pergola to stand and mark the ground for the center of the post holes.

Dig the post holes at least 2' deep and approximately 12" diameter. 

Stand the assembly up and let the posts slide down into the holes.

Have your helper hold each post plumb while you pour dry concrete in to each hole.  

Do not water in the concrete yet.

Make sure the beam is level from post to post. If not, raise the lower side up to the level of the high side and let the dry concrete fill in under the post a bit.

Once you have everything plumb and level, you can water in the concrete. You may want to chop the water in with a stick or a shovel to get rid of any air bubbles. Make sure while you do this the posts are held plumb.

Allow the concrete to fully dry, overnight will probably be enough time.

Install the rafters over the beam, secure using 3" screws provided with the kit into the predrilled holes in the beam.

If you choose pressure treated pine, do not paint or stain until the wood is dry, typically 2-3 months depending on your climate.
If you're interested in a building a larger full size pergola, there will be other considerations including space requirements, materials, and steps.
Building a Full Size Pergola
When you build a larger size pergola, you'll also add a few more pieces and steps. These images show the progression of a full size pergola build. For large pergolas, plan on having about 6 or 7 more steps in your process, including layout of beams, placement of rafters, and proper measurement of post depth and locations.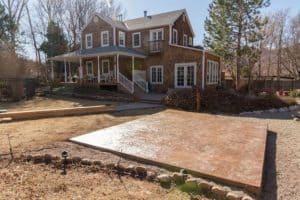 First, you'll want to find pergola measurements and determine the overall tip to tip size you'll want to cover your space. You may have an existing slab or patio all set to go, so that will be the guide to follow for measurements. How close to the edge of the patio do you want your posts to land?
Our pergolas are sized as the tip to tip cover. For example the pergola shown in this progression is a 14×16 Big Kahuna pergola. It's outside post to post dimensions are 11′ x 13′. The inside space measures 10′ x 12′. The tip to tip measurement is 14′ x 16′.
Next, you'll decide what length posts you'll need and how they'll be mounted. How tall do you want your pergola? Do you have an existing slab to consider for mounting the post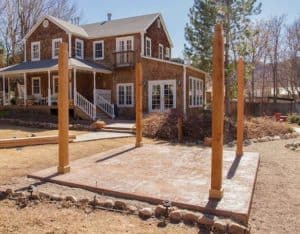 s or are you adding pavers after the pergola? Most people don't want their pergola too tall, but it's a matter of preference.
With our Big Kahuna and Sombrero pergolas, 8 or 10-foot posts suit most situations unless you're installing your posts more than 2′ in the ground. Smaller kits generally look better with a shorter post.  But, keep in mind things like ceiling fans or other accessories, head room for tall people, or covering a hot tub.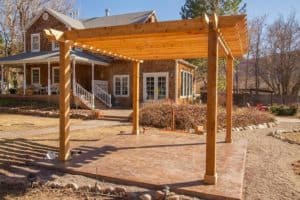 Note that to determine the length below ground, we recommend at least 2 feet or more depending upon the frost line and building codes in your area. This is an important step, so be sure you take your time and research post installation information specific to your climate and mounting surface.
If assembling pergola plans seems overwhelming, set your mind at ease and opt for building a pergola from a kit rather than trying to decipher DIY projects for how to build a pergola. See for yourself how it can be a fun and rewarding experience to build your own pergola. With step by step pergola instructions to guide you through the process, our kits make it a little easier to create your outdoor structure. Find your square or rectangle pergola kit to fit your space, and enjoy the satisfaction of building your pergola without all the hassle!