5 Best Small Pergola Kits
Last Updated On September 12th, 2023 at 11:19 am
Spending quality time in your yard or patio is one of the most relaxing ways to enjoy the outdoors from the comfort of your home. Regardless of season or location, one home project to consider is creating an outdoor retreat. It'll be a new space for grilling and chilling with family, as well as making your backyard your new go-to spot for your all-season outdoor gatherings!
If you're looking for simple ways to get that sanctuary built, then you should really look into our classic pergolas. A pergola not only defines your outdoor living space as a perfect hangout for meals, parties, and quality family time but they also provide a comfortable aesthetic that will make 'outside' your new 'inside'.
We offer the highest quality, affordable, ready to build small pergola kits that you will find anywhere!  Hand-cut, pre-drilled, and made-to-order, our pergolas are carefully crafted in Florida and delivered to your door all ready to assemble. Turn a simple weekend project into a transformational outdoor living space that you and your family will enjoy for years to come!  Whether you are looking for a little shade while cooking outdoors, or a well-defined patio living room for the spring, summer, fall, (and winter in some locations!) our kits are the best way to make the most of your time outside.
While we offer wooden pergola kits in every size and style, today we are going to focus on the smaller sizes to compliment your yard or patio. Here is a list of the 5 best small pergola kits that will expand your backyard living area in style. With sizes ranging from an 8×8 pergola with 2 posts all the way up to a 20×20 sized pergola, you'll be able to find a small pergola for your patio and create a perfect little outdoor dream spot!
Build Small, Dream Big with a 10×10 Wooden Pergola
Your outdoor retreat is a sanctuary on sunny days. While we all love a blue-bird sky, finding shade on the patio makes the afternoon all the more comfortable.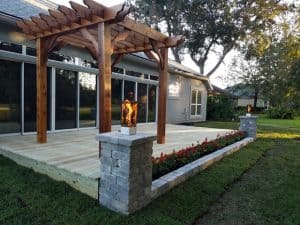 Not everyone has the space for a 13-foot pergola dominating every corner. Our 10×10 Big Kahuna provides the stunning design and quality of our larger kits without taking over.
A 10×10 pergola is big enough to create a grand atmosphere in your yard or patio. A hundred square feet can comfortably fit 4 chairs around a fire pit or 2 chairs and a lounger easily without ever feeling cramped.
With beautiful cedar posts joined by custom trims and a full complement of styled slats, the 10×10 Big Kahuna is ideal for small to medium-sized gatherings all season long. This freestanding version of a smaller sized patio pergola was designed without top slats to give it an open roof. Spruce it up with some LED lights and wicker seating to provide endless afternoons of outdoor living.
Reservation For 4 Underneath a Pergola
Our 10×12 Big Kahuna (pictured here outside a break room in Washington) is a classic example of a gorgeous wooden pergola to providing cover for a lunch or dinner date outside.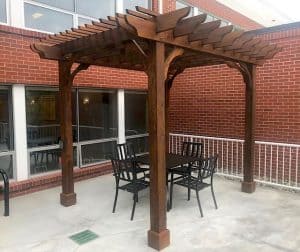 As you can see, there is still plenty of room for hanging plants, sconces, and decorations to accent your private table for four. Small pergola kits offer a tranquil setting for dinner with friends.
If you're creating a new space at your business to offer staff or guests a place to have lunch or meetings, this is the perfect size patio cover to make your outdoor lunchroom.
Design your own outdoor cafe for those special moments and let your patio realize its full potential this summer. Dress it up with some potted plants nearby, comfortable cushions, and you'll have a great spot to get started on the next project planning session with your employees!
Hammock, Pergola, and Paradise
If you have a few extra feet to spare, our 10×17 Big Kahuna in cedar might be the best fit for your outdoor living room.
While still a small pergola kit compared to some of our other offerings, the 10×17 Big Kahuna can accommodate your outdoor kitchen, a pergola hammock, and even a small table and chairs.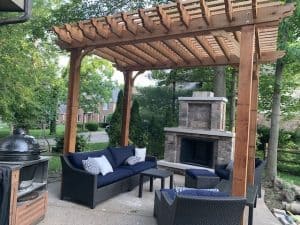 Our sturdy 6in x 6in posts can support a full-sized hammock when attached to the double beams, for those moments when you just want to sway with the breeze. With 170 square feet of space beneath our protective rafters, you can cook a meal and dine out while eating in.
This wooden pergola adds additional space to your outdoor paradise and will redefine your lunches and dinners forever. Replace your dining room walls with fresh air and nature and never waste a beautiful day again.
Add an outdoor fireplace and enjoy sitting next to the fire on cool summer evenings, or on those crisp fall nights that are sure to be enjoyed by everyone.
11×11 Small Wooden Pergola Kits for Outdoor Living
Our freestanding 11×11 small pergola kit is limited only by your imagination!  It will add elegance and depth to your backyard, designating itself as the master of ceremonies for parties and social engagements.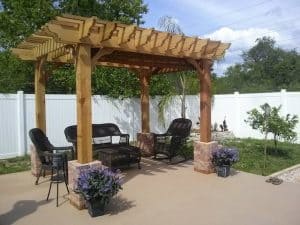 There are so many different configurations and uses for the shaded space created by our 11×11 Big Kahuna that all you need to bring is your creativity.
Want to build a viewing area for your growing garden or extend your living room out to your patio?  A small 11×11 pergola kit will fit the bill perfectly. Add a patio cover for optimal shade on those warm summer days or nuanced lighting and sconces for intimate evening dinner parties.
Your pergola is a canvas upon which your outdoor memories are laid. The craftsmen finish of the Big Kahuna will fit any style of furniture and decor you adorn it with.
Attached to Quality, A Pergola to Extend Your Summer
Amongst our favorite small pergola kits, this 8.6 x 15 attached cedar pergola is a unique way to extend your sliding patio doorway or front yard entrance with refinement and flair.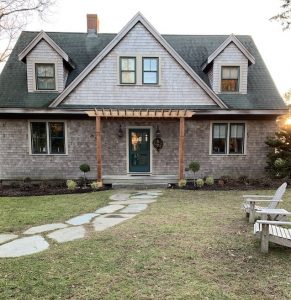 Attaching directly to your home or entranceway and anchored with 2 sturdy 6×6 inch posts, the attached pergola is smaller than our free-standing models in depth, but expands in width to cover a variety of patio sizes.
Our small attached pergola kits make a stunning impression. They provide shade while conserving space and are great to cover grilling areas or outdoor book nooks. Additionally, the slats help keep the heat outside on warm days by gently shading your patio doorway.
If you have a special sized patio or front porch you'd like to finish off with a pergola awning, we offer custom sizes.
All you have to do is take the measurements of the area you'd like to cover, and complete our Custom Quote Request form. Then we'll contact you to clarify anything about your project before building your quote.
Small Pergolas Make Your Patio Part of Your Home
No matter what your size constraints may be, we have the pergola for you. All of our small wooden pergola kits are made of the highest quality pine and rough-hewn cedar. Set up is simple and every piece is prepared for immediate assembly.
Don't stay indoors while the seasons pass you by. Make your backyard and patio the most comfortable space you live in!