Pergola Depot Contributes to Navy Veteran's Family Home Remodel
Last Updated On March 13th, 2020 at 02:51 pm
Pergola Depot recently contributed to U.S. Navy veteran's family home remodel by lending a hand with a "Military Makeover", a TV show hosted by Montel Williams that provides free home remodels to deserving veterans and their families.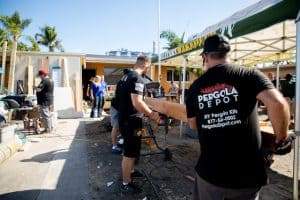 The company was involved in renovating U.S. Navy veteran Chris Hixon's family's home. Follow along with the renovation updates on MilitaryMakeover.tv during the 10-episode series which premiered on the Lifetime network on Friday, February 14 at 0730 EST/PST.
Hixon, a 27-year veteran who served in the Persian Gulf during Operation Desert Storm and Desert Shield, lost his life early in February 2018 while defending the lives of students in the Marjory Stoneman Douglas High School shooting in Parkland, Florida. He was the athletic director and wrestling coach at MSDHS.
He received military funeral honors before he was laid to rest at the age of 49 at the South Florida National Cemetery in Lake Worth, Florida. Hixon is survived by his wife, Debra, the daughter of a Navy veteran, and their two sons, Corey, and Thomas, a Marine Corps Reserve officer. Chris Hixon was one of 17 who lost their lives on February 14, 2018 at Marjory Stoneman Douglas High School.
Lending a Hand in Popular Veteran Show Military Makeover with Montel Williams
Alongside brand partners, community volunteers, and guest WWE Superstar Lacey Evans, a veteran of the U.S. Marines, Pergola Depot joined in to lend a hand in support of the Hixon family.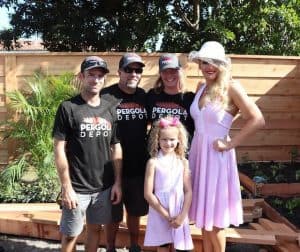 Pergola Depot contributed to the backyard component of the renovation, including building, assembly, and installation of a cedar pergola. Lumber for the pergola was donated by Outdoor Living Products in Central Florida.
All of the updates to the home will stand as an acknowledgment of this veteran's commitment to others.
"Our Pergola Depot team feels very fortunate to be have been involved in the home renovation for the Hixon family. It was an honor to work alongside veterans, community volunteers, brand partners & Military Makeover cast to give back to this veteran family who has given so much. It was incredibly inspiring to see an entire community come together to honor and salute veteran hero Chris Hixon." – Greta Umidi, Pergola Depot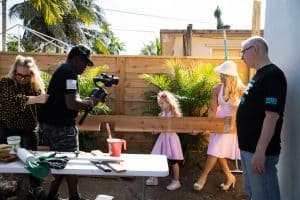 Giving back to the community is also very important to Paul Watson, President of Outdoor Living Products. Throughout the year, he works with several charitable organizations to give back to the community. "We at Outdoor Living Products are so grateful to be a part of the awesome work that Military Makeover is doing for our servicemen and women".
The episodes featuring the family were filmed in December 2019 and hosted by military veteran Montel Williams.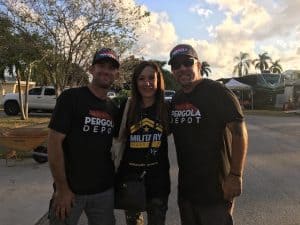 The first episode aired on February 14th, which was the second year anniversary of the tragic shooting at Marjory Douglas High School that took 17 lives. All aired episodes can be found at militarymakeover.tv.
Pergola Depot
Pergola Depot is a manufacturer and ecommerce retailer of professional pergola kits that are pre-cut and drilled for easy assembly at home or business. Based in Melbourne, Florida, family-owned and operated Pergola Depot builds and ships all sizes of hand-cut wood pergolas anywhere in the contiguous U.S.
Outdoor Living Products  
Outdoor Living Products is a Central Florida owned and operated pressure treatment facility that specializes in treating lumber, timber, poles, and pilings. Servicing the Southeast and Caribbean, Outdoor Living Products is committed to providing quality service and products.
The full schedule includes the following dates:
Episode 1 (Premiere): February 14th & February 18th
Episode 2: February 21st & March 26th
Episode 3: February 27th & March 27th
Episode 4: February 28th & April 2nd
Episode 5: March 5th & April 3rd
Episode 6: March 6th & April 9th
Episode 7: March 12th & April 10th
Episode 8: March 13th & April 16th
Episode 9: March 19th & Apriil 17th
Episode 10: March 20th & April 23rd