Texas Pergola Kits
Our pergolas are made in the USA and were originally made to survive through the ever-changing conditions in Florida. From hurricane speed winds, seemingly never ending torrential downpours, to tornados and winter drought. These are all things that we considered when designing our sturdy pergola kits, and will work well with the drastic weather conditions in the Lone Star State too! We sell pergola kits in all areas in Texas such as Houston, San Antonio, Dallas, Austin, Fort Worth and all surrounding areas. Living in Texas and trying to find a pergola kit comes with its own challenges and quirks.
Pergolas Provide Much Needed Shade in Texas
Unique weather conditions and the need for shade make wanting a pergola both a need in order to enjoy the outdoors but also a danger in case the structure cannot handle the elements. No fear here! Our pergolas are designed to withstand even the toughest of conditions, and our signature product, the Big Kahuna pergola kit, can withstand wind gusts of up to 160 MPH! You'll want to take care to look at the materials that your pergola is constructed with. Our pergolas are made with pressure treated pine or rough sawn western red tight knot cedar. Both are strong timbers that have been shown to be resilient in many different conditions.
For the best Texas patio covers, we recommend our signature pergola kit 

The Big Kahuna 

or our

Sombrero Pergola Kit

.
Our Big Kahuna combines strength, style and maximum coverage and boasts 6×6 posts, double 2×8 beams, 2×8 rafters (every 12 inches) and 2×2 top slats (every 6 inches). Shown here is a 14×16 freestanding Big Kahuna cedar pergola kit. The Sombrero shares a solid design with the Big Kahuna, with half the rafters and top slats, making for a high quality kit that captures the open feel of the outdoors at an even more affordable price point. The Sombrero is offered in both freestanding and attached, and comes standard with 6×6 posts, double 2×8 beams, 2×8 notched rafters, and 2×2 top slats. The rafters are placed on 24 inch centers and the top slats on 12 inch centers, creating a more exposed feel than the Big Kahuna, but with more coverage than a lot of other pergolas on the market.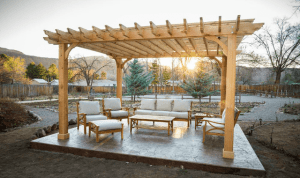 So if you live in Texas and are need of a sturdy patio shade, look no further than Pergola Depot. We have many different styles, and over 90 different sizes to choose from. Each of our pergola kits are customizable with options that are specific to your liking. Your neighbors will think that you hired a carpenter to custom build a pergola in your backyard when they see the quality of the pergola kit that you receive from us. What they won't know is that you paid much less than what you would pay if  you hired a contractor to build a custom pergola for you. Most of the time ordering a pergola kit from us is about the same cost as just the materials would cost if you went and priced it out to build yourself. Then you would have to take the time to figure out how to lay it out, how to cut the end cuts, etc. Then what happens if you need a permit? You would have to get an engineer to draw up a plan for you to take to the code office. Why go through all that trouble when we have done it all for you already?  For our Big Kahuna pergola kit, we provide free of charge an engineered drawing that is stamped in Florida that is rated for up to 160 MPH wind gusts. This comes free of charge when you order a pergola kit from us in Texas.
Click here to view all of our pergola kits that are available to be shipped free of charge to any city in Texas.
Read our Reviews
Read more customer reviews here, like this one from a Texas pergola customer: "Our Pergola was a great addition to our pool area! We absolutely love it! We frequently have 50-60 mph wind gusts here in Southern Texas and it doesn't even sway! Spectacular product!"
– Janice – Eagle Pass TX
Want to take our Texas pro sports poll?
Loading ...