Are you looking for a sturdy patio cover with Texas style to get your backyard ready for year-round enjoyment through all kinds of weather? Our pergola kits were originally made to survive the ever-changing conditions in Florida, much like you experience in Texas. From hurricane-speed winds, sometimes torrential downpours, to tornados and winter drought. These are all things that we considered when designing our sturdy pergola kits, so they also will work well with the drastic weather conditions in the Lone Star State too! Whether you need a pergola in Austin, Dallas, El Paso, Houston, San Antonio, or anywhere else in Texas, we can help you create much-needed shade in your backyard with style to enhance many backyard landscape designs.
Texas Pergola Houston Style
Texas pergola styles vary from traditional and classic to modern and chic depending on your Texas location. Houston styles & designs often gravitate toward our maximum shade or covered pergola designs. Often the goal is to create a gathering spot for family and friends using the style that makes your outdoor room a favorite spot in any season. But most importantly, finding a pergola style with shade and coverage from the elements. Other popular features include outdoor kitchens, fire features, pergolas, and swimming pools are all popular additions to expand your living space.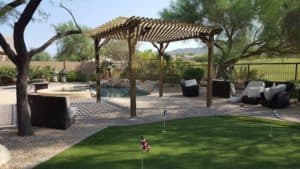 This western style backyard even added a small putting green to keep guests entertained on cool summer evenings or winter afternoons.
Other design choices can incorporate outdoor tile or pavers, stylish seating, and landscaping. Easily create a Southwestern look on your patio with rustic color tiles a pine pergola, and sturdy wood furniture with fence painted to match.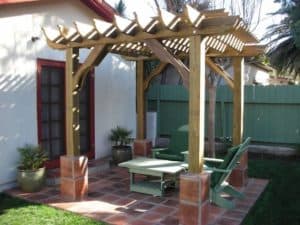 Styles and sizes range from pergolas with rafters that are 8 feet long up to pergolas with rafters that are 20 feet long. Beam length can any length ranging from 8 feet up to 20 feet also. If there's a unique size you'll need to fit your space, you can ask for a custom pergola quote to get the perfect fit. Our structures are built using top quality hardware and lumber. The type of wood you choose for your outdoor patio structure is an important decision for Texas weather.
Choosing Wood for Pergolas in Texas
Unique weather conditions and the prevalent need for shade make installing a pergola with the right qualities important to enjoy the Texas outdoors. Our wood types are chosen for their attributes to be resilient in many different types of weather. Rough sawn western red cedar and pressure treated pine are strong timbers that have been shown to withstand harsh climate like you experience in Texas, so they're excellent choices for an outdoor wood structure. If you maintain the wood, your structure will maintain its beautiful appearance for many years. Staining and sealing wood pergolas enhance the natural wood color and protect it from the elements.
How to Choose a Pergola Dallas Style 
Space requirements for any type of outdoor structure vary depending on your type of home and neighborhood. If you reside in downtown Dallas with a smaller backyard, the amount of patio coverage would obviously be less than a larger suburban backyard situated in a town like Frisco, Texas or other area that has more open space. If you're a city dweller with more limited space, you might opt for a small attached pergola to cover your patio, similar to this attached cedar Big Kahuna pergola.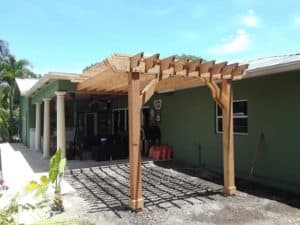 A pergola can blend in to your garden patio, can act as the centerpiece to your outdoor retreat, or somewhere in between. Our wood pergolas can shield family and friends from the sun's rays, decorate another wise drab backyard, or create a focal point of your favorite outdoor space. There are many other features that are important to homeowners when designing their landscaping.
Landscaping for Texas Pergolas in El Paso, San Antonio and Beyond
Top features found in Texas landscaping designs often center around an entertainment or dining area. Outdoor kitchens in Texas backyards can incorporate many additional landscaping features to make it an inviting space.
Create a focal point on your patio with a fireplace or outdoor firepit.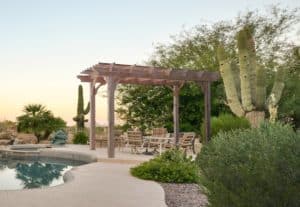 Water features such as fountains and small wading or swimming pools add a calming aspect to an outdoor retreat.
Custom patios and decks feature pergolas, arbors, and patio covers to provide a cool shady area. Oftentimes attached to the living room or kitchen, a pergola can create a covered walkway or entryway to your outside seating area. During the hot and harsh Texas weather events, it's nice to have some options to create patio coverage. Make the most of your deck and yard that you've spent so many hours building and caring for.
You'll be able to extend the number of hours you can spend outdoors simply by adding extra shade. A pergola with shade curtains, sail shade, or retractable canopy brings another dimension to the look and feel of your beloved BBQ area. Guests will be able to linger a bit longer with somewhere comfortable to escape the Texas sun, and you'll be happier relaxing after a long day's work in a cool retreat.
Landscaping around a Pergola Fort Worth Homeowners will Love
An article about Texas pergola kits wouldn't be complete without mentioning Fort Worth. Since landscaping changes as you cross the state of Texas, so does the design homeowners are looking for when designing their space around the pergola. Typically in Texas the focus is on shade and finding a sturdy structure that will withstand severe weather, including in Fort Worth. Several of our pergola kit designs are engineered to withstand up to 175 mph wind gusts and have optional shade features. If you're in Houston, Fort Worth, or anywhere throughout the Lone Star State – start here and browse our pergola designs to find one to fit your sun, rain, and wind requirements!
Pergola Coverage Options for Texas Weather
Patio covers or pergolas attached to the house offer a direct extension to your kitchen area. Creating a beautiful open-air room, you can add ceiling fans, curtains, or lighting to make it really feel like an outdoor living room. Options include deciding between an attached or freestanding structure, and the amount of coverage you'd like to create the perfect sitting area next to your home.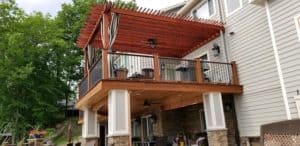 Freestanding pergolas frame in a patio to make a nice spot for hanging around with family and friends. A more open pergola can offer light coverage to keep an eye on blue sky during the day, or a star-filled sky at night.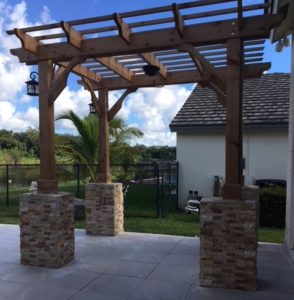 Cover your patio with light, medium, or maximum coverage by choosing a style with more rafters and top slats. We have several designs and coverage options you can choose from. For the highest degree of shade, our Big Kahuna pergolas offer the most protection due to the number of top slats. Next are our Sombrero pergolas, offering a mid-range amount of shade from top slats. And the Fedora is a more open design, with fewer top slats.
For additional coverage, select a retractable canopy to install along with your outdoor pergola for a nice shady structure.
Take a moment to measure your space, and consider how you'll be using your space. Once you have that defined, choosing a style pergola that fits your design and desires for patio coverage will complete your objective and bring your closer to the Texas outdoor patio of your dreams!
While you're considering your options, read some of customer reviews, like this one from a homeowner in Eagle Pass, Texas: "Our Pergola was a great addition to our pool area. We absolutely love it! We frequently have 50-60 mph wind gusts here in Southern Texas and it doesn't even sway! Spectacular product!"
So if you live in Texas and are need of a sturdy patio shade, look no further than Pergola Depot. We have many different styles and hundreds of sizes. Customize your pergola with options that will fit your outdoor space.