Pergola Designs for Outdoor Rooms
Last Updated On November 1st, 2023 at 03:18 pm
No matter what sport or event you're into, take it easy and enjoy the atmosphere of your pergola in your new outdoor room. Whether it's the last stretch of a baseball game, the final seconds of a basketball match, or just unwinding in your outdoor space, we've got you covered. Kick back and relish in the excitement or reminisce about the great moments as you relax in your own outdoor sanctuary.
Do you love the thrill of watching a live sporting event, but don't really care for the crowds and long lines? Or maybe you're more of a homebody who enjoys staying in for some peaceful indulgence. Whichever type of fan you are, the beauty of having a pergola is that it can become your own personal outdoor sanctuary where you can kick back and enjoy whatever your heart desires. Sporting events, cozy family gatherings – turn it into any kind of luxurious getaway with just the right touches! Transform your yard into an inviting space to simply relax or host friends surrounded by alluring designs and lush greenery; there's no better way to make lasting memories at home.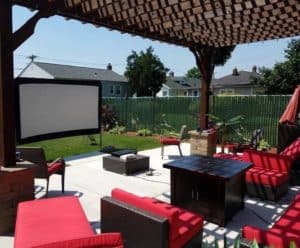 Are you just getting started with adding a pergola to your backyard? Read these tips for creating the perfect outdoor sanctuary with a pergola kit.
Choose the Pergola Material
When it comes to choosing the material for your pergola, wood is definitely at the top of the list. The natural and timeless appeal of wood adds a certain charm to any outdoor space. Whether you're going for a rustic or a more modern look, wood can complement various architectural styles and blend seamlessly with the surrounding environment. Additionally, wood offers versatility in terms of finishes and stains, allowing you to customize the appearance of your pergola to suit your personal taste. It's worth noting that wood pergolas do require regular maintenance, such as painting or staining, to preserve their beauty and protect them from weather elements. Nonetheless, the warm aesthetic that wood brings to your outdoor living area makes it a popular choice among homeowners. So, if you're looking to create a cozy and inviting atmosphere in your backyard, a wood pergola may be the perfect choice for you.
Best Wood Types for Pergolas
When it comes to choosing the best wood types for pergolas, there are a few options to consider. One popular choice is #1 pressure treated southern yellow pine, known for its durability and resistance to rot and decay. Another option is rough sawn western red cedar, which not only offers a beautiful natural look but is also naturally resistant to insect damage. Ultimately, the decision will depend on factors such as personal preference, budget, and the climate in which the pergola will be located.
Incorporate Landscaping into Your Design
When creating your design, it's important to consider incorporating landscaping elements. Integrating landscaping not only adds aesthetics but also provides a sense of harmony with nature. By adding trees, flowers, and other greenery, you can enhance the overall appeal of your design. Landscaping can create focal points, define boundaries, and add depth to your outdoor space. Furthermore, it allows you to customize your design to match your personal style and preferences. So, don't forget to explore the possibilities of incorporating landscaping into your design for a truly captivating and inviting outdoor space.
Add Comfortable Furniture or Decor to Make it Extra Cozy
You can make your outdoor space even more inviting and cozy by adding comfortable furniture or decor under your pergola. Whether it's a plush sofa with throw pillows, a hammock for lazy afternoons, or a cozy rug to define the space, there are plenty of options to create a relaxing oasis. Consider adding string lights or lanterns for a warm ambiance in the evening, and don't forget to incorporate plants and greenery to bring a touch of nature to your surroundings. With a few thoughtful additions, your pergola can become the perfect spot to unwind, entertain, and enjoy the outdoors in comfort and style.
Ways to Enjoy Your Pergola All Year Round
While exploring ways to make the most of your pergola throughout the year, consider the benefits of investing in roofed pergola kits. These versatile structures provide an excellent solution for enjoying outdoor spaces, rain or shine. With a roofed pergola, you can create a cozy and sheltered ambiance, allowing you to relax and entertain no matter the weather outside. Whether you're hosting a BBQ party during a warm summer shower or cozying up with a book and a cup of cocoa on a crisp autumn evening, a roofed pergola offers endless possibilities for enjoying your outdoor space throughout the year.
If you're ready to get started with your outdoor space to watch the big game with friends and family, contact us with questions or browse our outdoor pergola designs today!