Several of the Best Backyard Shade Ideas & Solutions
Last Updated On May 26th, 2023 at 04:43 pm
Looking for backyard shade ideas you can add to your outdoor space for maximum protection from the elements? Is your patio sitting empty for many of the hot summer months because there's not enough shade? There are many types of structures you can add to cover your patio ranging from umbrellas to retractable awnings to pergola roof kits. But if you're looking for a more permanent structure that can withstand extreme weather conditions and create an inviting space, consider adding a wood pergola.
Pergolas provide shade and can transform an exposed, sun drenched outdoor space into a cool, relaxing retreat. Where do you start? If you're a DIYer and would like to tackle the project yourself, start by figuring out the best size for your space. If you'd rather have someone install the pergola for you, you can still take the measurements but enlist the help of a pergola installer, local landscaper, or handyman to help with the pergola assembly part. To get started, read on about the first couple steps for how to create backyard shade with a wood pergola.
How to Create Your Backyard Shade with a Wood Pergola
Our wood pergolas come in over 90 standard sizes, and some offered with optional metal pergola roof kit, so no matter what size backyard you have, we can build a pergola kit that will fit your space. After we build your pergola kit, we ship the kit to your location and it arrives pre-cut, pre-drilled with step by step instructions and ready for you to install. So, if you're ready to create your shady spot, let's get started! Follow these easy steps:
Plan your space. How much useable space would you like inside the posts, and how much overall "roof" coverage will you need?
Compare pergola styles. Each of our full-size pine and cedar pergola kits offers a different amount of coverage. Compare pergola styles to decide how much or how little shade you'd like.
Measure for your pergola. Once you have an idea of the location and amount of space you plan to use, take measurements. Then find the size that'll work best whether you have a small, medium, or large backyard. Here's how to measure for a pergola.
Backyard Shade Ideas in All Sizes
If you have a small patio that you'd like to enjoy more during sunny weather, a pergola can cover your space and expand your outdoor living area at the same time! Since pergola kits come in many different shapes and styles, you can choose a smaller 8×10 pergola kit or a larger 18×20 pergola – or anywhere in between!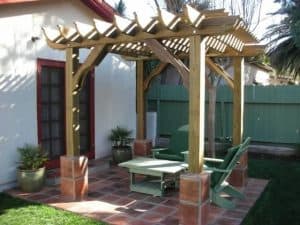 Another popular idea for how to use your pergola is to create a shady spot next to your pool for a relaxing space to cool off. Make it large enough to fit your favorite outdoor furniture, grill station, or outdoor hot tub. A freestanding pergola is a style that can accommodate many different outdoor patio furniture configurations.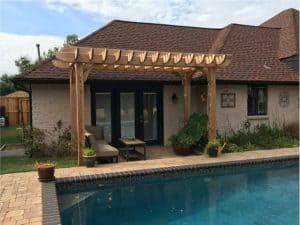 This one tops the list – create your own outdoor living room or guest room with a wood pergola! Add a day bed or a quiet reading space or naptime in the fresh air. Shown here is a Big Kahuna 15×17 freestanding pergola kit. Our Big Kahuna pergola kits offer the most coverage, and our Big Kahuna PLUS roofed pergolas add an additional layer of coverage with optional metal roofing.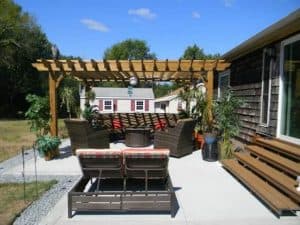 An attached pergola will provide shade that you can enjoy right out your back door! Shown here is a custom 6 post attached Big Kahuna pergola kit. Our standard size attached pergolas are offered with 2 posts. Sizes above 20 feet in either direction would require a custom pricing quote and will include 3 or more posts – depending on your design needs. If your backyard project requires a special size patio cover, we also build custom size pergolas. You can request a size based on your measurements, or contact us to help you decide on the best fit for your space.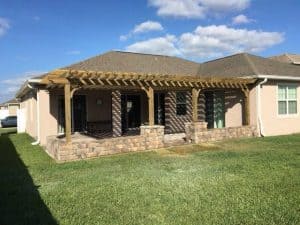 Whether you choose a standard or custom size, the amount of shade can be adjusted based on the pergola style you choose. For even more shade, you can add a retractable canopy to our pergola kits sized 12×12 – 20×20. If you've purchased (or are purchasing) a pergola from us and would like to add a retractable pergola canopy, you can order on our website and we will facilitate the order processing. Infinity Canopy will configure and ship your canopy directly to you.
If a wood pergola is one of the ideas you're considering for creating backyard shade, feel free to contact us with questions. We can walk you through measuring, choosing your wood type, or deciding which pergola style is best for your space. Or you can get started by browsing our different pergola styles for outdoor living here. Before you know it, you'll be relaxing in the shade!
Related topics: How to Measure for a Pergola, Guide to Choosing a Wooden Pergola