Beautiful Accents for Your Midsummer Retreat
Last Updated On August 10th, 2018 at 07:31 am
Looking for a midsummer project to spiff up your outdoor living space? Garden arbors, gazebos and pergolas can be used to enhance your patio, deck, or garden area, and come in all sizes to fit any size yard. Smaller designs can be used as a beautiful accent to your flowerbed or vegetable garden, and larger pergolas can often help define a border for your outdoor retreat.
Shown here are photos that our customer shared showing varied sizes of pergolas that work beautifully in each unique setting. These were shared for a July 2017 pergola of the month contest. We appreciate our customers and love to see their photos!
Garden arbors can be constructed to provide a border to your patio, a cover to provide a little extra shade, or as a centerpiece to your newly designed outdoor room. Pine and cedar are two types of wood that provide for a sturdy, beautiful outdoor structure.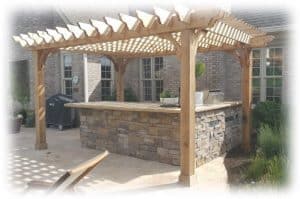 Which is your favorite?
Related topics: Outdoor Room Designs