How To Keep Bugs Away From Your Pergola & Patio
Adding a pergola to your yard is a great way to enjoy nature and create a gathering place for friends and family — as long as you're also keeping insects away. When bugs invade your outdoor space, it can bring fun and relaxation to a screeching halt. So, what's a homeowner to do?
We'll share a few tried-and-true methods on how to keep bugs away from your patio, pergola, porch and other outdoor living spaces. Once we've dispensed with the pests, we'll show you how Pergola Depot can turn your backyard into an entertainment hub with a beautiful, affordable wood pergola kit.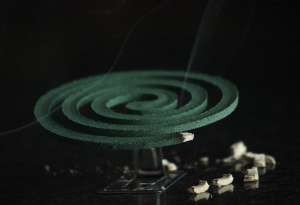 What Keeps Bugs Away?
It's an age-old problem. When the weather is fine, you want to invite family and friends over for a backyard get-together. But it's the uninvited guests who make this whole scenario unpleasant. It's crucial to know how to keep bugs off a patio or pergola so you can entertain guests without constant waving, flapping and slapping. Following are some tried-and-true options to prevent these pets from bugging you.
Bug Repellant Landscaping Hacks
Beautifying your yard is a noble cause, but some of the things you do to pretty up your yard can also attract insects. As you landscape your property, be mindful of the things that can attract – or repel – unwanted pests in your yard:
Ditch the Mulch: Decaying wood chips create a haven for termites and other unwanted creepy crawlies. If you must use mulch, keep it at least a foot from your home's foundation and any outside wooden structure. A good alternative to mulch is rock or gravel.
Plant Repellants: Certain patio plants may be the best way to keep bugs away from a deck, pergola or other outdoor gathering space. Ticks, fleas, ants and roaches detest chrysanthemums, while rosemary and marigolds fend off mosquitoes.
Tidy Up: Tall grass should be cut so it doesn't attract ticks. These nasty insects carry diseases that can harm you and your pets. Also, keep bushes and tree limbs trimmed, especially near entrances to your home to avoid buggy hitchhikers looking for easy access.
Keeping Things Clean, Dry & Bug-Free
A little home maintenance can go a long way toward keeping insects away. Use these suggestions from contractors who've seen it all:
Clean Your Gutters: Leaves, dirt and all manner of yard waste accumulate in your gutters and under the eaves of your roof, creating a desirable environment for undesirable pests like ants, mosquitoes and earwigs. Cleaning out your gutters regularly eliminates this breeding ground.
Don't Let Water Stagnate: Birdbath water should be changed every couple of days. And if you have a rainwater barrel, make sure it's screened and you're cycling through it periodically. Finally, keep an eye out for anything that can hold standing water, like old flower pots, garbage cans without lids, etc. Mosquitoes love to hang out near standing water. If for some reason you can't eliminate the source, there is a liquid solution you can use to kill the mosquitoes in the water.
Swab the Deck/Patio: Don't leave crumbs and sticky substances behind. At the end of the evening, sweep off the dining area, clean your patio furniture and hose down any spills. Insects are big fans of fermented food and beverages.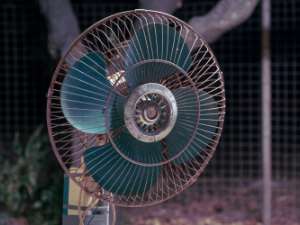 Using a Light, Fire or Fan to Keep Bugs Away
Sometimes you have to bring in reinforcements to deter winged and crawly creatures. Using a particular type of light, fire or fan to keep bugs away may help:
Cool Your Lighting: Use yellow LED light bulbs or sodium vapor bulbs instead of cooler colored bulbs to repel insects. You may be tempted to use a bug zapper, but beware – these devices don't distinguish between good and bad bugs.
Light a Candle: Citronella candles can be an effective way to ward off winged pests during outdoor entertaining.
Essential Oils: Lemon eucalyptus, sweet orange, lemongrass, lemon thyme, lavender, cinnamon and peppermint are used as natural bug repellents in diffusers and yard sprays. Use a spray bottle around outdoor furniture and bench seating to repel bugs.
Fan Favorites: A strong breeze can ward off winged critters like mosquitoes and flies. Outdoor ceiling fans are also a nice way to boost the night's cool breeze and keep you and your visitors comfortable while enjoying your pergola, deck or patio.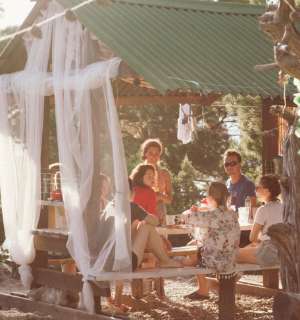 How to Keep Flying Insects Away
You can install a screen or mesh net to keep bugs out of a pergola or covered patio. As well as protecting your guests, mosquito netting and other screens enable fresh air to circulate so you can still enjoy the evening breezes.
Call a Professional Exterminator
If things get really ugly, you can call in a professional pest control company to get rid of bugs around your house and outdoor areas. For a lower risk solution for humans, pets, wildlife and the environment, many professionals can apply a non-toxic natural insect control solution around your property. Contact your local exterminator to review your options so the product applied is safe for pets, kids and your home – and won't interfere with your festivities.
Now That You Know How to Keep Bugs Away, It's Time to Shop Pergola Depot
Wooden pergolas are the perfect places to relax and spend time with family and entertain guests – especially when there are no bugs on the deck.
Pergola Depot will work with you to find the right pergola for your property so you can enjoy the great outdoors in your own backyard. Choose from six styles in 90 standard sizes. Custom sized pergolas are also available. Shop Pergola Depot today!
How To Keep Bugs Away from Your Pergola: Related Articles