Easy and Low-Maintenance Patio Plants to Grow Under and Around Your Pergola
Last Updated On March 30th, 2023 at 03:54 pm
You've just installed a Pergola Depot pergola — congratulations! Or perhaps you're still planning out your perfect custom pergola or looking to perk up an existing structure. In any case, you'll be looking for some low-maintenance patio plants to enhance the look and feel of your outdoor living area.
Whether you want glossy, heart-shaped foliage, climbing vines or colorful flowers, we have you covered with ideas for pergola plants that do well in full sun or partial shade. Read on for recommendations on the best pergola hanging plants and climbing plants for pots. Enjoy the blooms of each season and consider choosing some that are evergreen for a year-round display of beautiful greenery.
Pergola Planters for Every Need
Pergola planters are an excellent choice when you want to soften the look of your pergola, provide some privacy or add a special touch to your favorite outdoor space. Pergola Depot offers cedar box planter kits in three sizes to complement your backyard decorating scheme. Planters are a fun and flexible way to add plants to any space and can be relocated to sun or shade, depending on the plants you choose.
Combining different climbing plants and flowering plants in a variety of planters is a great way to add visual interest to your outdoor living areas. Using garden structures like trellises with planters and pots also helps protect your wooden pergola since plants that trail up and over the pergola can hinder your efforts to stain and maintain it.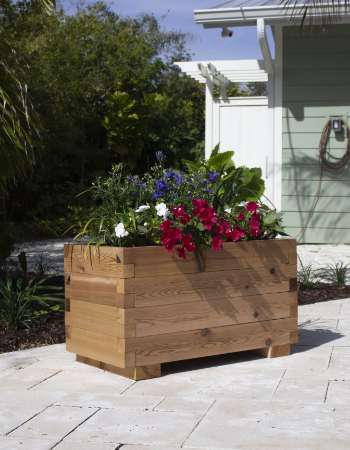 Pergola Planting Ideas With Appeal
Houzz forecasts a 38% increase in the number of people searching for pergolas, so you're in good company looking for pergola planting ideas. You can arrange your pergola planters in a variety of styles:
Thriller, spiller, filler — This is the traditional idea of incorporating one taller statement plant, some trailing plants to drape over the side of the planter and smaller filler plants for any gaps.
Blending — You can decorate your pergola with flowers by selecting plants of the same size, growth pattern and color palette.
Stand-alones — One showy tall or climbing plant can provide a dramatic accent for your other pergola plants.
Nesting — Clustering three to five containers together, each with its own climbing plant or flowering plant, offers a pleasing effect.
Mixing and matching these styles can create the perfect look for your pergola.
Pergola Plants in Pots that Add Color and Depth
Placing pergola plants in pots gives you the versatility you want when decorating your outdoor living space. Growing vines in pots is a fantastic way to provide color, texture and privacy. There are many climbing pergola plants that add a special touch of color and more depth to your patio, such as:
Clematis — This quick-growing vine comes in several varieties and colors.
Climbing roses — You can now find "easy-care" roses, despite these plants' finicky reputations.
Sweet peas — Make sure to purchase the vine, not the bush, variety.
Honeysuckle — Alternatives to the traditional white and yellow blossoms are available.
Crimson glory vine — Among the most vigorous growers, this provides amazing fall color.
Covered Patio Plants in the Shade
Decorating your pergola with plants is a snap with a Pergola Depot Sombrero pergola, which has rafters to provide shade. Covered patio plants that work well in shady conditions include:
Succulents — Sedum, aloe vera, kalanchoe and jade all do well in partial shade.
Hostas — With big, showy leaves, hostas can be the perfect impact plant.
Begonias — These perennial favorites come in a wide range of colors.
Hydrangeas — Several compact varieties are an ideal fit for containers.
Heucheras — Also known as coral bells, these have delicate flowers that will attract hummingbirds and butterflies.
You can't go wrong with any of these plants for an undercover patio.
Hanging Plants From Pergolas for Added Beauty
There's no way to talk about plants for pergolas without talking about hanging planters. Hanging plants from a pergola is a great way to provide color and shade without harming your wooden pergola. Options for pergola hanging plants include:
Geraniums — Most well-known for their red blooms, these are also available in white and pink.
String of pearls — This succulent features small, spherical leaves on trailing stems, giving the plant its name.
Fuchsia — Blooming all season, this is another fantastic magnet for hummingbirds.
Burro's tail — This easy-to-propagate sedum offers a striking look for any pergola.
Verbena — Available in 250 varieties, this plant is sure to attract butterflies to your backyard hideaway.
Pergola Planters to Complete Your Outdoor Living Area
Decorating your pergola with planters filled with low-maintenance patio plants will create an enticing environment for your outdoor living space. Whether you like succulents, fragrant white flowers or vibrant yellow flowers, the best pergola plants are those that fill your heart with joy. Purchase your cedar pergola planters today or contact Pergola Depot with any pergola questions you might have.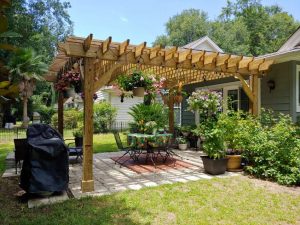 Related Articles: Low-Maintenance Patio Plants