What Do Homebuyers Want? The Best Outdoor Amenities That Buyers Love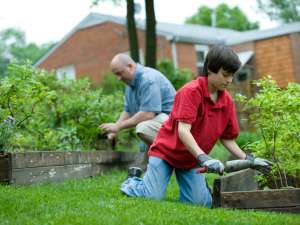 If you're thinking about selling your house in the next few years, you'll want to consider the question, "What do homebuyers want?" Near the top of that list are outdoor amenities and an outdoor living area that provides lots of options.
Homes with outdoor living spaces appeal to buyers who want to maximize their backyard uses. In this article, we'll look at the top ideas for outdoor amenities and how pergolas can be the perfect complement to exterior living spaces.
Outdoor Living Trends
Smart home sellers know the benefits of keeping up with the top outdoor living trends. A majority of real estate professionals cite an outdoor kitchen as the feature that's most attractive to homebuyers. The design doesn't have to be fancy. You can create an appealing backyard kitchen with an inset grill, some counter space, a built-in cooler and a few stainless steel drawers. Buyers always appreciate usable outdoor spaces.
Privacy is another top concern. A fence or well-placed wall can create the cozy space homebuyers crave. Hedges or other landscape features can also contribute to a sense of privacy.
Well-executed landscaping is another feature that homebuyers will appreciate. An attractive, low-maintenance backyard garden can add 10% to the value of a house. Low maintenance is the key here. An outdoor design that requires a lot of fussing and upkeep is often a turn-off for buyers.
Top 7 Outdoor Amenities
Different types of outdoor living space appeal to homebuyers. The trick is to differentiate the spaces to create an irresistible ambiance. Landscaping and carefully placed outdoor furniture can delineate the various living spaces. Still, nothing can compare to a custom pergola as a way to set off a unique area of your backyard.
Other outdoor amenities that are attractive to people buying a house include: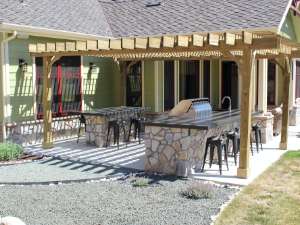 1. Outdoor Dining Area
An outdoor living area for dining is the perfect complement to your backyard kitchen. An attractive dining table surrounded by chairs will set the stage for potential homebuyers.
2. Deck
A wood or recycled lumber deck extends your home's livable space. Built-in seating can make the space even more usable.
3. Patio
Many buyers expect to find a patio finishing off the backyards of the homes they tour. Worried about too much sun? A pergola covered with a canopy can provide panache and shade, all in one neat package.
4. Water Feature
The best outdoor living spaces include a water feature. Whether a fountain or a complete inground pool, a water feature provides a relaxed atmosphere that homebuyers love.
5. Play Area
A play area for the kids is one of the trends in outdoor living that has stood the test of time. Homebuyers want a backyard that has room for the whole family. A space set off where kids can run around, along with a sandbox or swing, is a great way to appeal to buyers.
6. Fire Feature
Whether it's an outdoor fireplace or a simple fire pit, you can't go wrong with a fire feature, which can become a focal point for your outdoor living space. Bonus: A fire feature will make your outdoor living area an enjoyable space, no matter the season.
7. Lighting
Practical and decorative lighting can add just the right touch to a backyard. A string of twinkle lights on your pergola, or a row of solar-powered lanterns along a walkway, creates an atmosphere that attracts homebuyers.
Creating an Outdoor Living Area for Your House
A small backyard may accommodate only one or two of these ideas, but a larger space provides room for any combination of outdoor living areas. Don't forget outdoor furnishings to complete your look. You're only limited by your imagination and your budget.
What do homebuyers want? They're looking for the best outdoor living spaces decorated with outdoor amenities that let them entertain guests and family. Create an outdoor living space that combines fresh air with your own sense of style, and you're sure to have a winner.
Get the Help You Need From Pergola Depot
Pergola Depot has years of experience helping homeowners create exterior living spaces that they love. Check out our great selection of pergolas or contact us with any questions you may have.
Articles Related to Outdoor Amenities