Pergola Plans with Free Shipping To Lower 48 States
Last Updated On December 23rd, 2020 at 03:06 pm
Making plans to add a pergola to your outdoor retreat? We manufacture our pergola kits complete with pergola plans in Melbourne, Florida; Brevard County, Central Florida and ship free of charge to the contiguous U.S.
Where do you start when you're planning your patio? No matter what your location is, a good first step is to sketch out where each element of your patio design will be, including landscaping, patio furniture, and patio cover like a pergola. Then decide what you'll most use the pergola for and if you'll want maximum shade or medium shade?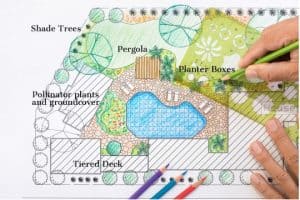 Orders typically ship from our facility within 25-30 business days, you'll be relaxing underneath your very own pergola in no time! Once your order leaves our production facility in Florida, delivery times are typically between 2 days and 10 days from the date of shipment, depending upon your location.
We sell and ship pergolas to the following states:
Alabama
Arizona
Arkansas
California
Colorado
Connecticut
Delaware
Florida
Georgia
Idaho
Illinois
Indiana
Iowa
Kansas
Kentucky
Louisiana
Maine
Maryland
Massachusetts
Michigan
Minnesota
Mississippi
Missouri
Montana
Nebraska
Nevada
New Hampshire
New Jersey
New Mexico
New York
North Carolina
North Dakota
Ohio
Oklahoma
Oregon
Pennsylvania
Rhode Island
South Carolina
South Dakota
Tennessee
Texas
Utah
Vermont
Virginia
Washington
West Virginia
Wisconsin
Wyoming
Popular Plans that Include a Pergola
Our most popular pergola style in almost every state is the Big Kahuna style pergola because of the maximum coverage it provides. The Sombrero is a close second in popularity, which offers the same sturdy design as the Big Kahuna but with half the rafters and top slats.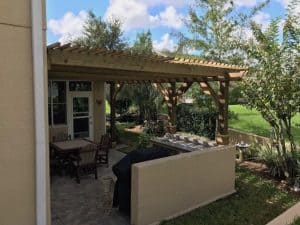 Both styles are offered in freestanding and attached and can be built using pressure treated pine or rough sawn western red tight knot cedar.
Here's a great example of an
attached pergola
. This pergola helps to extend the use of the patio that's directly attached to the house.
If you prefer to have your outdoor shade cover situated away from the house next to a swimming pool or over your outdoor kitchen, a freestanding pergola might be the best choice. This design allows for guests to mingle around the patio area or relax in the shade.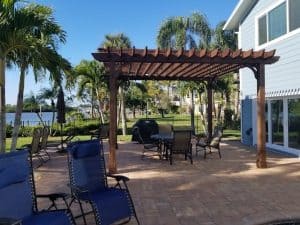 So if you have plans to add a pergola to your backyard retreat, we can help. If you're not a DIYer, search our Installer Directory if you're looking for help installing your pergola kit.
For more information about our products, read through our FAQs about our pergola kits or submit your questions using our contact form or custom pergola request form.
We look forward to working with you to bring your pergola plans to life!