Outdoor Patio Ideas to Add to Your Backyard Design
Last Updated On May 27th, 2023 at 03:05 pm
If you're looking for new outdoor patio ideas for your backyard, take a look a some of the customer photos! There are many suggestions and features our customers have added that are worth considering as additions for your outdoor living space. Depending on your location, winter is great for patio planning and spring and summer are often the best times to put your plan into action.  It's never too late to get started purchasing the materials to spruce up your patio or deck!
Favorite Designs for Outdoor Patio Plans
Chosen by our blog followers, freestanding cedar pergola kits and cedar attached pergolas offer some unique outdoor patio ideas ranging from a patio cover connecting the indoor living room to a patio, to a poolside retreat. One of the top features in our customer provided patio photos shows the add-ons of post pavers and a stylish shade screen that bring depth and dimension to their paver patio.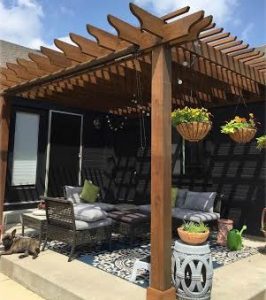 Another favorite patio design is an attached pergola configured to accommodate outdoor living room furniture. Installed just off a kitchen slider, this design allows you to walk between indoors and out for added space!
Attached pergola kits can be ordered in a variety of shade options – from our open design Melbourne pergola kits all the way up to our Big Kahuna PLUS metal roof pergola kit. If you're looking to create an outdoor room that you can use during rainy weather, consider the covered pergola. If you want some sun floating through, opt for a more open design and possibly add a shade sail or retractable canopy for extra shade on super sunny days.
The possibilities are endless! Contact us if you'd like help figuring out the size and style pergola that could finish off your patio plans in style.
If you'd like to see more pergola photos, check out our Facebook page, Instagram, or Pinterest for more pergola projects and outdoor patio ideas from coast to coast.