Pergola Flooring Ideas to Create a Beautiful & Cohesive Outdoor Living Space
Last Updated On September 14th, 2023 at 12:00 pm
So, you've made the exciting decision to install a Pergola Depot pergola? Congratulations! Now you can start planning how to enhance your pergola to create your dream living space and make your backyard your favorite room of the house! Choosing the right pergola flooring is important for complementing the overall look and feel of your new pergola and your home. What type of outdoor flooring options are there? This article will cover some of the most popular pergola flooring ideas to create a good foundation for your new pergola. Keep reading to discover the best pergola flooring ideas and options for a beautiful outdoor space. Compare your choices and your consider replacing your current outdoor flooring if it makes the space more appealing and functional.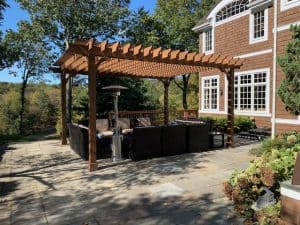 What Is Pergola Flooring?
A pergola is an open-air outdoor structure that is frequently installed on a patio, often attached to a home or other building. When you purchase a pergola, you may not be thinking of pergola flooring, but that's a big part of the installation process. There are many outdoor flooring options to optimize the structure and make the installation secure. Adding pergola flooring is the perfect way to tie your new pergola into the design of your home. Whether you're looking for a modern pergola and outdoor design or a more traditional and nature landscape, you'll find there are many options to choose from!
Things to Consider When Choosing Outdoor Patio Flooring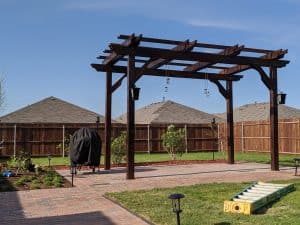 There are many outdoor flooring options available at various price points. Concrete patios and pavers made from various materials top the list of choices. Keep in mind a few key points to consider when shopping for pergola flooring are:
Weather resistance – Pergola kits and their flooring are exposed to the elements year-round, so make sure that the pergola flooring you choose is appropriate for rain, sun, sleet and even snow, depending on where you live.
Rainwater drainage

–

Outdoor flooring drainage

is especially important if your pergola does not have a cover. Pooling water deteriorates materials more quickly and can pose a safety hazard.

Non-slip surface texture

– Because a pergola is outdoors, it's often damp or wet. Choose

patio flooring

with a rough finish to help prevent falls.

Durability

– Materials like mulch are easy to install and low-priced but will need to be reinstalled every year to look their best. Instead, choose longer-lasting

outdoor flooring materials

that can stand up to the elements and will provide years of use. 

Ease of installation

– This is especially crucial if you are installing the

pergola flooring

yourself. 

Color options

– You can select a color to coordinate with your home or create a bold contrasting focal point.

Furniture

–

If you plan to place furniture under your pergola, make sure that the

outdoor patio flooring

surface allows for smooth movement and isn't easily damaged by the legs. If your outdoor furniture has thin legs, choose solid

pergola flooring

to avoid sinking into the ground. Chairs and tables with larger, bulkier legs can work well with softer, looser

outdoor flooring options

.

Price – There are many pergola flooring ideas for all budgets and styles. You can find many attractive materials that are both affordable and durable.
Outdoor Flooring Materials Appropriate for Pergola Flooring
You can build a pergola over grass, gravel or hard-packed sand, but if the pergola is attached to your home, you may want to consider other more elegant options. The pergola can be installed on a preexisting concrete patio or wooden deck (Note: We do not recommend mounting your pergola onto a deck. It's best to pour footers below the deck and mount posts to the footer. Or build the pergola posts into the framing underneath the deck — pull the deck boards in the location where you want your posts to land and mount posts into the framing of the deck). But the patio flooring possibilities don't stop there. Other choices you could consider include: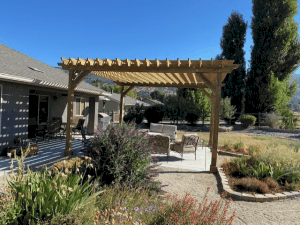 Brick

Composite decking

Patio stone flooring

and pavers

Bluestone

Brownstone

Limestone

Textured stone

Perforated Outdoor PVC Tiles

Outdoor tile

Concrete pavers

Traditional or stamped concrete
With so many pergola flooring choices available, it really is easy to find the perfect fit for your application and personal taste. You can combine several pergola flooring ideas for a custom look that really highlights your style. Since we're not flooring experts, we recommend you contact a local contractor in your area to consult on the best material for your project. The timing of your flooring and pergola installation can vary based on the materials you choose.
Pergola Depot Kits + Pergola Flooring Are a Winning Combination
Pergolas are a great way to create a unique space in your yard. Enhance your wooden pergola and make it your own when you add pergola flooring. Create your own backyard oasis with a wood pergola today!
Pergola Flooring Ideas + Related Articles