Homeowner's Guide to Restoring Cedar and Pressure-Treated Pine Pergolas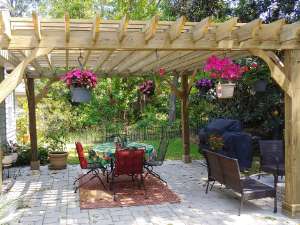 With just a bit of regular care and maintenance, cedar and pine pergolas will stay in tip-top shape for years to come. But sometimes you put it off too long, or you may have purchased a new home with a slightly dilapidated pergola already in place. Can you restore your older outdoor wood pergola? Yes, you can!
Our experts at Pergola Depot are here to help. In this article, we will provide advice for restoring a cedar or pressure-treated pine pergola. We'll go over the various steps to turning a weathered eyesore into a pergola you can be proud of once again.
How To Restore an Outdoor Wood Pergola
As with any outdoor wooden home décor, cedar or pine pergolas need to be maintained to keep their natural beauty and structural integrity.
1. Inspect Your Cedar or Pine Pergola
The first step to restoring cedar or painted pergolas is to visually inspect the structure. If there is vegetation growing on it, cut it back to expose the wood. Look for chipped paint, soft or split wood or rusty hardware.
2. Clean the Pergola
Gently brush off any debris or surface dirt with a soft brush or cloth rag. If there is heavy staining, you can use a mild detergent made for wood. Depending on the age and condition of the pergola, do not scrub too hard or use a power washer to avoid damaging the wood. If mold or mildew is present, use a specialty mold remover or a mixture of bleach and water. Rinse thoroughly and allow to dry.
3. Cedar and Pine Pergola Repair
If you have a painted pergola, scrape off any loose or flaking paint, if needed. If the surface of the pergola is rough and splintery, sand lightly, taking care not to damage the wood. Sanding also helps remove any deeper stains and oxidation.
4. Restore the Finish
Now comes the fun part — choosing the finish. You'll need to decide if you want the natural wood grain to show through or if you prefer a painted pergola. There are many different products that you can choose from, including:
Clear sealant – Allows the wood grain to shine while adding weather protection.
Paint – Oil-based paint offers exceptional durability, but exterior acrylic is long-lasting and easier to clean up.
Stain – A gel formulation is preferred because it doesn't run when staining the overhead sections.
Combination products – Include a water-repellent stain and sealant all in one that offers great protection and saves a lot of time.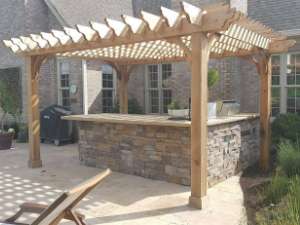 Stains are normally used when restoring cedar because they highlight the beautiful natural woodgrain. But paint allows you more creativity — creating an eye-catching statement piece is easy with bold or playful colors. Check with your local paint supply store for product recommendations based on your climate.
We recommend sealing your pergola annually or bi-annually after the initial application. The recommended frequency of staining and sealing a wood pergola is determined by the type of wood used and your local climate.
Are There Differences When Restoring Cedar Vs. Pressure-Treated Pine Pergolas?
Cedar and pine pergolas are both beautiful and weather-resistant, and while they are different products, they both need to be maintained to look their best.
The main difference between the two products is that most people prefer to use oil treatments or stain when restoring cedar to preserve the natural beauty of the wood, while both stain or paint are regularly used for pressure-treated pine pergolas. The choice is based on personal preference as both types of wood can be stained or painted.
Two popular and reliable options for restoring cedar or pine pergolas are waterborne stains and classic oil finishes.
Waterborne stains clean up easily (with soap and water), dry quickly and provide excellent UV protection, which slows down the fading of wood's color, known as graying.
Classic oil finishes penetrate deep into the wood, which results in a uniform finish that protects the wood inside and out. Oil stains are proven to minimize cracking and peeling and are easy to recoat.
Either option has choices ranging from translucent to solid stains. If you aren't sure what your pergola is made of, refer to our Pergola Wood Guide.
Repair or Replace?
With just a little bit of elbow grease, restoring a cedar or painted pergola to its original beauty is possible. But sometimes, the pergola is simply beyond repair or the time and materials it would take to restore it just aren't worth it. If that is the case, replacement is the best option. Pergola Depot makes replacing your outdoor wood pergola easy. Our high-quality cedar or pine pergola kits are simple to assemble and will last for years. If you are trying to decide, head over to our FAQ page or contact us — we're here to help!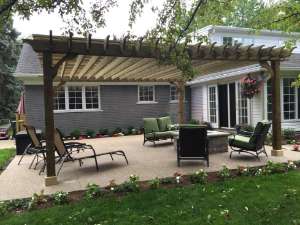 Outdoor Wood Pergola
Restoring cedar or pine pergolas takes a bit of work, but the resulting beauty is definitely worth it. A pergola is an investment that will enhance your yard for years to come. Find your perfect cedar or pine pergola today at Pergola Depot!
Pine Pergolas Related Articles