How To Live Large with a Small Backyard Setup: Inspired Small Outdoor Living Space Ideas To Create an Oasis in Your Yard
Last Updated On June 13th, 2023 at 11:35 am
Just because you have a small backyard setup doesn't mean you can't have a gorgeous space to entertain and enjoy the great outdoors. If you are wondering what to do with a small backyard space, we'll share some of our favorite outdoor living ideas for small backyards to turn those small backyard spaces into useful and beautiful places. This article will share a number of innovative ideas to help turn your cramped yard into a dreamy outdoor oasis — and it all starts with a stunning pergola from Pergola Depot.
Create Rooms in Your Small Backyard: Set Up Zones
A great way to maximize your small backyard setup is to set up "rooms." Defining your small backyard spaces into specific zones with defined edges makes them more practical, reduces wasted space and creates separate outdoor living experiences. Multifunctional furnishings offer additional flexibility. Here are some of the most popular outdoor living ideas for small backyards:
Small Backyard Ideas for a Conversation Area
Whether you dream of a cozy area layered with couches, rugs and pillows or a wrought iron table for two, a pergola can create just the right vibe. Attached pergolas are a good option for creating a small outdoor dining or living area. Even the tiniest nook next to the garage can take on new life thanks to The Visor pergola.
Dining Al Fresco Outdoor Living Ideas For Small Backyards
There is nothing like eating outdoors! Backyard spaces offer the most privacy, but there are small space backyard ideas that can help you create the illusion of solitude. If the best spot for a table and chairs happens to be too hot and sunny, pergola accessories such as a retractable canopy or pergola shade sail create much-needed shade.
Firepit Ideas for Small Backyards
One of the coziest outdoor living ideas for small backyards is a firepit or outdoor firering. If your small backyard setup has the space, you can incorporate permanent backyard structure ideas such as pavers or a fireplace. A dining table with a built-in fire element is a smart space-saving small backyard outdoor living idea. Portable firepits, fire bowls or propane tabletop units are other ideas for small backyards.
Lighting for Backyard Spaces
If you're wondering what to do with a small backyard that is quick and easy and makes a huge impact, outdoor lighting is the answer. A mix of task and ambient lighting is both practical and magical. Integrating lighting into your pergola is one of our favorite backyard structure ideas because of the additional height it adds to the yard. Adding candles, torches and string lights throughout your small backyard setup creates instant ambiance.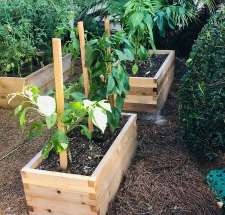 Garden Ideas For Small Backyards
Cedar planter boxes allow you to plant flowers and vegetables even in a small backyard setup. They are an excellent use of space for those forgotten side yards. When combined with the height of a backyard pergola, planter boxes maximize your growing area while also creating the illusion of more space. Cultivate a floating garden in your small backyard spaces by hanging potted plants on the pergola's rafters. Designing vertically by growing flowering vines or installing a trellis near the pergola using the pergola as a trellis for trailing crops such as beans or cucumbers is an attractive way to optimize your small backyard setup.
Small Backyard Decor Ideas
The same interior design principles apply to outdoor living ideas for small backyards. These small backyard ideas will help create a visually appealing space that you are proud to show off.
A custom pergola as a focal point can direct attention away from the yard's small size. Place it near the entrance or at the end of the property for an attention-grabbing statement. Add a pergola canopy for a splash of color.
Choose furniture designed for small spaces and look for thin frames and glass elements to make a small backyard setup seem larger.
Small backyard designs that incorporate your porch or deck create an appealing flow.
Other small backyard decor ideas to create an illusion of more space include strategically placed mirrors or reflective surfaces and a streamlined color palette.
Pergola Depot Makes Entertaining Small Outdoor Living Space Ideas a Reality
Our small backyard ideas are just the beginning! Including a pergola in your outdoor living ideas for small backyards allows you to create the small backyard setup of your dreams. Shop our easy-to-assemble pergola kits today!
Related Articles: Small Backyard Outdoor Living Ideas