Pergola Designs for Shade
Last Updated On May 9th, 2023 at 01:36 pm
There are few moments more relaxing than sitting on your outdoor patio on a warm summer day sharing stories with your loved ones. The grass is green, the flowers are in bloom, and life is beautiful. Backyard covered pergolas offering some relief from the sun are the perfect complement to these happy afternoons. Pergolas are how we sit outside comfortably in the height of the sun's busy day. So what are the best pergola shade designs to keep the sun from burning up the nicest moments of summer?
Best Pergola Shade Solutions
A lot of consideration goes into adding a pergola to your patio or yard. As the main focus of your overall landscape design, both the look and function of your pergola will alter the way you feel about your yard and how you use it. Whether it's an attached, deck pergola that creates an artificial 'roof' over your deck or a freestanding pergola creating a calming oasis in your yard, the need to control how much sunlight pours through is paramount to the comfort of your outdoor living room during the warm months of the year.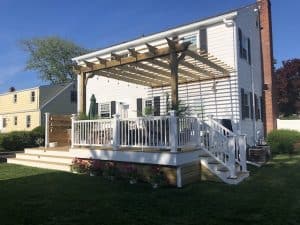 Frank Lloyd Wright, the famous architect once said, "Form and function should be one."  At Pergola Depot, we echo those sentiments. If your pergola is going to function as an outdoor living and entertaining space, its stylistic beauty should match its excellence in keeping you and your friends comfortable as the sun shines.
Pergolas are highly modifiable when it comes to shade solutions. Between all of the different sizes, colors, and materials, the act of shading your patio becomes one of the more important decisions you can make for the overall aesthetic of your backyard. Let's go over some of the options you have with our pergolas, as well as other ideas we've seen that showcase some of the best pergola designs for backyard shade.
Built-in Pergola Shade Designs
Our pergola kits are designed with varying amounts of shade. The pergola's "roof" can be built with maximum top slats to create your shady spot. Our Big Kahuna pergola is crafted to create optimum shade from the roof components of the pergola. With the most rafters and top slats of all of our pergola designs, the Big Kahuna gives you a shade solution without needing pergola accessories to cool off!
Maximum rafters and top slats on the pergola roofing provides ample protection from the sun in many locations, making any size of this sturdy pergola #1 on our top 3 designs for pergola shade.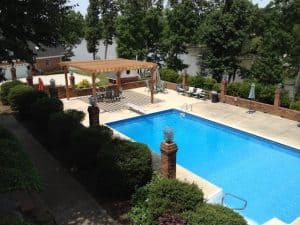 If you're looking for even more coverage, you can add an extra layer of cover by selecting our Big Kahuna PLUS pergola with metal pergola roof kit. This pergola style is offered in a range of sizes with optional metal roofing in a variety of colors.
Ranking a close second place for shade design optimization is the Sombrero. The Sombrero pergola style has half the rafters and top slats for an outdoor patio cover offering moderate shade. Built strong like all of our pergolas, this style offers much greater coverage for your outdoor seating area than many other pergolas for sale online. The top slats perched on top the pergola create a wonderful "dappled light" effect on your patio floor when the sun shines through. If you like the price point of this popular wooden pergola but want a little more shade, the Sombrero freestanding pergola kits make a great candidate for our newest pergola accessory, the Pergola Depot Shade Sail!
Coming in at #3 for Top 3 pergola shade designs is a backyard bundle! When paired with our new shade sail, the Sombrero is an outdoor patio package you can assemble yourself in a weekend. This combo is offered for our freestanding Sombrero or Big Kahuna styles that are sized 10×10 up to 20×20. Decorate your outdoors with a pergola and colorful shade sail!
Using A Shade Sail to Shade your Pergola 
Sail shades or fabric sails can be a stunning and creative way to shade your pergola from the summer sun. You've probably seen these in use before. Rectangular or square fabric sails offer elegant geometric design options when added to your pergola. The frame of your pergola is a natural fit for this type of pergola shade design. Attaching the sail to the posts of your pergola with high-quality stainless steel brackets allows you to easily attach and detach your shade sail with ease for unannounced bad weather or for seasonal storage.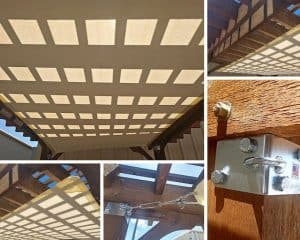 Considering that these fabrics come in many colors and sized to fit our pergolas, the possibilities to tie in your landscaping theme with your pergola shade are endless. Keep it simple and use our sunshades to cover your new outdoor room. Our quality hand-made sails are smart, economical ways to achieve the most comfortable experience on a bright day on your patio.
A shade sail is truly a beautiful marriage of form and function. Using durable, water-resistant fabric a sail allows the pergola to become a more private and protected space free from direct, overhead sunlight. Additionally, on those cozy fall nights where you might be enjoying a moment outside, a shade sail could protect against a slight change in weather or light rain.
Pergola shade sails give you control over how you want the light to enter your patio space. Perhaps their most intriguing quality, however, is their abundance of colors that can turn a simple protective fabric roof into a work of art or a complementary theme to enhance your landscaping.
These are one of the most popular choices for a pergola cover since they're easy to install and provide a breezy beautiful fabric to enjoy year-round. A DIY pergola with sunshade is a backyard shade solution that's fun to assemble!
What are Your Pergola Shade Ideas?
We've shared a number of ideas here and we'd like to know what you think!  Different spaces require different types of backyard shade solutions. What creative pergola shade ideas have you thought of that we should add to this post?  We know there are more than we could list in this article. A few notable mentions might be adding a fixed fabric cover or thin corrugated roofing. If you're pulling a permit for your pergola, be sure to get the sign off/approval for the added roofing before installing it to your pergola. Check out our beautiful DIY outdoor pergolas and dream up your perfect patio!