Illuminate Your Pergola: 6 Ways to Incorporate Lighting into Your Outdoor Space
Last Updated On November 18th, 2023 at 12:08 pm
The sky's the limit when it comes to outdoor pergola lighting. Small, medium, or large pergolas could all benefit from some type of lighting. One of the easiest ways to add an extra touch of style to your pergola is with pergola lighting. Whether you opt for adding lights on pergola posts and rafters, installing a pergola chandelier, or enlisting a contractor to add perimeter lights, you'll certainly enhance the ambiance of your outdoor space! A great place to begin is defining how much time and effort you'd like to put into your pergola lights. Are you looking for an easy DIY lighting solution or are you considering more elaborate pergola lighting ideas?
DIY Pergola Lighting
Whether it's the holiday season or outdoor picnic weather, there are plenty of ways to light up your new wood pergola with minimal effort. For you DIYers out there, enhance the look of your pergola day or night by attaching simple string lights, making your own mason jar lights, or adding some removable solar walkway lights along the edge of your patio.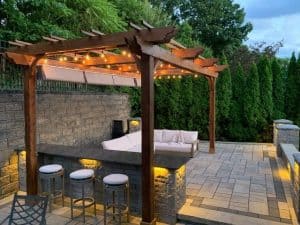 If your outdoor lounge area needs a little extra splash of light or you'd like soft underlighting, combine your lighting to really make an impact on your patio space! Especially when your design includes outdoor kitchens, hammocks, sofas, and pergolas the choices are plentiful when it comes to backyard lighting designs.
Pergolas with an open roof design like our Fedora pergola kit make it fairly simple to connect festive string lights to the pergola top. This design also accommodates a retractable canopy that can be used to shield guests from the afternoon sun.
Pergola String Lights
String lights are one of the quickest and easiest pergola lighting options to add a warm glow to your backyard space. The first of 5 ways to add pergola lights, string lights are popular because they come in a variety of bulb types, sizes, and colors.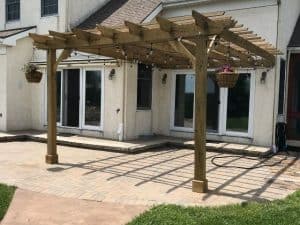 You can weave them through the rafters of the pergola top or wind them around the posts. The rafters and top slats of the Sombrero pergola kit can accommodate a variety of lighting styles.
Whichever type you choose, take a moment to consider how you'll connect them to a power source and measure how many strings of pergola lights you'll need.
A spin-off of string lights are icicle lights or lights intertwined with a garland. Although these lights are most often used around the holidays, they're not just for seasonal celebrations anymore! String lights are a surefire way to enhance the holiday spirit and create a winter wonderland whether you have a Florida pergola, California pergola or any location in between.
Even if you're in a location that sees some harsh winter weather, it's never too late to get out the ladder and attach some lighting to your backyard pergola to add a warm glow to enjoy during the cold months of the year.
Outdoor Jar Lights
Make your outdoor space sparkle within a few easy steps with lighting option #2! Grab a couple mason jars, insert some battery operated string lights and you've got instant twinkle! Sprinkle them around your outdoor living room near your patio pergola and witness the elegance that this simple lighting technique creates.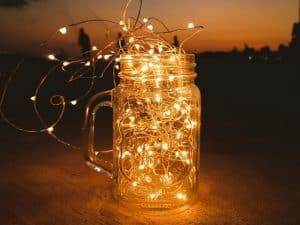 Glass jars come in a variety of styles and sizes, and can be grouped together to enhance a particular area of your outdoor room or provide extra lighting near a walkway. Today's mason jar lighting ideas have many ways you can display the lights. Jars with handles are a great option if you'd like to have a cover on the jars, and that style also lends itself to adding a bit of light in an otherwise darker corner of your seating area.
But if string lights and jars are not for you, how about a natural lighting feature to light your patio? This third option is one of my favorites.
Natural Pergola Lights for Patios
One of the most common ways to illuminate your outdoor space with natural beauty is with a glowing fireplace or firepit. Gathering around the warmth of a fire is aesthetically pleasing and provides ample light for an outdoor seating area.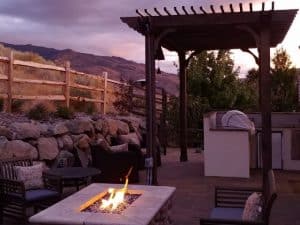 When paired with beautiful surroundings, a fireplace can add a modern and welcoming element to your backyard retreat. There's no better way to relax than in the open air with a natural fire feature.
This timeless way to incorporate lighting is one that will endure the test of time through evolving lighting trends.
Traditionally, pergola kits blend very well with natural stone fireplaces and fire pits as well as some of the popular new trends in lighting. As you weigh your options, keep in mind that the design of your home and your natural surroundings are a great place to start when deciding on how to incorporate the various types of lighting to your backyard.
You may find that the more trendy lighting options are perfect during one season and switch them out during the next. If you're in love with a brick fire pit on cool fall evenings but you'd like to change it up for summer barbecue season, then perhaps you'll want to add an extra lighting style. And if you're in a climate suitable for year-round outdoor entertaining, you'll have a few more options to consider!
Popular Pergola Lighting Ideas
Top trends in today's outdoor pergola lighting are pendant, sconce lighting, and pergola chandelier lighting. These last 3 pergola lighting ideas offer new and stylish ways to add a sophisticated ambiance to your pergola decorations.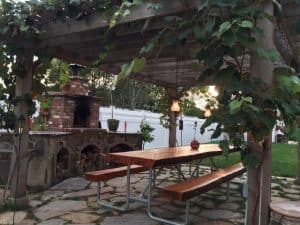 Top styles of pergola hanging lights are pendant or pergola chandelier style lighting. An equally beautiful way to illuminate your pergola, these stylish lights can be attached to posts or installed hanging from the pergola roof.
Another elegant option for lighting, and considered one of the most popular pergola accessories, is sconce style lighting. An excellent option for outdoor wall light, sconces offer a flexible way of adding lighting. You can either attach the components to the posts of your pergola or to a nearby exterior wall.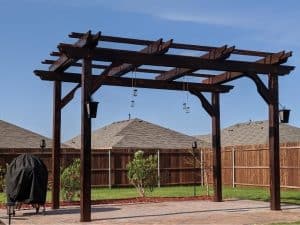 Sconces have design options ranging from traditional to contemporary. Depending on your selection, they can finish off your patio space with style and sophistication or give it a rustic feel. Even if you don't have access to a lighting contractor, sconces can be installed and used with battery or solar operated lighting.
The styles are endless for outdoor lighting and can be matched to your existing furniture and patio accessories. If your pergola is the centerpiece of your outdoor space, combine lighting features to accommodate various seasons to ensure you'll be able to enjoy your pergola day and night throughout the year!
We hope one of these 6 ways to add lighting to your space will light your way to a beautiful new space. Contact us if you have questions about your pergola lighting ideas, or if you're looking for the pergola to add to your outdoor space!