Poolside Pergola Ideas to Beautify Your Pool Deck & Backyard
Last Updated On May 9th, 2023 at 02:10 pm
When you think of a backyard swimming pool pergola, what comes to mind for the perfect design? The most common answer is shade, classic design, and a structure that blends with natural surroundings. Maybe you're looking for a pavilion style patio cover that provides ultimate shade? A roof that lets a breeze float through but shield you from the UV rays? Either one will work for many types of backyard designs. Two important factors to consider when deciding amount of coverage, is what you'll be using it for and how much space you have on your pool deck. Wood pergola kits are a way to achieve your objective so you're ready for outdoor gatherings quickly. Compare them with other options and choose the best fit for your space and budget.
Comparison of Pool Pavilion Shade Structures
A term sometimes used interchangeably is pavilion and pergola. Both are structures used for entertaining and providing cover in gardens, and are used for parties, celebrations, or simply a space to relax on a sunny day. A pergola style pavilion like our wood pergola kits provide a simple structure that can be placed on a deck or patio to enhance a landscape design or offer privacy.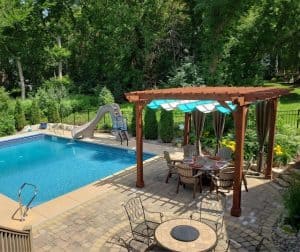 Modern outdoor landscaping designs often have a pool pavilion type structure that creates a gathering space for dining, entertaining, and relaxing near the pool. Some of the best structures in today's backyard designs are those that make an outdoor living space more usable throughout the year instead of the seemingly short period between Memorial Day to Labor Day.
If you have a desire to entertain for summer BBQs, big game days, winter holidays, or elegant dinner parties, an outdoor structure next to your pool that expands your usable space is the choice for you!
Features such as fireplaces, hot tub, or waterfall expand the seasonality of your backyard even if the pool is closed. These add-ons can also make your pool shade structure stand out even more in the neighborhood and become a favorite gathering spot for seasonal celebrations.
Fold a pergola in to your design and you'll begin seeking out more patio features and pergola accessories to enhance your environment to the max! To get your new design rolling, you can begin by comparing our diy pergolas and see how one would fit with your backyard plans.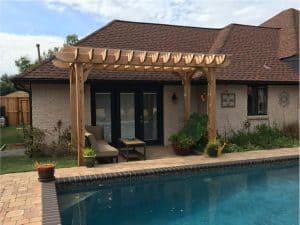 The Big Kahuna style pergolas command attention when used as a cover for an outdoor kitchen or as a shade pavilion in the corner of the pool deck. Our deck pergolas are offered in dozens of sizes, the Big Kahuna was designed to withstand hurricane force winds and severe weather that frequents the state of Florida where Pergola Depot was born.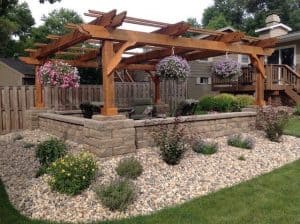 Our Sombrero pergolas are the mid-range option that we build in nearly 100 standard sizes that can be configured to attach to your pool house or garage, or as a free standing structure. Custom sizes are popular because not everyone has a 16×18 foot patio.
You may simply be looking for a patio cover with light coverage and a more open roof pergola to add a bit of flair to your outside oasis. The Melbourne pergola kit offers the same design as our Big Kahuna pergola kits, but with 4-6 rafters and no top slats. Add a canopy or shade sail and your outdoor pool pergola it underway! Our Fedora pergolas were designed to create a patio cover that allows a lot of light through, but creates the feel of a framed-in space like a living room.
Your choice will depend on how much shade you're looking for, your budget, and the most appealing design to cover your pool deck.
Pergola Over Pool Deck Designs
Do you have a swimming pool that's in need of a shaded area to escape the sun's rays? Most pool decks are wide enough to accommodate a seating area, and adding a cover makes it that much more enjoyable to sit around and sip a drink, read a book, or watch a favorite movie. A pool pergola can be built in almost any size you can imagine, and designed to cover your dining area or outdoor bar.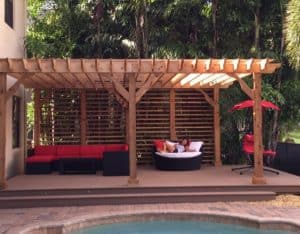 Did you know that one of the most popular reasons for adding a pergola next to your above ground pool? Open air privacy.
Open air pool pergolas come in many shapes in sizes. Top picks usually lean towards having the luxury of shade very close to the pool that covers a large space. Large pergolas can be used to cover a sizable patio, or a custom 6 or 8 post pergola could make it even better!
Finding the right size to fit can be daunting. Keep in mind that if your vision of an above ground pool deck with pergola doesn't match the standard footprint, we can help with a custom size pergola to make your configuration work! Often the top choices for pool pergolas are not standard size pergolas.
Top Choices for Pool Pergolas
Best-selling pergolas range from a standard size 12×12 cedar Big Kahuna with maximum sun coverage, to a 17×20 pine Sombrero that offers some protection from the rays with opportunities to feel the breeze float through the rafters.
If you're ready to replace that tired old umbrella over your poolside dining set, and want a permanent shade structure that'll add some character to your backyard, you've come to the right place! Start your new outdoor design today with your very own pool pergola!