Winter Pergola Prep Guide: How To Protect a Pergola in the Winter
Last Updated On September 14th, 2023 at 11:57 am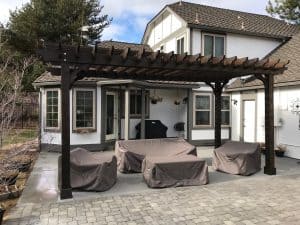 Even if it's winter, a pergola needs a little bit of love. We know that in the spring, summer and fall, you'll spend a lot of time outdoors enjoying your pergola. In the winter (for those of you in one of the cooler winter climate or snowbelt states), you're probably going to spend fewer waking hours outside, but you'll still want to make sure your pergola is protected. But how can you help safeguard it from frigid temps, harsh winds and snowy weather? Keep reading to find out how to protect pergola kits in the winter. Keep in mind that sometimes the best time to get it ready for winter protection is in the summer!
Can You Leave a Pergola Up in Winter?
When you winter-proof the patio or your backyard, you may wonder what to do with your pergola during the winter. The good news is that you do not have to disassemble the pergola! Wooden pergolas are sturdy and can withstand snow and freezing temperatures. Pergola kits with a roof are another design that can offer protection even in the winter. If you're ready to brave the cold, consider a covered pergola kit!
Wood Pergola Maintenance
Knowing how to protect a pergola in the winter is pretty simple — it actually starts before the snow flies, and your yard is transformed into a winter wonderland. Follow these pergola maintenance steps from our maintenance guide in the fall to snowproof your pergola:
Clear away any overgrown plants and remove hanging baskets, lights or other garden decorations.
Clean your pergola by sweeping any spider webs or debris from the walls and floor. Hose off and scrub the structure with a mild cleaning solution and a soft brush.
Tighten any loose screws or replace damaged wood as needed.
Restain the pergola if it's starting to fade. Often this best done during summer or fall depending on your climate.
Add weather sealant to protect the wood from UV rays, moisture and temperature fluctuations and help maintain its color. This is recommended one time when you first install your pergola and then once every 2-3 years depending on how harsh your climate.
*Note: for your first coat of stain, sealant or paint on pressure-treated pine pergolas, you must wait until the pressure treatment is completely dry before it will accept stain or paint. This can be anywhere from 2-6 months after you assemble the pergola, depending on your local climate. For rough sawn western red cedar pergolas you can apply a coat of sealant, stain or paint right away).
It's not necessary to install a pergola winter cover, but if you do decide to use one, here are some tips:
Depending on the design of your pergola, a winter cover may help the snow slide off. You can use vinyl plastic sheets or a heavyweight tarp.
A pergola cover for winter should fit tightly and be secured, so it doesn't blow away.
If snow accumulates on the roof slats, make sure you brush it off to prevent damage to the structure.
Protect Your Investment With Winter Pergola Maintenance
Now that you know how to protect your pergola in winter, you can keep it looking beautiful all year round. A little pergola maintenance goes a long way to protect your investment, so both you and your pergola will be all set for outdoor living and entertaining once the weather improves. If you have any questions, schedule a call with one of our specialists. Find your perfect pergola kit today at Pergola Depot!
Winter Pergola Care Related Articles