Planning a Spring or Summer Garden Party?
Last Updated On September 14th, 2023 at 12:45 pm
Are you getting spring fever? Now's the time to get your patio plan in place, starting with an outdoor wood structure kit! Perhaps you'll be hosting an outdoor gathering for your high schooler's prom or spring formal. Maybe you have a graduate to honor and are looking for backyard graduation party ideas so you can host the party on your patio? Or, you could be offering your backyard for a garden wedding the happy couple has always dreamed of! Any of these events would be made even more magical with a special area for dining, relaxing, or a unique photo op complete with a gorgeous pergola. If you have an empty spot on your deck, patio or backyard, an outdoor wood structure could be the missing piece to bring it all together. A frequent sight and beautiful backdrop for spring and summer backyard events is a trellis, gazebo, pergola, or a garden arbor that adds a special touch to any celebration.
Wood Patio Kits add Structure to your Outdoor Room
Building the outdoor room that can accommodate all the fun and festivities is a top priority during the spring and summer months. For a spring formal reception or graduation party that lends itself to group and individual photos while people enjoy refreshments, a wood structure like a pergola can make an outdoor area the perfect spot to snap those outdoor photos. An outdoor patio can serve as the food and beverage area for party-goers to take a break from lawn games or dancing.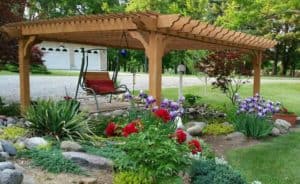 For weddings, a framed-in area with flowing curtains or trailing ivy can be a whimsical way to frame in the bride and groom for their photos. In the evening, the same structure can be used during the celebration as an outdoor dining room. Attaching string lights to a pine or cedar pergola and displaying battery or solar operated candles on your side tables are easy ways to add a warm glow to the party.
Add fresh green plants and flowers to your patio planter boxes that match the wedding party to brighten the area. Another way to freshen up your space is to add a brightly colored porch swing or chairs. These add color and another comfortable space to spend time with family and friends.
Easy-Assembly Outdoor Patio Kits
How can you pull it off? If you're a DIYer, an outdoor wood structure kit could be just what you're looking for. There are lots of ideas for DIY patio covers out there, you'll just have to find the one that fits your skill level. The great thing about pergolas and more permanent outdoor structures is that it's something that can be used for that upcoming event, and also be enjoyed for everyday gatherings long after your guests have gone home! So as you're making your list of spring home maintenance tasks to finish off, add one more to the list – creating a patio for your parties. You can start by measuring the space where you'd like to add your pergola. If you're not a DIYer or simply don't have the time, call your favorite contractor or handyman to help. Our DIY pergola kits can be installed with a few friends and family members, or a locale contractor. You'll have your party spot ready to go in time for your special day.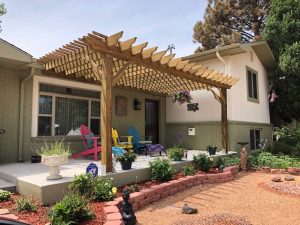 Best Outdoor Structures for Small Spaces
If you're space constrained but still want to host an outdoor event for your favorite summer holidays, consider an attached pergola kit. Attached pergolas and outdoor structures provide a covered space to stay out of the rain or sun, while also adding a modern design element. Some of the most popular designs even show off your front porch! Smaller front yards are instantly expanded when you add a cover and a gathering spot. No matter what size space you have, enjoy the fun of planning your space and putting your plan into action for outdoor garden party season!